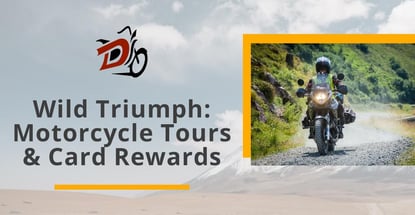 In a Nutshell: After curtailing travel for more than a year, people are itching to strike out into the world once again. Wild Triumph offers motorcycle tours in India, Nepal, Bhutan, Tibet, Thailand, and Mongolia. The company was launched in 2018 and already boasts a team of more than 200 people to offer some of the most unique tours in the region. These off-the-beaten-path tours embrace the spirit of adventure. The company provides tours to suit motorcyclists of all preferences and skill levels, from challenging tours through the Himalayas to luxury rides across India's diverse landscapes. Wild Triumph provides motorcycles and SUVs for its clients but also accommodates travelers who wish to bring their own motorcycles.
Keen-eyed readers will know that we don't just cover the nuts and bolts information about the credit cards that are out there today. We like to explore cool fintech innovations, dive into credit card rewards programs, and, of course, travel.
Now that COVID vaccines are widely available — and after spending the better part of the past 15 months or so with little or no travel — we've been thinking about what our next trips will look like.
Oftentimes, we also like to see if we can use those card rewards programs to help us satisfy our wanderlust.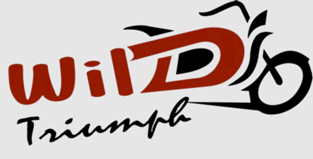 This has led us down interesting paths that have helped us learn about some of the most unique adventures and destinations for travel enthusiasts all over the world.
Recently, we learned about Wild Triumph, a company that offers luxury and adventure motorcycle and SUV tours across parts of Asia. If you're itching to turn your credit card rewards into cash that you can use for your next adventure, Wild Triumph may be just what you're looking for.
Instead of moving from hotel to museums and back again, Wild Triumph travelers can feel the wind in their face and truly be immersed in their surroundings as they rocket through Asia and some of the world's most breathtaking landscapes.
We recently chatted with Wild Triumph Co-Founder and Tour Architect Dushyant Yadav to learn more about the company's origins and the wide variety of one-of-a-kind motorcycle tours it offers across Asia.
Combining a Love of Motorcycles and Travel
Yadav said Wild Triumph was founded in 2018 and is built on his and Co-Founder Mohit Chauhan's love of travel and passion for motorcycles.
"I completed my MBA, and I worked for a while. But traveling was something I had been doing since I got out of high school," Yadav said. "I had been traveling a lot to extreme regions — a lot of road trips to places. I do not like tourist places much so I used to travel to places that are not known to people. I would just open up a map and point at a spot and say, 'Let's go to this place.'"
In his adventures, Yadav would log about 50,000 kilometers on the road each year. He noticed that once he began working after graduation, those kilometers dropped down to about 10,000 per year. His happiness level also dipped, he said.
"Traveling was something that I had to do so I decided that I will make a living out of it," Yadav said. "It was then that we started Wild Triumph in January 2018. We started small and, little by little, we started getting clients."
News about Wild Triumph began spreading via word of mouth, and as the company grew, it was able to expand its offerings to the array of tours available today.
"Travelling on the off-beat routes with Wild Triumph will undoubtedly provide new experiences and unforgettable panoramas," according to the company. "Our wide range of motorcycle tours will let you discover virgin nature: the Mongolian Steppes, the Himalayan Peaks, the Golden Triangle, and many more! Right from the start, you'll be astounded by the stunning landscapes that pass during your ride."
Offering a Wide Range of Tour Options Throughout Asia
Wild Triumph has grown enormously in less than three years and now boasts a team of more than 200 people, including tech experts, travelers, guides, and group leaders. The company offers a wide range of tour options in Nepal, Bhutan, Tibet, Thailand, and Mongolia.
"We believe that experiences gained through traveling are unforgettable and remain with you for life," according to Wild Triumph. "Through traveling, we meet new people, we understand their culture, their way of living and we expand our potential. This passion to bring together people in a new and meaningful way drives us to innovate."
This guiding philosophy underpins Wild Triumph's commitment to providing a superior user experience, security, and peace of mind.
Wild Triumph offers tours for nearly every kind of traveler.
Seasoned cyclists and adventurers can hit the road for a once-in-a-lifetime experience riding through the Himalayas, one of the company's most popular tours.
Watch on
"Brace yourself for a challenging and extreme Himalayan Motorcycle Tours of India!" according to the company. "You're riding through the high mountains of Himalayas, twisting around steep mountain curves and ice cold river crossing. Your hands are grasping the handlebars, and an energetic breeze is blowing through your face. … We at Wild Triumph are proud to convey the most mind-blowing motorcycle experiences accessible all over the globe."
While this tour is for the more adventurous traveler, Wild Triumph provides tours for those looking for experiences with a little less adrenaline as well.
For example, its Rajasthan Motorcycle Tour focuses a bit more on luxury and less on white-knuckle bike rides.
"Rajasthan Bike Trip is an extraordinary endeavor through the superb and wonderful territory of India," according to the company. "With a lot of heritage structures concealed in the midst of dynamic perspectives holding on to be researched. Rajasthan is arranged in Western India and brags various topographies beginning from Green Aravallis to Thar Desert."
Travelers can see the full range of tours on the Wild Triumph website. The company also offers the option for travelers to build a customized itinerary to meet their desires.
Working With Travelers To Determine Which Tours Will Be Best for Their Skill Level and Interests
Yadav said motorcyclists of all skill levels can find a suitable tour with Wild Triumph. The company will consult with travelers to help them determine which tours will likely be most suited to their skill and comfort level.
"We want to get to know our clients first — how they are with a motorcycle, how long they have been riding, what kind of motorcycle they have," Yadav said. "If someone is good with a street motorcycle, it won't be good for them to travel in a gravel area where the road is most extreme and the weather changes frequently."
After learning about each client, the company will present the travelers with several itineraries to choose from, Yadav said. While the company does provide motorcycles for clients, it also accommodates travelers who wish to bring their own bikes.
"Planning a motorcycle tour but not sure which destination to choose? Well, you have come to the right place to decide," according to the company. "Wild Triumph® has built a character over the years to help you plan a perfect adventure with a mix of adrenaline, culture, luxury, and ramble."
At the heart of each of Wild Triumph's tours is the spirit of adventure. Clients can expect to get off the beaten path and be able to really immerse themselves in the experience.
"We understand that it is difficult to investigate parts of the world that might be hard to reach all by yourself; we're here to make it possible," according to the company. "We have chosen destinations and designed itineraries after years of exploration, planning and research. We are the real riders who have driven through these routes, faced challenges, improvised, and created a more ideal tour!"
The tours are curated to give clients the best possible experience in a short amount of time, although Yadav said he recommends a 10-day tour to truly gain the most out of the experience. And travelers can ride easy knowing they are in good hands.
"We have a specialist for each trip you choose," according to the company. "An experienced group leader and a dedicated team to cater to all your requirements."
Yadav said the company also strives to meet dietary preferences for those who may not be well suited to, say, India's propensity for spicy food.
If you're looking for a unique way to cash in some credit card rewards on a one-of-a-kind adventure, Wild Triumph's motorcycles tours may be the perfect solution for you.
Advertiser Disclosure
CardRates.com is a free online resource that offers valuable content and comparison services to users. To keep this resource 100% free, we receive compensation for referrals for many of the offers listed on the site. Along with key review factors, this compensation may impact how and where products appear across CardRates.com (including, for example, the order in which they appear). CardRates.com does not include the entire universe of available offers. Editorial opinions expressed on the site are strictly our own and are not provided, endorsed, or approved by advertisers.