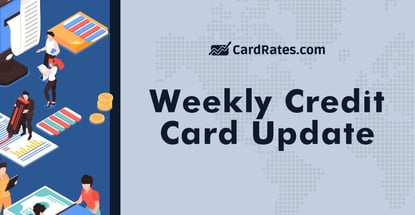 For media inquiries on these stories and more, contact credit card expert and industry analyst Bill Hardekopf at (205) 985-9725 or billh@cardrates.com.
1. Credit Card Firms Are Becoming Reluctant Regulators of the Web

Who should police the internet? For some time now the question has tied companies, regulators and campaigners in knots. Social networks spend billions moderating content posted on their platforms, but are still criticized either for not removing enough toxic material or for stifling free speech.
Banks and credit card companies too are finding themselves playing a bigger role in what is said and done in the public square—to their, and their customers', discomfort. The boundary of censorship is now being extended further, into the pornography business. From October 15th, adult websites worldwide will have to verify the age and identity of anyone featured in a picture or video, as well as the id of the person uploading it. They will need to operate a fast complaints process, and must review all content before publication. These rules are being imposed not by regulators but by Mastercard.
• Story In: The Economist
2. 80% of U.S. Consumers Have at Least One Subscription

More than ever, consumers' use of automated payments to manage their subscriptions is gaining ground. That comes in tandem with more subscriptions than ever, across music, movies, media and more. A new report shows consumers want those payments to be seamless. And if those expectations are not met — in a world where 80% of U.S. consumers have at least one subscription, up from 72% a year ago — churn looms.
About 27% of consumers who subscribed to a broad range of services — overall, the average number of subscriptions across the entire user base surveyed stands at 2.3 — said they had experienced a subscription payment decline within the past year. Of those who experienced a decline, more than one-quarter of those customers terminated their subscriptions or switched services.
• Story In: PYMNTS
3. U.S. Bank Launches Two New Secured Credit Cards With Rewards

U.S. Bank has launched two new secured credit cards with surprisingly good rewards programs. A secured credit card offering points or cash back isn't unique, but the U.S. Bank Altitude Go Visa Secured Card and the U.S. Bank Cash+ Visa Secured Card offer the same rewards rates as their unsecured counterparts.
With either card, users can get a credit limit ranging from $300 to $5,000, equal to their upfront security deposit. In both cases, responsible card use over time could result in graduating to the unsecured version of the card, at which point the deposit will be returned. Also, neither card charges an annual fee.
• Story By: Ben Luthi, Investopedia
4. Chase Announces Instacart Express Benefit for Most Cardholders, Including $10 Discount

Chase announced a new partnership with grocery-delivery service Instacart. Most Chase credit cardholders can now enjoy complimentary Instacart Express membership until April 2022 as well as a $10 discount on your next Instacart order of $35 or more. 
As more people have started taking advantage of the convenience of grocery and food delivery during the pandemic, many card issuers are responding by offering additional perks to their customers.
• Story By: Brett Holzhauer, CNBC
5. Industry Scrambles to Prepare For CFPB Debt Collection Rules

Banks, credit card companies and debt collectors pushed for an overhaul of federal debt collection rules, and they are poised to reap the benefits of unlimited contact with consumers by email and text messages. But with the CFPB's rules set to take effect Nov. 30, many creditors and collectors are scrambling to make changes that require a high degree of coordination with each other.
Though the rules do not apply specifically to banks and other lenders seeking to collect debts, they do require technology changes and the sharing of information in order for third-party debt collectors to take advantage of certain "safe harbors" that will protect them from legal liability.
• Story By: Kate Berry, American Banker
6. Why Debit Use Is Soaring in the Restaurant and Hospitality Sector

The pandemic not only forced the closure of restaurants in March 2020 but also effectively shut down the use of cash. Eight percent of U.S. businesses went cashless at the pandemic's onset amid initial concerns about its potential to spread the virus, and that number soared to 31% by the end of April.
The cash ban leveled off at 20% by September 2020, but its impact on debit cards, the chief beneficiary of the retreat from paper money, was momentous. Debit surpassed not just cash payments but also credit spending for the first time last year, according to PULSE's 2021 Debit Issuer Study. A Federal Reserve study confirmed that debit cards were the most frequently used payment instrument last year, making up 28% of payments volume. It further revealed that, as the demand rose for takeout from dine-in restaurants, consumers were likelier to use not-in-person payments at a wider range of restaurants and for a bigger spread of payment values.
• Story In: PYMNTS
7. Credit Scores Rose For Consumers Who Dealt With Covid Hardships

At least one credit score model revealed improvement for 18.7 million borrowers with financial hardships during the pandemic, new TransUnion research shows.
In a study of VantageScore 4.0 changes for consumer credit lines other than student loans, TransUnion found that 58% of those with an indicator of forbearance or any other type of payment relief program in 2020 saw an increase during that year, when the CARES Act limited some adverse credit actions.
Subsequently, a divergence appears in the data for a subset of those borrowers who went on to get bank cards between those who remained in plans and those who exited hardship. Those exiting generally had higher credit utilization rates, were more likely to have mortgages, and experienced lower levels of bank card delinquencies, unless they were borrowers with particularly high scores.
• Story By: Bonnie Sinnock, National Mortgage News
8. White House Weighs Wide-Ranging Push For Crypto Oversight

The Biden administration is weighing an executive order on cryptocurrencies as part of an effort to set up a government-wide approach to the white-hot asset class, according to people familiar with the matter.
The proposed directive would charge federal agencies to study and offer recommendations on relevant areas of crypto, touching on financial regulation, economic innovation and national security. The initiative will also aim to coordinate agencies' work on digital currencies throughout the executive branch. The plan would push departments that have given scant attention to crypto to focus on it. Officials have also considered appointing a White House crypto czar to act as a point person on the issue.
• Story By: Jennifer Epstein and Benjamin Bain, Bloomberg
9. American Express Shutting Down Some Cardmembers Who've Used Special Amex Welcome Offer

American Express is shutting down all cards for certain cardmembers who opened a new Amex card through a special welcome offer. Most affected cardholders report signing up for a new Amex Business Platinum card through the same Amex representative who has been with American Express OPEN since 2011.
From cardmember reports, the representative was able to offer welcome bonus offers that were better than what was publicly available. Since you only get one shot at earning a welcome bonus per Amex card, potential cardmembers should wait for the best possible welcome bonus before signing up for an American Express card. So it's understandable why so many cardmembers were excited to get a special welcome offer from Amex that was higher than the publicly available offer.
• Story By: JT Genter and Dia Adams, Forbes
10. JPMorgan Chase's Glass-Half-Full Message on Credit Card Lending

JPMorgan Chase's credit card business is showing signs of life, persuading company executives that a resumption of loan growth is getting nearer, though perhaps not right around the corner. While total loans in consumer and community banking fell by 2% year over year during the third quarter, credit card spending continued to increase, and outstanding balances rose slightly.
The rates at which customers make payments on their cards, while still unusually high, began to return to more normal levels. One question now is whether the growth in card spending will result in higher revolving card balances. Their CFO said customers who would typically have revolving debt appear to be spending down their excess liquidity quickly, which could lead to growth in outstanding credit card balances.
• Story By: Allissa Kline, American Banker
11. Early-Bird Holiday Shopping Might Be the Smart Move This Year

We're again being told to "get going now" on our holiday shopping this year. Wait too long, retailers warn, and you might not find everything on your gift-giving list. While stores have plenty of merchandise now, retail experts agreed: Global supply chain problems resulting from the pandemic are likely to create inventory shortages before Thanksgiving.
Simply put, the pandemic disrupted manufacturing and delivery systems and they can't keep up with increased demand from American consumers. Production delays are being caused by material shortages and lack of workers. Products made in Asia — toys, clothing, video game systems, as well as some brands of headsets, TVs, and kitchen appliances — are most likely to be affected.
• Story By: Herb Weisbaum, Consumers' Checkbook
Advertiser Disclosure
CardRates.com is a free online resource that offers valuable content and comparison services to users. To keep this resource 100% free, we receive compensation for referrals for many of the offers listed on the site. Along with key review factors, this compensation may impact how and where products appear across CardRates.com (including, for example, the order in which they appear). CardRates.com does not include the entire universe of available offers. Editorial opinions expressed on the site are strictly our own and are not provided, endorsed, or approved by advertisers.