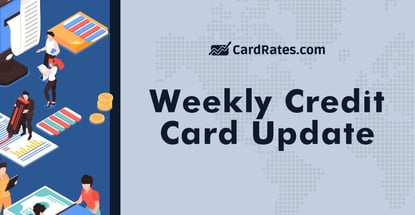 For media inquiries on these stories and more, contact credit card expert and industry analyst Bill Hardekopf at (205) 985-9725 or billh@cardrates.com.
1. Borrowing Is Back as Sign-Ups for Auto Loans, Credit Cards Hit Records

Americans are borrowing again, in some cases at levels not seen in more than a decade. Consumer demand for auto loans and leases, general-purpose credit cards and personal loans was up 39% in April compared with the same period last year, according to Equifax. It was also up 11% compared with April 2019.
Equifax said lenders bumped up credit card originations, issuing more general-purpose credit cards than any other March on record. Equifax's data goes back to 2010. It is quite the reversal from 2020, when many people shunned credit cards, personal loans and other types of debt.
2. Wells Fargo Tells Customers It's Shuttering All Personal Lines of Credit

Wells Fargo bank is shutting down all existing personal lines of credit in coming weeks and no longer offers the product, according to customer letters reviewed by CNBC. The product, which typically gave users $3,000 to $100,000 in revolving credit lines, was pitched as a way to consolidate higher-interest credit card debt, pay for home renovations or avoid overdraft fees on linked checking accounts.
With its latest move, Wells Fargo warned customers that the account closures may have an impact on your credit score.
• Story By: Hugh Son, CNBC
3. Visa Says Spending on Crypto-Linked Cards Topped $1 Billion in First Half This Year

Visa said its customers spent more than $1 billion on its crypto-linked cards in the first half of this year, as the payments processor takes steps to make crypto transactions smoother. The company said it was partnering with 50 cryptocurrency platforms to make it easier for customers to convert and spend digital currencies at 70 million merchants worldwide.
The move is in line with Visa's broader acceptance of digital currencies. In March, the company announced it will allow the use of the USD Coin to settle transactions on its payment network.
4. Verizon Jumps into the Increasingly Crowded Teen Card Market

Verizon has launched Family Money, a prepaid card on the Galileo platform issued through Metropolitan Commercial Bank. The goal is to help provide a tool for parents to help their children learn financial management skills at an early age.
Parents link their checking account to the Family Money app which creates the means to load funds onto their kids' cards. The card comes with card controls that can block certain transaction types and establishes spending limits. A savings account is also a part of the service. The cost is $5.99 per month for up to 5 prepaid cards, which is higher than many introductory checking accounts at traditional financial institutions.
• Story By: Sarah Grotta, Payments Journal
5. Emirates Rolls Out Instant Direct Payment Method for Travel Bypassing Credit Card Issuers

Emirates is rolling out a way for travelers to pay for tickets directly from their bank accounts into the airline's bank account via an industry-run system. The move comes as many travel companies are eager to push consumers away from credit and debit card payments as cheaper options become commercially available.
Branded Emirates Pay, the solution lets consumers in Germany and the U.K. purchase tickets at the airline's website by directly debiting their bank accounts.
• Story By: Sean O'Neill, Skift
6. Visa and BlockFi Launch 2% Bitcoin Rewards Credit Card

Cryptocurrency services company BlockFi launched its first-ever crypto rewards credit card, in conjunction with Visa, to approved clients in the United States on Tuesday. BlockFi's plans for a credit card were initially disclosed in December 2020 when the exchange released a waiting list for US-based clients, which is now over 400,000 people.
The new offering provides clients with a simple way to acquire bitcoin without having to pay fees or navigate the sometimes complicated onboarding processes at exchanges.
• Story By: Emily Mason, Forbes
7. The Best Credit Card Combos: Maximize Rewards and Cash Back for Every Dollar You Spend

Most people would love to just use one credit card for all purchases. However, no credit card currently offers all of the perks and rewards needed to make it the one card to rule them all. Instead, the best way to maximize the return on your purchases is by curating a credit card portfolio.
By using the right combination of cards, you can earn the highest amount of rewards on every type of purchase you make. Here is a breakdown of some of the best two- and three-card combos that can help you really maximize the return on every dollar you spend.
• Story By: JT Genter, CNBC
8. American Express Expands Digital Receipts with Increased Purchase Details

American Express has announced expanding the feature of Digital Receipts to provide card members who shop on Amazon increased purchase information about their recent orders with the retailer. With more people shopping online, Amex rolled out Digital Receipts in February this year, a feature that gives U.S. card members access to additional information about their purchases with specific merchants, such as the merchant name and logo, order number, date of order, items purchased, details of cost and merchant description.
By upgrading the solution, Amex is enabling card members using the new Digital Receipts for Amazon purchases to see detailed information on their order including the specific items purchased, the order number and even delivery details.
• Story By: Pavithra R., IBS Intelligence
9. East Bay Assemblymember's Bill Would Regulate Booming Debt Settlement Industry

As California emerges from the pandemic, some residents face crippling personal debt. Among the economic winners is the booming debt settlement industry, composed largely of online companies that promise to reduce personal debt by negotiating with banks and credit card companies on the customer's behalf.
But consumer advocates point out that these companies often prey on financial desperation and fail to warn customers of the potential consequences, like ending up in court. Now California lawmakers are considering legislation that would more tightly regulate the industry after largely overlooking personal debt from credit cards and loans in pandemic-era legislation focused on relieving rental and utility debt.
The bill is reviving a perennial debate in the Capitol over whether alternative financial services — like payday loans, debt settlement, and credit repair — are financial predators or a needed lifeline for Californians with little or poor credit.
• Story By: Erika Paz, East Bay Times
10. I'm Tired of Being Asked to Front Thousands in Business Expenses on my Personal Credit Card

Employers should not be floating operating expenses on their employees' backs, no matter how much those employees earn, or how they spend it. Your paycheck is not a slush fund for your employer to dip into to keep its books balanced. No employee should be asked or even subtly pressured to do the same for management's convenience.
What if reimbursement is delayed and the employee has to pay interest? What if the expense isn't approved for reimbursement, or the company suffers a catastrophic (cough-pandemic-cough) setback? You should not feel shame or any need to justify being unable or unwilling to cover your employer's expenses.
• Story By: Karla L. Miller, The Washington Post
Advertiser Disclosure
CardRates.com is a free online resource that offers valuable content and comparison services to users. To keep this resource 100% free, we receive compensation for referrals for many of the offers listed on the site. Along with key review factors, this compensation may impact how and where products appear across CardRates.com (including, for example, the order in which they appear). CardRates.com does not include the entire universe of available offers. Editorial opinions expressed on the site are strictly our own and are not provided, endorsed, or approved by advertisers.