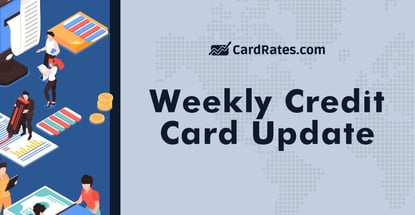 For media inquiries on these stories and more, contact credit card expert and industry analyst Bill Hardekopf at (205) 985-9725 or billh@cardrates.com.
1. Samsung and Mastercard Are Teaming Up on a Biometric Credit Card

Samsung and Mastercard are officially teaming up on a credit card with a built-in fingerprint scanner, Samsung announced on Thursday.
These so-called "biometric cards" will come baked in with "several key discrete chips" from Samsung's side, and are planned to be compatible with any point-of-sale terminal, or any terminal that currently accepts Mastercard chip payments. The new Samsung collaboration, for its part, plans to do away with PIN numbers entirely. Per the announcement, all someone will need to do to authenticate a payment is pop their thumb onto one of the chips embedded into the card.
• Story By: Shoshana Wodinsky, Gizmodo
2. Watch Out, PayPal. Square Just Launched Its Own Bank.

Square, the financial payments firm run by Jack Dorsey, launched an in-house bank that it says will allow it to "operate more nimbly" in an increasingly crowded fintech market.
The bank has begun operations after completing the charter approval process with the FDIC and the Utah Department of Financial Institutions. Square Financial Services will provide business loans and deposit products to sellers who use its card reader and other point-of-sale services. The fintech industry has gotten a boost during the pandemic as consumers and companies shift toward touchless or remote financial transactions.
• Story By: Clare Duffy, CNN
3. Biden's CFPB Nominee Puts Loan Servicers, Credit Bureaus on Notice

Rohit Chopra, President Biden's nominee to lead the Consumer Financial Protection Bureau, vowed the bureau would come to the aid of student loan borrowers, consumers trying to correct inaccurate credit reports, and homeowners hit hard by the coronavirus pandemic.
Democrats raised concerns about the lack of student loan monitoring by the CFPB during the Trump era. And lawmakers raised questions about mortgage lending rules and issues with consumer credit reports.
• Story By: Kate Berry and Neil Haggerty, American Banker
4. Mobile Wallet Usage Is Growing at The Expense of Cash and Credit Cards

Cash purchases fell to historic lows in 2020 as consumers shifted their payment preferences to contactless technologies such as mobile wallets, according to a new report from FIS Inc. Cash transactions represented just 20.5% of global point-of-sale volume in 2020, down from 30.2% in 2019.
In North America, cash transactions totaled 11.4% of transactions at the point of sale in 2020, down from 14.6% in 2019. Mobile wallets and prepaid cards were the primary beneficiaries of cash's decline. The use of mobile wallets at the point of sale totaled 9.6% of POS transactions in 2020, up from 6% in 2019, a 60% increase. In 2024, the use of mobile wallets is projected to hit 15.5% of POS transactions.
Prepaid cards more than doubled as a percentage of POS transactions, accounting for a 3.9% share in 2020 compared to 1.9% in 2019.
• Story By: Peter Lucas, Digital Transactions
5. Chairman Powell Says Federal Reserve is in No Hurry to Raise Interest Rates

Federal Reserve Chairman Jerome Powell told Congress that the central bank will not start raising interest rates until it believes its goals on maximum employment and inflation have been reached. Powell said the Fed does not see any indication inflation could race out of control.
While price increases might accelerate in the coming months, Powell said those increases are expected to be temporary and not a sign of long-run inflation threats.
• Story By: Martin Crutsinger, Associated Press
6. Bitcoin is at a Tipping Point and Could Become 'Currency of Choice' for Global Trade, Citi Says

Citi thinks bitcoin is at a "tipping point" and could one day "become the currency of choice for international trade" as companies like Tesla and PayPal warm to it and central banks explore issuing their own digital currencies.
It marks a change in tone for major financial institutions on bitcoin. Many banks have historically shunned the digital asset, arguing it has no intrinsic value and the hype surrounding it is akin to the tulip mania of the 17th century. But bitcoin's wild ascent over the last few months has forced big Wall Street players to reevaluate the cryptocurrency.
• Story By: Ryan Browne, CNBC
7. As Online Shopping Surged, Amazon Planned Its New York Takeover

When the pandemic gripped New York City, it propelled an enormous surge in online shopping that has not waned, even in a metropolis where stores are rarely far away. Amazon has spent the pandemic embarking on a warehouse shopping spree in New York, significantly expanding its footprint in the biggest and most lucrative market in the country.
It has snatched up at least nine new warehouses in the city, and today has at least 12 warehouses in the five boroughs. And it has added to its roster more than two dozen warehouses in suburbs surrounding the city. No other large competitor has a single warehouse in the city and Amazon has largely left most of its chief rivals, like Walmart and Target, behind.
• Story By: Matthew Haag and Winnie Hu, The New York Times
8. Pros, Cons of Credit Card Surcharges

Credit card processing is expensive. Surcharging allows merchants to recoup some of the cost by passing a fee to customers at the point of sale. Some U.S. states, however, ban surcharging.
One of those was Kansas before a U.S. District Court recently overturned the State of Kansas's ban. Colorado, Massachusetts, and Connecticut are now the only states to prohibit surcharges. Let's explain surcharging as well as the rules and the pros and cons for merchants wishing to apply surcharges as a way of recovering credit card processing fees.
• Story By: Mike Eckler, Practical Ecommerce
9. Chase Launches New Bonus Offers on Four United Credit Cards

Chase released new, elevated welcome bonuses on four co-branded United cards, with offers worth up to 75,000 bonus miles to help frequent fliers accrue miles.
The new offers are available on three consumer cards and one business card: United Gateway Card, United Explorer Card, United Club Infinite Card, and United Business Card.
• Story By: Alexandria White, CNBC
10. Nike Executive Resigns after Her Son Used Her Credit Card to Buy $200,000 Worth of Sneakers for His Sneaker-Resale Business

Ann Hebert, a Nike vice president who served as general manager for its North America region, has left the sportswear giant after 25 years, after a Bloomberg report on Feb. 25 detailed the business dealings of Hebert's son, a sneaker reseller.
Bloomberg reported that 19-year-old Joe Hebert used one of his mother's credit cards — her American Express corporate card — to buy more than $200,000 worth of shoes with the aim of reselling them at a profit. Sneaker resellers buy shoes from manufacturers to resell on the secondary market on sites like Facebook, eBay, and StockX. The global sneaker-reseller market was worth $6 billion in 2019.
• Story By: Weston Blasi, MarketWatch
11. Jack Dorsey's Square is Buying a Majority Stake in Jay-Z's Streaming Service Tidal

Square, the financial services company founded by Twitter CEO Jack Dorsey, is acquiring a majority stake in Tidal, the high-fidelity audio and video streaming service led by Jay-Z.
Square is paying $297 million in cash and stock for a significant majority ownership stake. Dorsey said: "Why would a music streaming company and a financial services company join forces?! To find new ways for artists to support their work." Just as Square gave sellers new tools to make money, Dorsey says the company's stake in Tidal will help artists find similar support in the new digital ecosystem.
• Story By: James Vincent, The Verge
12. Fidelity Is Removing Two Major Credit Card Benefits

The Fidelity Rewards Visa Card is an industry leader thanks to its unlimited 2% cash back policy. And while that cash back policy remains intact for cardholders who also are Fidelity Investments account holders, users recently got some bad news about a couple of the card's top benefits.
Auto rental and extended warranty benefits will soon be gone from this card and will be replaced by a NortonLifeLock benefit.
• Story By: Nick Cole, Clark.com
Advertiser Disclosure
CardRates.com is a free online resource that offers valuable content and comparison services to users. To keep this resource 100% free, we receive compensation for referrals for many of the offers listed on the site. Along with key review factors, this compensation may impact how and where products appear across CardRates.com (including, for example, the order in which they appear). CardRates.com does not include the entire universe of available offers. Editorial opinions expressed on the site are strictly our own and are not provided, endorsed, or approved by advertisers.