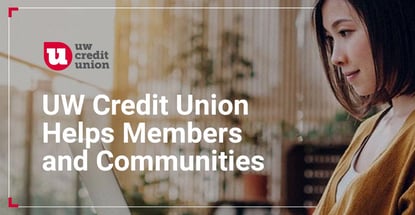 In a Nutshell: Although UW Credit Union started as a financial institution for faculty and staff at the University of Wisconsin in Madison, its membership has broadened considerably over the years. Now, more than 300,000 members in Wisconsin and beyond count on UW Credit Union to deliver financial products and services, including a credit-building package that combines checking and savings accounts with a credit card, that help them move forward. And UW Credit Union's strong commitment to diversity, equity, and inclusion reinforces its community focus.
The Great Depression was a challenge for both urban and rural populations in Wisconsin. Farmers lost significant income and topsoil during Dust Bowl storms. So many workers in Milwaukee lost jobs that unemployment grew by 75% from 1929 to 1933.
As small banks closed across the state during that time, a group comprised of faculty and graduate students at the University of Wisconsin in Madison gathered to start what is now known as UW Credit Union.
These seven incorporators signed the original charter on June 1, 1931, to help members gain access to more affordable credit. Since then, UW Credit Union has grown alongside higher education in the state.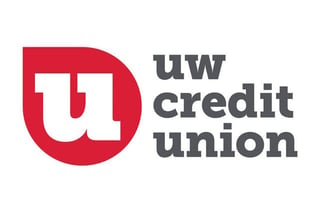 UW Credit Union counts more than 300,000 members, with the Madison campus now part of a statewide system with a world-class reputation. UW Credit Union's commitment to diversity, equity, inclusion, and community giving have evolved as its membership network has grown.
Today, UW Credit Union is open to all Wisconsin residents who attended any U.S. institution of higher education. Membership is also available to all people who live or work within five miles of any of UW Credit Union's 29 branch locations, regardless of educational status, and to employees of partnering healthcare and educational institutions.
UW Credit Union's commitment to inclusion extends to its members, and the values that motivated its launch during the Great Depression continue to drive it forward.
"We have something for everyone here," said Ian Marlette, Branch Manager at UW Credit Union's West State Street location in Wauwatosa, Wisconsin. "And we want everyone to feel included."
Free Consultation Helps Members Create a Roadmap
One way UW Credit Union shows its commitment is through its free credit consultation service — available to members and nonmembers. That means anyone can go online and make an appointment to visit a branch and consult with a UW Credit Union financial professional.
UW Credit Union helps them review their credit report to better understand their financial picture and look for opportunities to save interest and reduce payments.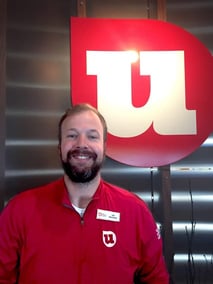 "You're partnered with a financial specialist who's going to be with you and give you that roadmap," Marlette said. "Once you get that baseline and see where you're at, that's when we can point you in the right direction."
UW Credit Union's credit card lineup begins with a product many members use to start their credit journey — the Visa Credit Card. The no-frills Visa Credit Card is perfect for students and new credit customers looking to build a score, and it is one of UW Credit Union's lowest APR options with no annual fee.
The Visa Rewards Credit Card occupies the middle tier in the lineup. The no-annual-fee card offers cash back on all purchases and bonus points on up to $2,000 in spending in the first three months.
Its top-tier product is the Visa Signature Rewards Credit Card, which earns 2% back on all purchases for members who also have UW Credit Union's Rewards Premium Checking.
"We have members who reside in Wisconsin and take their talents to other universities across the nation and the globe," Marlette said. "They establish their membership with us, and they start with their first credit card that they can keep, really, for the rest of their lives."
Products and Resources Can Help Members Build Credit
Marlette also started his credit building journey as a student at UW-Milwaukee and worked his way up from the Visa Credit Card.
"I opened membership with UW Credit Union on the recommendation of my sister, who also attended UW-Milwaukee," Marlette said. "Without having a UW Credit Union financial specialist supporting me and giving me the education and foundations for building credit, I wouldn't be a homeowner today."
Marlette started with UW Credit Union's Campus Package, which is open to students and nonstudents 18 years of age and older who are beginning their credit journey. The Campus Package bundles checking and savings accounts with overdraft protection, an entry-level card, and even with low-interest student loans.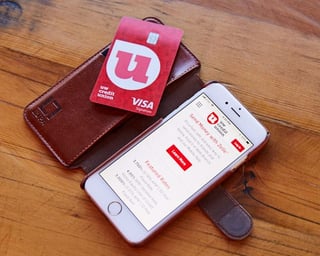 "The overdraft protection is really like a reserved line of credit," Marlette said. "With how it reports to the credit bureau, if you use it and pay it on time, you're getting an on-time payment every month on your credit report. If you don't use it, you're still building a credit history."
The result is an all-in-one service that includes a personal touch and helps each member progress through stages for a successful outcome. It's widely used by UW students and also by nonstudents looking to build their credit profiles.
"We know that in credit reporting, payment history is generally the biggest component — upwards of 35% of the credit score," Marlette said. "That trade line helped me acquire a student loan to finish out college after I used up my federal funding. It helped me get my first car loan, and it helped me acquire my home loan later in my life."
UW Credit Union: Committed to an Inclusive Community Vision
UW Credit Union helps create financially strong communities for members wherever they live and work. But that's only one component of a much larger community focus represented in the credit union's extensive collection of financial education resources, community giving programs, and its organizational values of diversity, equity, and inclusion.
On the financial education front, its partnership with GreenPath Financial Wellness ensures confidential financial counseling is available to all UW Credit Union members. In addition, a Learning Center features articles and other content to supplement the in-person consultative process.
"We use our online resources a lot, even in our branches," Marlette said. "When people come to us, we refer to our website to make it easier for them, tailoring content to their needs once we know what their financial picture looks like."
UW Credit Union also offers free financial seminars and webinars on important topics and common financial concerns.
Perhaps owing to the credit union's origins during the Great Depression, community giving is a tradition at UW Credit Union. Through partnerships with local charities, the credit union distributes resources to people who need them. It also offers scholarships and internships to promising students and creates opportunities for employees to volunteer.
That commitment to inclusiveness starts in the UW Credit Union workplace and extends to its partnership with the Filene Research Institute, which supports workforce diversity in the financial sector. Through UW Credit Union's own Fund for Racial Equity, the credit union also invests millions in organizations dedicated to creating economic stability and closing the education achievement gap.
It also extends to the credit union's own products, which include recently introduced Expression Collection debit cards carrying pride and unity messaging and alumni, campus, and mascot cards.
"We're here to help," Marlette said. And we're excited to be in more communities and partner with more members on their financial journeys."
Advertiser Disclosure
CardRates.com is a free online resource that offers valuable content and comparison services to users. To keep this resource 100% free, we receive compensation for referrals for many of the offers listed on the site. Along with key review factors, this compensation may impact how and where products appear across CardRates.com (including, for example, the order in which they appear). CardRates.com does not include the entire universe of available offers. Editorial opinions expressed on the site are strictly our own and are not provided, endorsed, or approved by advertisers.