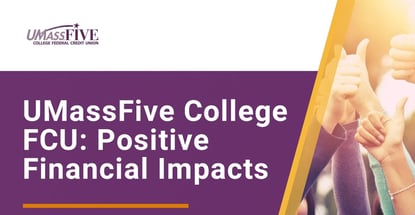 In a Nutshell: Credit unions are geared toward providing personalized customer services, competitive products and resources, and engaging the community. UMassFive College Federal Credit Union in Massachusetts certainly fits this bill. The credit union has been serving the Amherst region for more than 50 years. The not-for-profit organization offers a full range of modern financial services, including products aimed at helping members establish or rebuild their credit. UMassFive also promotes financial literacy through free workshops and offering abundant resources on its website. The credit union is also active in the community, frequently supporting nonprofits and other worthy causes.
Over the past century, credit unions have become part of the fabric of the U.S. financial system. Credit unions offer an alternative to traditional banks that many find appealing. The member-owned institutions often focus heavily on providing personalized customer service, competitive rates, and financial literacy resources.
This is certainly the case for UMassFive College Federal Credit Union in Massachusetts. The credit union opened its doors in 1967 to serve employees of the University of Massachusetts.

"We've grown quite a bit over the 50-plus years that we've been around," said Craig A Boivin, the credit union's Vice President of Marketing. "We now have 42,000 members. We have six full-service branches and a full-service contact center as well. And we're over $600 million in assets at this point."
Boivin said the credit union's membership eligibility has expanded well beyond just UMass employees. It is now open to 50 other sponsor groups as well as faculty, staff, and students at UMass and Amherst College, Hampshire College, Smith College, and Mount Holyoke College. UMassFive College Federal Credit Union also maintains three branches in regional hospitals.
The institution stays true to its roots with its focus on the higher education community, but it also focuses on the medical community and local food co-ops, Boivin said.
"At UMassFive, we are serious about making a positive difference in your financial life," according to the not-for-profit. "Local rewards? Specialty loans you won't find anywhere else? Financial guidance? Technology to make busy lives easier? We have it all. We're member-owned, which means our earnings always go toward saving you money."
Helping Members Determine Which Products and Services are Best-Suited to Their Needs
UMassFive College Federal Credit Union offers a full range of modern banking products and services, including checking accounts, digital banking, loans, and credit cards. Many of these offerings are highly competitive when compared to similar products and services at big banks.
Boivin said the credit union's Co-op Advantage Checking is one such product that stands out in his mind.
"A lot of our competitors will — if you meet certain qualifications — (give) you cashback or you get a higher rate. We can actually do both with our Co-op Advantage Checking product," he said. "Not only do folks get up to $10 in ATM reimbursements if they choose to take cash out of a foreign ATM that isn't UMassFive's, they also get the higher dividend rate if they meet our qualifications."
Those qualifications simply include having 12 swipes per month, signing up for direct deposit, and enrolling in e-statement, Boivin said.
The account also allows members to take part in the credit union's bonus points rewards program where they can earn points for things like shopping with certain local businesses. This incentivizes members to support independent local businesses rather than big chains.
The credit union also works with members to help them determine which credit card may be best suited for their unique financial needs.
"Our consumer lending team will have conversations with folks who call or are applying for a credit card to steer them towards which one of the two products would make sense to them," Boivin said.
He said the Cashback Signature Visa card is designed for people who may be making a greater number of transactions on their cards each month but they pay off their balance each month.
"It comes with a little bit of a higher rate than the other card but you're reaping the benefit by actually getting 1.5% cash back on any purchase that you make," Boivin explained. "And that cash back comes back quarterly to that member."
The institution's Low Rate Platinum Visa is designed for people starting out on their credit journey or who may be rebuilding their credit.
"It's kind of a starter card in a lot of ways because it's a much lower rate than you'll find with some of our competitors. But there's also no balance transfer fee on here," Boivin said. "So a lot of folks who may have gotten into trouble with that cycle of paying high interest on balances they're carrying over, they can transfer their balances to our card and pay a much lower rate."
Promoting Financial Literacy to Members and Beyond
Boivin said UMassFive College Federal Credit Union dedicates a lot of resources to promoting financial literacy among its members and the community at large.
"Knowledge is Empowering. We want every one of our members to feel confident and well-informed so that they can make wise decisions with their hard-earned money," according to the organization. "That's why we offer complimentary workshops and seminars, maintain an archive of up-to-date financial articles and calculators, and partner with skilled financial coaches."
The free workshops have been a huge success for the institution over the years because of how they have helped to empower people in their financial lives, Boivin said.
"With COVID happening last year it really forced us to get more into the digital side of workshops," he said. "It's been a great experience because it actually opened it up to a larger pool of folks. Not all our members live within a radius of a branch where they can easily attend a workshop after work or school. So our attendance has actually increased since we've been doing them on Zoom."
Boivin said that, outside of the workshops, the credit union works to maintain a lot of financial literacy resources on its website.
"We have a Financial Knowledge Center as well as a plethora of articles, and it's all life stage-based," he said. "Is it the person looking for a home? Is it the person looking for a car? Is it the person trying to attend college? We have a whole library of content."
The credit union also works to promote financial literacy in local schools via a number of initiatives, including reality fairs.
Working to Improve the Community in a Variety of Ways
UMassFive College Federal Credit Union takes its role in the community seriously and demonstrates its commitment in a number of ways.
"We know that when a community comes together, great things happen. That's why we are dedicated to not only serving our members but the community we all live in," according to the credit union.
The credit union regularly works with a variety of local nonprofits and organizations that are working individually to deliver positive change to the community. Some of its regular partners include the Amherst Survival Center, the Northampton Survival Center, A Bed for Every Child, Friends of the Homeless, and Smart About Money.
Earlier this year, UMassFive directed $4,000 in donations to the survivor centers.
"The donations were made possible thanks to UMassFive winning a Credit Union Give Back Sweepstakes held by their credit card servicer PSCU," according to an announcement. "This sweepstakes selected 25 Credit Unions from across the country to receive $4,000 to donate to local charitable organizations of their choice."
The credit union also delivers positive change through its products.
"As a financial institution we're really focused on sustainability," Boivin said. "Especially in the lending world, we've done a lot with solar and green energy in terms of heating your home and other sustainability initiatives."
To that end, the credit union has partnered with CISA — Community Involved in Sustaining Agriculture.
"A lot of folks out here like CSAs — you pay a farmer upfront then you get to eat the vegetables they produce all summer long. But it can be a lot to pay the farmer upfront, you may have to come up with $500 or $700," Boivin said.
To promote members using CSAs, the credit union offers a 0.0%, six-month loan.
"Our members can come to us, and we'll pay the farmer the $1,000 upfront and then they can just pay us back over six months with no interest," Boivin said. "This program helps to make sure everyone has equal access to fresh produce that our valley is so abundant with."
Whether it's working to improve members' financial lives or engaging with the community, UMassFive College Federal Credit Union strives to make positive change no matter the endeavor.
Advertiser Disclosure
CardRates.com is a free online resource that offers valuable content and comparison services to users. To keep this resource 100% free, we receive compensation for referrals for many of the offers listed on the site. Along with key review factors, this compensation may impact how and where products appear across CardRates.com (including, for example, the order in which they appear). CardRates.com does not include the entire universe of available offers. Editorial opinions expressed on the site are strictly our own and are not provided, endorsed, or approved by advertisers.