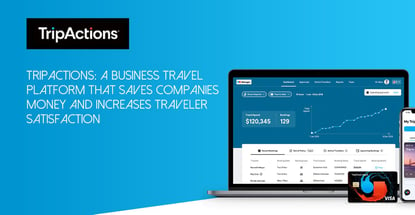 In a Nutshell:  TripActions is a comprehensive business travel management platform that lets companies manage all aspects of employee business travel and expenses. TripActions is revolutionizing how companies approach the challenges of business travel with a range of features that allows for real-time visibility into travel spend, dynamic policy definition and control, and integrated expense reconciling, among other advantages. The recent introduction of TripActions Liquid™, a corporate card that integrates with the travel platform, gives even greater control and insight into business spend, while removing the need for personal credit card use by travelers.
Business travel has long been a mixed bag for companies, not to mention for employees whose job duties frequently have them on the road. While this travel is an essential part of business success, logistics and T&E management can be a source of frustration for travelers and for accounting teams.
But an innovative tech firm called TripActions has developed a comprehensive platform that is revolutionizing how enterprises approach the myriad challenges of business travel.
Founded in 2015 with a goal of reshaping the business travel experience, TripActions has recently been ranked in the top 20 of the Forbes Cloud 100 list and named one of Fast Company's Most Innovative Travel Companies of 2020.
Far more than just another travel and expense app, TripActions is actually a comprehensive enterprise-level travel management platform designed to maintain business travel continuity. It combines real-time reporting, dynamic policy definition and enforcement, and unrivaled user experience. It also integrates 24/7, 365 live support for business travelers via phone, text, or email.
Solving the Headaches of Corporate Travel Management
Business travel is both necessary, and one of the most resource-intensive practices an enterprise can undertake. Employees who travel are often tasked with making their own arrangements for airline, car rental, lodging, and other necessities.
These expenses are often charged to personal accounts to be reimbursed later. Then there's the time spent on filing expense reports, getting approvals, reconciling expenses with receipts, and the time it takes managers and accounting teams to validate the expenses.
This was the headache that Ariel Cohen and Ilan Twig, co-founders of TripActions, set out to solve when they conceived of their technology-enabled platform. Their challenge was to combine a robust yet user-friendly design with world-class service and seamless integration — and to save companies money while doing so.
The result is TripActions Business Travel Continuity™, which gives businesses insight into cost savings, real-time travel transactions and invoicing, traveler safety and risk management, and policy controls, among other benefits.
As with all travel management systems, traveler adoption and use of the platform is the only true measure of success. That's what makes TripActions' more than 90% adoption rate and 93% satisfaction rate among users so compelling.
"What we see out there is that, with most corporate travel systems, employees don't always adopt it — they book outside the platform," says Michael Sindicich, General Manager of TripActions Liquid. "They book on consumer sites, and the company is not able to actually track that spend or to apply policies."
However, TripActions has focused on the user experience, designing a platform that's easy to use and saves time for business travelers. And, the more employees who use the system, the more visibility and control the enterprise has into overall T&E costs.
But being easy to use and saving time are not the sole benefits to travelers. TripActions also offers more choices of transportation and lodging accommodations than many consumer travel platforms.
"Once they're on the travel platform it gives them access to much more inventory," explains Sindicich. "We offer our users unrivaled inventory choice, including flights, lodging, trains, and rental cars, with inventory from consumer sites, traditional business travel sources, and via direct connections with our suppliers. This ensures TripActions users have everything they need to book their business trip and don't need to look anywhere else."
All of this has the effect of giving companies more visibility into their business travelers' spending, but also more control over policies and pricing, which, of course, saves both time and money.  But that's not where the benefits end for companies or their travelers. With dynamic policy control, any cost savings over the approved amount for a hotel stay, for example, is actually shared with the employee.
"Along with the dynamic policies, we apply a rewards engine on top of that," Sindicich said. "As an employee, I would actually get an Amazon gift card or a voucher for personal travel if I stay under that dynamic policy. So, as a traveler, I am incentivized to think about the corporate dollar as if it's my own."
TripActions Liquid Revolutionizes Global Travel Payments
Another innovative solution developed by TripActions to upend the corporate travel management and payments industry is TripActions Liquid™, a travel payment solution that integrates with the TripActions corporate travel platform. Being hailed as the first end-to-end global corporate travel management and payments solution, Liquid means employees no longer have to front the cost of work travel on their personal credit cards.
Launched in early 2020, TripActions Liquid is part of a collaboration with Visa, which means the card is accepted at more than 46 million locations in 200 countries and territories around the globe. And, by integrating with the TripActions travel platform, Liquid can be configured to know when an employee is on a work trip and can auto-enable the card for travel-related purchases.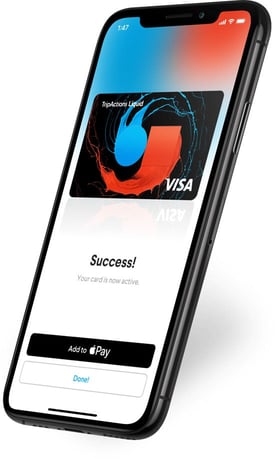 We asked Michael Sindicich about some of the benefits companies and travelers can expect when using the TripActions Liquid card.
"The first benefit is reconciling; we can apply TripActions Liquid into the platform, which essentially auto-reconciles every single booking with every single charge on the card. Next, as it relates to the traveler, is paying for expenses and having to use your own personal money or credit. By introducing a card that's tied to the expensing platform and policies, as a finance manager, I can say at the time of spend whether that transaction is within policy and is going to be approved."
But there's another advantage to the TripActions Liquid card that has only become apparent in recent months due to the global health crisis. Of course, the card was developed as a way to manage corporate travel expenses, but a new and innovative application is underway.
"In the current COVID world, we can actually deploy this out to our companies and their employees so they can use TripActions Liquid to manage all of their expenses through the corporate cards at the time of actual spending," said Sindicich.
"So, if I'm a CFO during this time, I might say, if employees aren't at the office, maybe they're spending money on office furniture for the home. Or maybe I'm giving them a stipend for delivery services for meals. And these are all things we can actually enable our companies to set policies on when an employee is using their TripActions Liquid corporate card," he continued.
Driving Over 90% Satisfaction for Business Travelers
All of this flexibility and support, combined with the fact that corporate travelers no longer have to wait for reimbursements for work travel, results in a travel satisfaction rate north of 93% for TripActions adopters.
There is also flexibility in how travelers can use the TripActions platform, with options for mobile, web, and even live support booking. The interface is easy to use and drives higher engagement and adoption rates. And, as any travel manager will tell you, adoption of the corporate travel system is the biggest hurdle to cost containment.
"Our customers see 90%-plus adoption and 93%-plus satisfaction among their employees using TripActions," said Greg Perotto, VP of Corporate Marketing at TripActions. "By creating a complete booking, payments, travel support, and expense experience business travelers love, they willingly use it. That ensures enterprises get the real-time data and insights they need to protect their traveling employees and optimize their travel programs and policies to control costs and save money."
The TripActions booking tool is customizable to factor in loyalty program status, preferences, and even reward plans. But perhaps the primary factor driving the high satisfaction and adoption rates seen by TripActions clients is the level of support in place for travelers. With proactive alerts, global 24/7, 365 live travel agents, and real-time travel updates, road warriors will never feel alone on the road.
Helping Put Traveler Safety and Risk Management First
The safety of its travelers is always top of mind for any organization, and TripActions takes this responsibility seriously. Integrated into the fabric of the TripActions travel platform is the real-time reporting and visibility that companies need to ensure the safety of their employees.
More than just a business continuity feature, this built-in tracking allows for quick communication with travelers — no matter where they are in the world — and lets businesses adapt and respond to potential threats. These support, safety, and risk management services are provided for free to TripActions customers.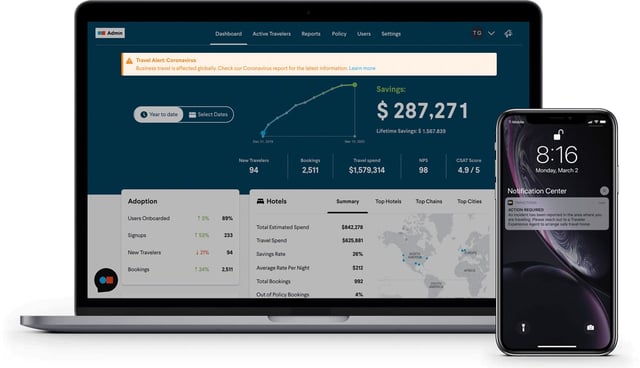 While initially intended to deal with individual threats as they arise around the world, the COVID-19 pandemic has highlighted the critical need for information monitoring and dissemination for businesses at all times.
"We see a lot of interest in companies coming from unmanaged travel programs because, when you let your employees book wherever, you don't have that visibility and can't figure out where people are in the midst of a crisis. We also see customers who were using antiquated legacy platforms switching to TripActions because they found themselves unprepared during the Coronavirus without the real-time data they needed to make business and travel policy decisions, nor flexible tools to implement those decisions quickly with the fast-changing market conditions," Greg Perotto said.
Moving forward, as the world gradually returns to some sense of normalcy in air travel, companies will need to evaluate their current policies and contingencies for employees who travel. And, as Michael Sindicich clearly stated, TripActions is out in front, innovating for its customers.
"I haven't seen any other travel company innovate at the speed we have. When the coronavirus hit, right away our product team was at work over the weekend building coronavirus reports and dashboards for our customers. Our support team was helping people cancel flights quickly, get refunds, and get their travelers back home safely," said Sindicich.
We predict it's that kind of commitment to product innovation and customer service that will keep the TripActions business travel platform in the spotlight for a long time to come.
Advertiser Disclosure
CardRates.com is a free online resource that offers valuable content and comparison services to users. To keep this resource 100% free, we receive compensation for referrals for many of the offers listed on the site. Along with key review factors, this compensation may impact how and where products appear across CardRates.com (including, for example, the order in which they appear). CardRates.com does not include the entire universe of available offers. Editorial opinions expressed on the site are strictly our own and are not provided, endorsed, or approved by advertisers.