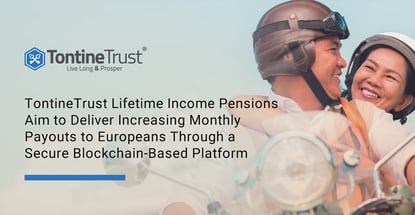 In a Nutshell: Tontines are a centuries-old investment system through which individuals pay into a collective pool of money and receive periodical payouts. As individuals die, their payout entitlements transfer to the remaining participants, and so the value of each subsequent payout increases. Through TontineTrust, a disruptive digital pension provider, the tontine pension framework, once considered a relic, is slated to make a comeback. With defined benefit pensions continuing their decline and annuities as complicated and expensive as ever, simple and secure TontineTrust products — scheduled to roll out in Europe in late 2020 — are poised to deliver a sustainable retirement income solution.
Many nations and corporations struggle with how to provide for people as they retire from the workforce. The dilemma, as with many social problems, involves overpromising benefits. Public pension and health programs are often too fragmented and limited in scope to enable individuals to sustain their accustomed lifestyles.
For example, Americans have long assumed that the Social Security system won't be there for them when they retire. Meanwhile, Europeans cope with benefits that vary from nation to nation, and they must contend with the likelihood that underfunded pension programs will never pay them the promised benefits.
Defined benefit pensions, in which an employer promises a specified pension payment, lump-sum, or combination payment upon retirement, once routinely offered by companies to their workers have become a thing of the past, the victim of unsustainable business models. Not only have the corporations generally stopped offering pensions, but many have also rescinded on previous commitments.

TontineTrust seeks to solve that predicament by combining forward-thinking blockchain technology and algorithms with a traditional sustainability model that stretches back centuries.
A tontine is an investment plan for raising capital among pools of investors with a similar demographic, who when they hit retirement age, can begin receiving payouts. But many workers today take a more individualized, possibly less financially secure approach.
Workers who can afford retirement plans often turn to a defined contribution version — sometimes co-funded by an employer — or independently purchase an annuity. Annuities can be complicated and expensive, and some have been known to struggle to deliver sustainable value.
As TontineTrust Head of Structuring and Governance Richard Kent told us, annuities also pose another problem.
"We find that folks coming up to their retirement election age have a problem in their minds," he said. "They can either try to manage their own money without knowing how long they are going to live, and therefore at risk of running out of money, or alternatively pay a very high
premium for a lifetime annuity from an insurance company."
How Tontines Guarantee Appreciating Retirement Income for Life
That's where the tontine concept shines. By grouping somewhat limited numbers of individuals in demographically similar investment pools, tontines can deliver appreciating retirement income for life because each pool's funds remain with it as it shrinks.
While money invested in a traditional annuity product reverts to the corporate provider upon the investor's death, TontineTrust products retain and pay out those monies to a decreasing number of surviving investors. As the pool shrinks, payouts increase, with the last surviving individual in the tontine standing to receive huge rewards.
"When you think of what an insurance company does, it's not that much different," Kent said. "But the insurance company will take a huge fee to guarantee your income over your lifetime, while the tontine is not providing insurance guarantees."
Semi-retired investment banker Dean McClelland founded TontineTrust in 2017, and it all began with a conversation he had with his mother. McClelland's mother was living comfortably as an Irish expat in the southern Spanish resort community of Marbella. She commented that a friend of hers who had recently passed away had been so tight with her money that she ended up leaving a considerable sum behind.
As McClelland recounted in an interview with RealVision, his mother's friends were always worried about running out of retirement money. The challenge for them was to find the right balance between enjoying one's life in old age and being forced to move back home or move in with the kids. So he promised to find a better way.
"Dean ended up discussing the problem with a number of actuaries and mathematicians in terms of the best solution, and eventually landed on the tontine," Kent said.
MyTontine Platform Simplifies Investment Planning
An Italian financier named Lorenzo de Tonti is credited with devising tontines in 17th-century France, but the idea probably goes back much further. Tontines came to be associated with life insurance in the U.S. in the mid-19th century, quickly outstripping all other products in terms of public acceptance.
Various forms of fraud associated with tontines in the U.S. eventually prompted a congressional investigation in 1905 that led to the investment plans basically being regulated out of existence — until McClelland helped rediscover them.
Among other things, it seemed that funds meant to be held in tontine pools were ending up in the hands of the fund operators instead of going to the participants.
New European Union legislation governing personal pension products, including tontines, is scheduled to go into effect in August 2020. And TontineTrust is putting the finishing touches on a blockchain platform that makes those misuses impossible.
"We're creating a system where every penny you put into the system can be tracked on public ledgers. Every investment we make can be seen on public ledgers, and every payout that's ever made can be shown. But you have to keep all the members anonymous to each other," McClelland said in the interview with RealVision. "That's like a perfect use case for blockchain."
In addition, the MyTontine mobile app will transparently make all transactions available to pool members, securing accounts through a convenient biometric sign-in process. Platform algorithms called robo-actuaries track pool investment, membership status, and compute expected payouts in real time.
A Retirement Solution that Rewards Healthy Lifestyles
As with other defined contribution products, payouts from TontineTrust vary with the success of the underlying investments. But by working based on the unlikely premise that all pool members will live to be 120, its algorithms adjust the payout potentials to ensure a reliable income stream for every pool member.
"Our algorithm will tend to smooth things out, so if there are big dips in the market, the actual pool of income remains a relatively steady stream," Kent said.
Tontines are also more efficient than traditional annuities. Commissions and fees on some annuities can add up, and the more complicated the annuity, the higher the costs tor the consumer. A fixed annuity will have lower costs than a variable or an indexed annuity. Fixed annuities are not linked to investment portfolios or indexes like the S&P 500. Average fees on a variable annuity are 2.3% of the contract value and can be more than 3%.
"Our algorithm pools people by age, sex, country of origin, and so on, so we'll end up having many pools," Kent said. "But there's a bit of behavioral science in it as well, where you're encouraged to live a healthier lifestyle — take up exercise, eat less, stop smoking."
Meanwhile, depending on the pace of regulatory accommodation in the various jurisdictions, TontineTrust continues to prepare for its 2020 European rollout.
"We're confident we've got a solution that is palatable and more risk-averse than current pension offerings," Kent said.
Advertiser Disclosure
CardRates.com is a free online resource that offers valuable content and comparison services to users. To keep this resource 100% free, we receive compensation for referrals for many of the offers listed on the site. Along with key review factors, this compensation may impact how and where products appear across CardRates.com (including, for example, the order in which they appear). CardRates.com does not include the entire universe of available offers. Editorial opinions expressed on the site are strictly our own and are not provided, endorsed, or approved by advertisers.