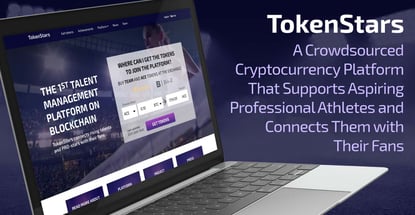 credit card news
Our experts and industry insiders blog the latest news, studies and current events from inside the credit card industry. Our articles follow strict editorial guidelines.
In a Nutshell: Talented athletes who lack resources often struggle to succeed, and the traditional sports agencies that could help them are usually highly exclusive. But TokenStars set out to change that dynamic by developing a modern sports agency and cryptocurrency platform that brings fans into the fold to fund elite training. Through TokenStars, fans can support, promote, and interact with sports prospects and stars, and even earn rewards for their efforts. And the innovative crowdsourcing model is poised to end the exclusion of potential star athletes who lack access to resources.
When Olympic medalist and five-time Grand Slam winner Maria Sharapova started playing tennis in Russia as a toddler, her talent quickly became apparent. And when tennis great Martina Navratilova worked with a six-year-old Sharapova in Moscow in 1993, she recommended the young girl pursue training at the famous IMG Academy in Florida. So her father borrowed money to move the family to the United States and worked odd jobs to support his daughter's training.
When Sharapova was 9, she earned a scholarship to IMG and started on her path to greatness. But Sharapova's father had taken an enormous gamble. That's because, for every Maria Sharapova, there are countless other great players who never make it.
Whether it is tennis or any other sport, making it to the professional level is a long shot. But when those young, talented performers lack funding and connections early in life, it is practically impossible.


It all adds up to a system built on finding a sure thing and looking past everyone else. That's why Moscow-based TokenStars was developed as a cryptocurrency-based crowdsourcing solution that provides more athletes with a chance to succeed.
In tennis, for example, academies like IMG don't just train future stars, they help them with equipment, promotion, and travel. Unknown prospects — no matter their potential — who live in emerging markets with modest marketing resources are less likely to be discovered and accepted into similar programs.
But TokenStars allows users to invest in the development of those prospects and earn rewards as their careers take off.
"TokenStars uses cryptocurrency to break down barriers and enable fans themselves to find talented players, help them financially, and then share their revenue," TokenStars General Manager Philipp Tsagolov said. "And fans holding the most currency gain the chance to really communicate with the athletes they support — and even participate in their careers."
Token Holders Act as Analysts and Can Earn ROI as Scouts and Promoters
TokenStars initially focused on tennis, but now accepts clients in many popular sports — and even from the world of poker. The platform's cryptocurrency — the ACE token for tennis and the TEAM token for other sports — is the commodity that binds it together. Users around the world can purchase ACE and TEAM tokens on public cryptocurrency exchanges and use them on the TokenStars platform to fulfill the different roles associated with traditional sports and talent agencies.
The most basic way fans can get involved is through voting. TokenStars uses a decentralized community voting (DCV) mechanism to put token holders in charge of decisions on the platform.
In effect, these voters act as sports agency analysts, with one token equaling one vote. Holders help determine whether TokenStars should sign new players or renew current contracts.
"Depending on how many tokens they have, fans can vote on players to become part of our system," Tsagolov said. "And if someone owns more tokens, their vote is more valuable."
And the decisions these token-holding fans make through DCV are well-informed. That's because TokenStars also uses cryptocurrency to fund a scouting module. Platform users can apply to become scouts and introduce new talent to the pool using methodologies that emphasize data, including rankings and tournament results.
In turn, scouts earn compensation for their work in surfacing aspiring sports stars and making a case for them on the platform. Token holders who act as promoters also earn rewards and can even manage established players' social pages and act as public relations representatives through press kits produced by TokenStars.
Communication Model Allows Fans to Actively Experience the Careers of Athletes
Because the platform depends on the effectiveness of its scouting and promotional work, at-large voters also play a role in determining whether to retain scouts and promoters. That's because their work generates the player revenue that fuels the system.
"That's why the community is interested in supporting promising athletes because they want the tokens to be used, and they want the tokens to be purchased," Tsagolov said.
One way ACE and TEAM tokens enter the system is through sponsorship. Marketers acting as sponsors or advertisers seeking endorsements pay set fees on the platform. More significant for passionate sports fans, however, are the fan communication functions built into TokenStars.
The platform makes a variety of athlete interactions accessible to fans. Exclusive one-on-one and group training sessions are available, as are individual and group video chats and texts. Athletes may also be available for personal appearances at business events and other organizational gatherings.
"In return for ACE tokens, fans of one of Russia's best tennis players — Veronika Kudermetova — have had the chance to do a personal training session with her. And we've already done two such trainings," Tsagolov said.
In a similar vein, soccer star Alexey Sutormin has made video calls to TokenStars supporters. And true sports fans can understand how much it would mean to receive a personal call from a sports star wishing them a happy birthday.
TokenStars also earns revenue through selling unique personal items such as autographed equipment and uniforms and holds auctions to support nonprofit foundations and charities.
"It's all connected with tokens — the fan communication model provides an opportunity for people all over the world to communicate with their favorite stars," Tsagolov said.
Decentralized Sourcing and Promotion Helps Expand Opportunities in Sports
Like many traditional sports agencies, TokenStars is in growth mode. The platform is targeting an expansion in tennis, hockey, and soccer, as well as the poker community. And Tsagolov sees 2020 as a breakout year for TokenStars.
"Our vision for 2020 is to enlarge our portfolio, get more aspiring as well as established athletes to work with us, and bring in more fans," he said.
And that will mean more stories like that of Veronika Kudermetova. In contrast to someone like Sharapova from the previous era, Kudermetova's path to sustainability is more assured.
Kudermetova is currently the best player in Russia and is ranked in the top 50 of WTA singles and the top 25 in doubles. But for all her accomplishments, she's far from a household name in global tennis — which makes her a perfect fit for the TokenStars crypto-based crowdsourcing model. Tsagolov said that relationships like the one between Kudermetova and her fans demonstrate the blockchain's potential to transform sports promotion.
"The potential is quite high — it all depends on the pace of the transition from fiat currencies to cryptocurrencies," he said. "But I think that blockchain will become something that is used by many athletes for many different purposes."
For example, sports stars like the footballer James Rodriguez of Real Madrid are launching coins to communicate directly with their fans. Crypto is being used to sell tickets. And, Tsagolov theorizes, the TokenStars crowdsourcing model will translate into broader support for teams and individual athletes.
"Then it becomes a new era of communication between athletes and their fans," he said. "Because blockchain enables fans to have a stake in their careers."