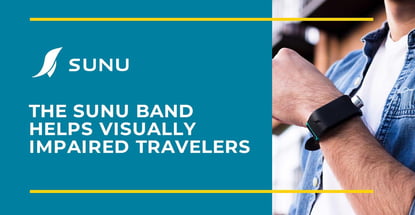 In a Nutshell: When we think of cashing in credit card rewards, we almost immediately think of travel and travel-related items. The Sunu Band is an innovative product designed as a travel aid for the visually impaired. The smartband uses technology such as radar, haptic feedback, and GPS to help low-vision and blind travelers navigate unfamiliar places safely and with confidence. The Sunu Band pairs with a smartphone app to give users maximum guidance, including voice directions. Yes, the Sunu Band can also tell time. In recent months, the Sunu Band has proven especially useful for visually impaired people trying to maintain their social distance during the COVID-19 pandemic.
Here at CardRates, we love the convenience and perks that credit cards bring to the table. And, among our favorite perks are those handy credit card rewards such as travel and dining discounts, and good old cash back.
When we swap our credit card points for cash, we tend to look for ways to spend our bonus funds in new and interesting ways.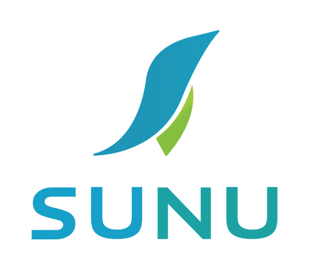 One product that recently caught our attention was the Sunu Band. We love to travel and this handy, innovative product is the perfect companion for visually impaired travelers. The band, which is worn like a watch, combines tried-and-true tech like radar with modern developments like augmented reality to help low-vision and blind people safely navigate their environment.
We recently spoke with Sunu's Business Development Director, Diego Mendoza, to learn more about Sunu Band, including its myriad benefits and how it has proven especially useful during the COVID-19 pandemic.
Mendoza said the idea behind the Sunu Band was born when one of the company's co-founders was participating in an internship at a school for the blind. After observing some of the challenges faced by the school-aged children, the co-founders developed the concept of the Sunu Band as a tool for inclusion.
"That's basically where it all started," Mendoza said. "They asked for feedback from the teachers about whether it would work and if they should implement it. Then, they created this little device basically from scratch."
He said the prototype device gained interest not only from teachers but also from the parents of the children at school.
"That's kind of where they started with this idea that this could be beneficial to a lot more people than just people within this school," Mendoza explained.
After building more support and securing financing, the Sunu Band was born — not only as a tool for inclusion at school but a tool to help low-vision and blind people travel with confidence.
Radar, Augmented Reality, and Haptic Feedback Help Users Safely Navigate Their Surroundings
"Sunu Band is a sonar smartband that improves navigation for the visually impaired," according to the Sunu website. "Sunu Band combines sonar or echolocation with gentle precise vibrations to inform the user about objects or obstacles within their environment."
The smartband augments awareness of the user's personal space and helps reduce accidents, ultimately improving confidence while providing a more fluid mobility.
"The band emits a high-frequency sound wave that bounces off of objects that the user encounters, and the resulting vibratory pattern changes depending on how close or far away the object is to the user," according to the company. "Specifically, the user feels vibration pulses on the wrist that become more frequent as an object is closer or less frequent as the object is farther away."
Sunu Band can detect objects up to 16 feet away, helping reduce accidents to the body, chest, arms, and head.
Sunu Band augments awareness of the user's personal space, reduces accidents and ultimately improves confidence while providing a more fluid and enjoyable mobility. The product has more built-in sensors than any other intelligent travel aid on the market, according to the company.
And, by connecting to the Sunu Band app on a smartphone, users can tap into even more helpful features.
Using radar and augmented reality, Sunu Band enables people who are low vision and blind to travel with confidence. Advanced haptic feedback guides your way around any obstacle, and navigation sensors connect you to the world that's around you.
"The obstacle detection feature comes straight from the Sunu Band, but once you pair it to the app you'll unlock the GPS features," Mendoza said. Users will also gain access to use the Sunu Band as a haptic watch, telling time through discreet vibrations. There is also a phone finder feature available and an activity tracker.
Learning to Use the Sunu Band and App
"The Sunu Band is considered an electronic travel aid," Mendoza said. "So, if the user has never experienced anything other than a white cane there may be a slight learning curve to take full advantage of all the features."
Mendoza explained that the Sunu Band can be thought of as essentially a white cane for the upper body.
"But, since you're not touching it, it actually speaks to you through vibrations," he said. "So, you need a little time to get used to what the vibrations mean. Six feet and no vibrations? It means a clear path."
He likened the device to the rear backup camera device on some vehicles. When the automobile gets close to an object, the device sends out a signal — usually audio — to let the driver know. The Sunu Band does the same, except with haptic feedback.
"Once you master the haptic feedback you can pair it to the phone," Mendoza said. "We actually just launched a new version of the app, and we're really excited about it."
The new version of the app is actually fully independent of the Sunu Band, Mendoza said. Anybody can download the app whether they own a Sunu Band or not and gain some advantages from it, although Mendoza recommends using the app and band together to tap into the full potential of both.
The navigation feature of the app connects to the Google Maps database to give users detailed voice directions on how to reach their destination.
With the help of the compass, the app can tell the user which direction they are facing. Mendoza said the app can even help identify a user's surroundings.
"You take your phone and access the sight line places and click on it and start pointing your phone into any direction," he said. "Let's say I'm pointing to my right. The phone will speak to me and say, 'Oh, there's an ATM in front of you.'"
This feature can be extremely valuable in a place like a busy shopping mall, Mendoza said. Users can point their phone in any direction to help locate the store where they want to shop.
Helping the Visually Impaired Stay Safe During the COVID-19 Pandemic
In recent months, people from all over the world have had to adjust their daily lives to the reality of the COVID-19 pandemic. Mendoza said that throughout this challenging time the Sunu Band has helped a lot of people continue their independence.
"Of course, with the COVID situation, social distancing is really something a lot more complicated for someone who's visually impaired because they need touch, they may need — at some points — a sighted guide or someone to help them," Mendoza said.
But the Sunu Band can help users maintain social distancing protocols.
"They can set the Sunu Band to six feet, and they will automatically know if there's somebody crossing into their personal space or their safe space," Mendoza said.
Watch on
The company told Forbes that it has gotten a lot of positive feedback from users since the pandemic began. The Sunu Band has proven particularly valuable for users who are standing in line and need to be aware of when the person in front of them moves forward.
"I like to say that staying indoors and working a remote job is a privilege, but not everybody has that privilege," Mendoza said. "And, a lot of people who are visually impaired still need to go grocery shopping or go pick up medication."
Although the Sunu Band was launched well before the pandemic, Mendoza said the company is happy to hear positive feedback from users about how the product has helped them through this time.
"Of course, when we designed the product we never thought about the current situation, but we're glad that our users are taking advantage of the Sunu Band to social distance and continue their independence," he said.
Whether gearing up for your next vacation or simply looking for additional guidance to navigate your own city, we think the Sunu Band makes for a worthwhile way to cash in credit card rewards for the visually impaired.
Advertiser Disclosure
CardRates.com is a free online resource that offers valuable content and comparison services to users. To keep this resource 100% free, we receive compensation for referrals for many of the offers listed on the site. Along with key review factors, this compensation may impact how and where products appear across CardRates.com (including, for example, the order in which they appear). CardRates.com does not include the entire universe of available offers. Editorial opinions expressed on the site are strictly our own and are not provided, endorsed, or approved by advertisers.