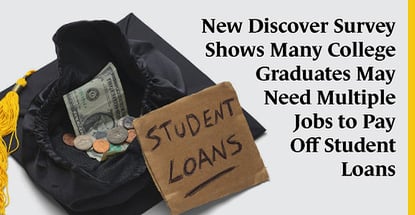 In a Nutshell: More than 1.1 million borrowers defaulted on their student loans in 2016 alone. While a sluggish job market caused some of those defaults, many of the issues stem from borrowers lacking the knowledge needed to prepare for repayment when they apply for loans. Discover Student Loans recently conducted a national online survey of 2,015 students, former students, and parents in the US to determine their perceptions on repaying student loans and the impact of repayment on finances and lifestyle choices. The study found the level of concern is greater among former students than current students, with 60% of former students expressing concern that their loan repayments will cause them to work extra jobs to make ends meet. //
I recently attended a loved one's college graduation ceremony and heard one of the best commencement speeches. While most of these talks take a lighthearted tone, this speaker started by congratulating the graduates on making it past all of the stress and hard work and earning their right to "join the real world."
Sure, the speaker could have been a little more gentle, but sometimes a quick dose of reality is more impactful than a half-hour of fluff.
More and more graduates are starting to understand that adult life is far different than their college years. Finding a job can be tough at times, and those new grown-up paychecks don't look as great when the first student loan bill comes in the mail.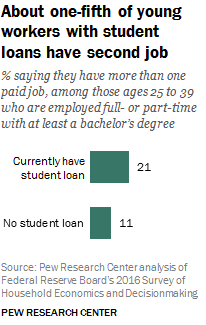 Discover Student Loans recently conducted a national online survey of 2,015 students, former students, and parents in the US to determine their perceptions on repaying student loans and the impact of repayment on finances and lifestyle choices.
The study found that 60% of former college students who are currently repaying student loans feel their loan repayments will force them to work extra jobs to make ends meet.
In addition to working extra jobs, 59% of former college students — identified as those aged 24 to 28 — reported concern about having to give up fun activities to afford their student loan payments, while only 26% of students still in college or recently graduated (ages 18 to 24) felt the same way.
"We are starting to see the cost of college become more of a consideration during the college application and selection process, which is positive," said Nicole Straub, Vice President for Discover Student Loans. "But there is still an opportunity for parents and students to have discussions about college saving and planning, so that both parties are on the same page."
Transparency & Preparedness Can Make a Big Impact
While some parents save for their child's college expenses, the money isn't always enough to cover the ever-rising cost of higher education. Straub said parents should be transparent with what they can contribute financially before the application process begins.
"It's important to be upfront about finances, what money is available, and where it's coming from before college selection begins," she said. "It's important for families to continually rethink their planning as things change and life events happen. Budgeting and planning early in the process will help to avoid any surprises either before, or after, a student graduates."
Discover Student Loans has many free online resources, from tips on evaluating loan options and keeping college costs down, to calculators that can help estimate how much a family may need to borrow.
Despite the availability of tools to increase preparedness, more than 1.1 million borrowers defaulted on their student loans in 2016. That equals approximately 3,000 defaults each day. According to Chelsee Spencer, Financial Wellness Expert at GreenPath, a financial counseling firm, the results of the survey aren't different from what she sees every day.
"As debt counselors, when we talk to people, it's usually in the post-loan stage when they're trying to figure out a plan for repayment. It's not necessarily when a parent is prepping for their kid to go to school or things like that," Spender said. But it's at this stage that a lack of preparation can become most obvious. "It's not a surprise that people are coming into their loans unprepared."
Spencer suggested that parents get an early start on college savings for their children by reviewing the College Preparedness Checklist provided by the US Department of Education when their child is young.
"The checklist is really neat because it's a to-do list that starts when your child is in elementary school to help students and their parents prepare," she said. "There are actionable items that lead up to the time of college graduation."
Former Students Are More Worried About Debt Than Those Currently Enrolled
Discover's survey found that former students express more concern about the impact of their student loan debt than current students.
Approximately 53% of former students and 54% of current or recently graduated students said they completely or somewhat understand how to budget their student loan payments alongside other expenses.
However, the survey also showed that 60% of former college students who are currently repaying student loans have the concern that their student loan repayments will cause them to work extra jobs to make ends meet, while only 30% of students still in college or recently graduated shared this concern.
"While the results were not terribly surprising, they provide an underlying insight," Straub said. "The student loan process is a unique financial instrument that brings parents and students together to review and understand repayment options. This can be a come-to-reality moment for students who don't have the foresight or experience to know what to expect."
Straub said parents should use the opportunity to talk with their child about what to expect, especially since they can help students understand financial responsibility and how debt and repayment works.
Spencer said the conversation should also include a search for alternative methods for minimizing higher education costs.
"You should do everything you can to understand what will make the most financial sense before you actually go through the process of applying for federal student aid," she said. "There may be scholarships or grants that you or your child can qualify for. You can also take some undergrad courses at a local community college to save on those expenses."
Graduation is a Time for Celebration — and Planning
While graduations are a time for reflecting on your journey to adulthood, the parties and other celebrations should also lead to an opportunity to prepare for your next stage of life.
"Graduates should take time to review their personal finances and prepare a monthly budget that will accommodate not only rent, food, and having fun, but a potential student loan payment," Straub said. "For those who have student loans, it's important to find out exactly when they need to start making student loan payments, how much those payments are going to be, and determine how they are going to pay the monthly payment."
Straub noted that making smaller payments during the deferment period or before the first repayment bill is due will be helpful in the long run by reducing both the time it takes to repay the loan and its total cost.
"Taking a look at your overall financial situation is also helpful," Spencer said. "That way, you can see if anything else needs to be adjusted, in terms of day-to-day expenses."
For some graduates, refinancing their student loans can reduce their interest rate and monthly payment, which will allow them to use those funds for other expenses or to put them into a savings or investment account.
Before refinancing loans, though, keep in mind that moving from a federal loan to a private lender can disqualify you from taking advantage of certain repayment options, like the income-driven repayment plans offered on federal loans, or student loan forgiveness options offered when a graduate works in certain public service fields.
Discover Student Loans provides helpful information on evaluating student loan options and how making in-school payments can affect your overall loan cost.
Repayment Options Can Help Lighten the Burden
Across America, millions of former college students are struggling to find ways to repay their student loans. While more than 1 million borrowers default on their loans each year, just as many find alternate ways to make their loans more affordable.
"If a student is having trouble making payments, they should contact their servicer as soon as possible," Straub said. "There are repayment assistance options available — such as forbearance, reduced payments, and payment extension programs — that provide temporary relief of payments."
Some students may also be able to refinance their student loans to reduce their interest rate and monthly payment. Spencer said that GreenPath clients often take advantage of these options to gain better control of their financial wellness.
"The options for managing student loans debt typically are income-driven plans or a time-based option," she said. "With a time-based option, you can extend out your repayment time horizon or create a graduated repayment plan, where the payments increase over time. Income-driven options may qualify people for a lower monthly payment based on how much money they make."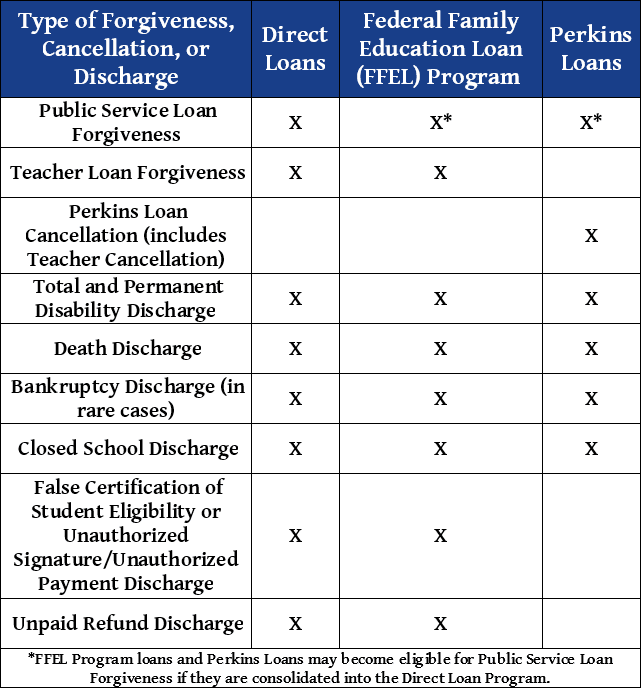 Spencer said each student's repayment options will vary on a case-by-case basis. The organization's counselors typically reach out to the servicer of the loan to see what options may be available to help the borrower.
Additionally, depending on your career and employer, Spencer noted that some borrowers may qualify for the federal government's Public Service Loan Forgiveness Program.
"This option requires borrowers to work in a qualifying nonprofit or government agency," she said. "There are forms that have to be filled out when you're applying for the forgiveness, and you must have at least 120 payments made on your account — though they don't have to be consecutive."
GreenPath recommends that people tracking for the forgiveness plan to opt for the income-driven repayment option for the 120 required payments.
"Standard repayment plans typically liquidate the loan in 10 years," Spencer said. "If you repay on the standard schedule, you'd have your loan paid off before you have the ability to take advantage of the forgiveness."
Advertiser Disclosure
CardRates.com is a free online resource that offers valuable content and comparison services to users. To keep this resource 100% free, we receive compensation for referrals for many of the offers listed on the site. Along with key review factors, this compensation may impact how and where products appear across CardRates.com (including, for example, the order in which they appear). CardRates.com does not include the entire universe of available offers. Editorial opinions expressed on the site are strictly our own and are not provided, endorsed, or approved by advertisers.