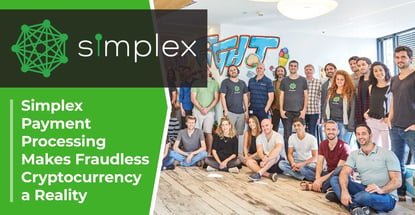 In a Nutshell: Cryptocurrencies have struggled to gain mainstream acceptance, in part, because merchants are wary of accepting them as payment. But Simplex changed that dynamic when it developed a platform that allows merchants to securely and compliantly convert crypto into traditional fiat currency. The platform also facilitates card payments and mitigates fraud and chargeback liability. Today, Simplex is a leading provider of end-to-end payment processing solutions for crypto-based businesses and is active in more than 190 countries and territories worldwide.
The rise of blockchain-based cryptocurrencies began around 2009 with the creation of Bitcoin and was fueled by enthusiasts attracted to its disruptive potential. Crypto promised to revolutionize established sources of central authority, including banks and even governments, and empower individuals to handle their finances directly and equitably.
For others, crypto was seen as an interesting experiment or a risky investment vehicle for the tech-savvy.
But recently, crypto has started to mature, and Simplex is helping lead that charge. Since its founding in 2014, Simplex has become the world's leading provider of payment processing and fraud prevention solutions for businesses that transact in crypto.

The company achieves this by making it easy for crypto merchants to accept card transactions from mainstream users anywhere around the globe.
"Previously, converting fiat currency to crypto was very difficult because most users wanted to swipe credit and debit cards to accomplish that," said Netanel Kabala, Simplex Co-Founder and CAO. "But early crypto merchants couldn't find anyone to process those cards."
Acquiring banks shied away from crypto both because of the regulatory uncertainty associated with it and because it was initially "a very risky product," according to Kabala.
"If you're a bank, you need to ensure you know how to handle it," Kabala said. "We started Simplex with that notion in mind."
Mitigating Liability for Merchants that Accept Crypto
Simplex is not a crypto business itself but works with crypto exchanges, brokers, and wallets, including Binance, the largest exchange in the industry. In addition to securing partners that allow its customers to convert fiat to crypto, Simplex's other primary responsibility is fraud prevention.
"Fraud is a very big problem," Kabala said.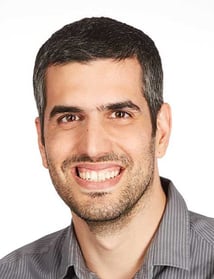 Cryptocurrencies are no longer wholly anonymized because mainstream exchanges like Binance comply with know-your-customer (KYC) regulations. But crypto's digital nature enables fraudsters with valid card account numbers to exploit it.
"Instead of finding a lot of shipping addresses for tangible products, for example, it's easy to open a hundred Bitcoin addresses and just perform a transaction from each one," Kabala said.
Simplex leverages proprietary technology to mitigate against that.
"AI and machine learning play a major role in what we do," Kabala said. "Our system is 100% automated, real time, and decision-based. And our data science team routinely improves our capabilities. We can direct users through different flows, and ask them for additional verification in some cases."
That merchant protection extends to chargebacks, a hazard card-accepting crypto merchants face just like most other businesses. And, in addition to Simplex's fraud prevention solution, merchants can elect to deploy chargeback mitigation and a representation system that wins about 80% of disputes.
Simplex assumes responsibility for the disputes it doesn't win, which means merchants take no risk.
"Sometimes it's difficult to prove that a chargeback was illegitimately filed," Kabala said. "We collect all the compelling evidence along the way and build a very strong case, nearly automatically, by the end of the payment process."
Seamless Onboarding and Integrations Help Partners Boost Conversions
The chargeback service puts Simplex squarely in the conventional payment processing space, and that's not the only area where the business overlaps traditional e-commerce. Circumstances the company encountered led Simplex to evolve into an end-to-end payment solutions provider.
"We found that most merchants in the crypto space were new — entrepreneurs who had started with Bitcoin early on, grew with it, and suddenly had a business to run. They often had no knowledge at all about how to enter payments," Kabala said.
So Simplex grew to encompass not just acquiring and fraud but also checkout, customer support, and settlements.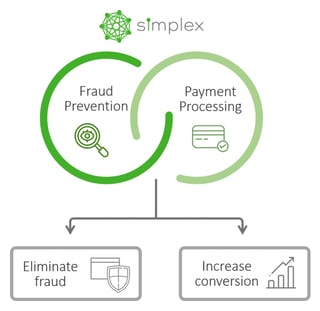 "We provide everything connected to payments," Kabala said. "We started building one module after the other and adding them to our service. Now we provide everything a customer needs to start offering turnkey credit and debit card payments that help gain and retain new users and sales."
And onboarding new customers is always a unique process because of the variety of merchants Simplex can serve. That's why the company has experienced staff in place to make the process seamless.
Simplex can build a payment system that reflects the look and feel of a company's branding. The company even gets involved with deployment — depending on the level of integration the customer desires.
"We have several different integrations, from a simple widget and hosted checkout solution to full integration for larger exchanges," Kabala said. "That's why we have integration engineers that guide every customer from the get-go. And we have customer success and onboarding representatives that do everything on behalf of the merchant — from the underwriting to filing documents with the acquirers, and everything in between."
Reducing Risk and Building Confidence in Crypto
Before Simplex arrived on the scene, the most prevalent means for purchasing crypto was by wire transfer — a method that was problematic in the crypto space, according to Kabala.
"Wire transfers were costly and slow," he said. "You could only get the coins you purchased after your money was deposited, so it could take days. Given the volatility in cryptocurrencies, that delay could mean a significant percentage change in the rate of your return."
Now getting up and running with Simplex is almost as easy as flipping a switch. That, along with Simplex's relatively long history in the cryptocurrency space, translates into a high level of customer confidence in its services.
"Our main assets are our reputation and longevity in the crypto space — we've been active for almost six years now," Kabala said. "I believe that fact, and the abundance of information on Simplex that can be found online, are significant drivers of customer confidence."
The state-of-the-art security infrastructure that supports the Simplex platform is yet another concrete foundation for that confidence. Simplex is certified by the Payment Card Industry Security Standards Council and is fully compliant with the EU's General Data Protection Regulation standards that address the transfer of personal data. It also recently became an EU-licensed e-money issuer, providing capabilities that will soon lead to faster crypto-to-fiat bank transfers.
For many merchants, Simplex provides another avenue for transacting and brings stability to an often volatile space. That means the company is doing its part to bring crypto to the mainstream.
And that's sure to lead to more effective business and financial solutions for merchants and consumers around the globe.
"The crypto space can sometimes seem messy, unpredictable, and scary for new users," Kabala said. "But we're on a mission to make this industry a safer and better place for everyone."
Advertiser Disclosure
CardRates.com is a free online resource that offers valuable content and comparison services to users. To keep this resource 100% free, we receive compensation for referrals for many of the offers listed on the site. Along with key review factors, this compensation may impact how and where products appear across CardRates.com (including, for example, the order in which they appear). CardRates.com does not include the entire universe of available offers. Editorial opinions expressed on the site are strictly our own and are not provided, endorsed, or approved by advertisers.