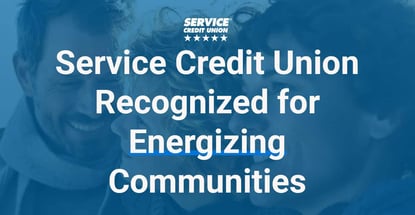 Our experts and industry insiders blog the latest news, studies and current events from inside the credit card industry. Our articles follow strict editorial guidelines.
In a Nutshell: Service Credit Union offers competitive credit and loan products to meet everyday needs and earn rewards. But it also lives up to its name in other ways. With more than 343,000 members in its home state of New Hampshire and beyond, Service Credit Union reaches out with tools and resources for financial wellness and literacy. It also partners with local and national nonprofits to energize the communities it serves, earning our Editor's Choice™ Award.
Because every individual, family, and community has unique financial needs, financial services are more effective when they are personalized. And because credit unions are member-owned, they're primed to match what they do to the people and communities they serve.
That's how credit unions compete against larger, more profit-minded institutions — they help members put financial services to work for them, not for shareholders living elsewhere. And they have a vested interest in building vitality in the communities where their members live, work, and attend school.
Even with that high bar, Service Credit Union stands out with products designed to fit member and community goals and a commitment to make every stage of the financial journey attainable.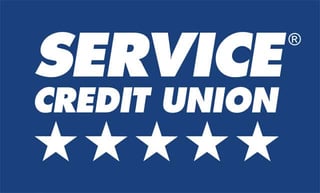 Service Credit Union offers credit and loan products that make personal milestones, such as weddings, easier to achieve. It partners with leading financial wellness and educational providers to ensure everyone has a chance to progress. And it reaches out locally, nationally, and internationally to help communities thrive.
"We do it all," said Anna Baskin, Content Manager at Service Credit Union. "All credit unions work to support their communities, but it's ingrained in everything we do."
Service Credit Union's origins may have something to do with that. The New Hampshire-based institution started in 1957 for personnel at Pease Air Force Base. It currently serves more than 343,000 military and civilian members across New Hampshire and at Air Force bases in Massachusetts, North Dakota, and Germany.
It counts more than 50 walk-in branch locations across its service area and manages more than $5.4 billion in assets.
And because it always strives to be the credit union every member wants and needs, it has earned our Editor's Choice™ Award.
Credit Products Meet Real-Life Challenges
With credit and loan products tailored to a wide range of use cases, Service Credit Union ensures something for everyone, from beginners to seasoned, rewards-minded users.
All card products offer competitive APRs with no annual, hidden, or foreign transaction fees. Elite-level mobile apps, online management and chat tools, and identity theft protections are standard. Terms and benefits are consistent across Service Credit Union's service area, including Germany.
Anchoring the card lineup is the low-APR Visa Everyday Card, which meets the needs of members who may need to carry a balance.
For members interested in maximizing their financial potential through more strategic credit use, the Visa Everyday Preferred Card offers a point per dollar spent, and the Visa Signature Everyday Elite Card offers 1.5 points.
A partnership with uChoose Rewards enables users to use points for cash back, gift cards, travel rewards, PayPal purchases, or merchandise.
"We give people lots of options for points back, including opportunities to earn double and triple points on select categories from time to time," Baskin said.

For members new to financial services or looking to rebuild credit, the Visa Everyday Share Secured Card backs credit with savings deposits. To encourage all members to keep an emergency balance in savings, the credit union also offers a consistent 5% APY on the first $500 in deposits.
Another key differentiator is the Holiday Club, a dedicated savings account that pays 3% APY on the first $3,000.
Service Credit union also offers low-interest personal loans to facilitate travel and to handle health care expenses, debt consolidation, auto repairs, utilities, and moving costs. The credit union will extend loans to enable milestone moments; for example, they offer a Wedding Loan.
Tools to Help All Members Achieve Financial Success
Ensuring that all members have the skills to use financial products effectively is a responsibility the Service Credit Union team treats with the utmost seriousness. So it puts thought and resources into financial literacy and wellness partnerships that bring the most bang for the buck and meet members at every stage of their lives.
As Community Relations Manager Jaime Yates pointed out, in-person, phone, or chat consultation with the branches is a great way to get answers quickly. But for deeper dives, financial literacy training from EVERFI puts members in the driver's seat. Training sequences help users get up to speed on topics such as credit cards, emergency savings, retirement, and homeownership.
"We have a link in our EVERFI module, so after you learn about credit cards, it'll bring you back to our website to apply for one," Yates said.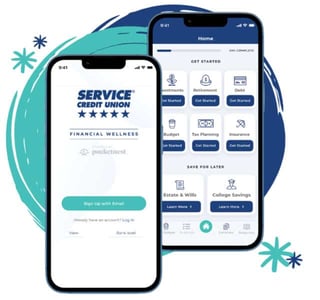 Through the Fin-Life financial wellness app, users receive coaching on topics ranging from sticking to a budget to planning for the future. For folks with too much card debt, Fin-Life can help by creating a workable payback plan.
Service Credit Union also offers free GreenPath financial wellness coaching for users interested in a more one-on-one approach to managing their finances and tackling excessive debt. Topics include learning about financial education for military members and veterans, and how to use Experian Boost to monitor credit, access a free credit report, and raise credit scores.
For the credit union's newest members, children of middle or high school age, the Saving Money is Fun Kids Club, featuring the Money Mammals, is a gamified primary savings account that pays 5% APY on the first $500.
And through Bite of Reality, school-age members learn about money management by navigating real-world spending and saving challenges.
"As adults, we probably don't think money is fun to think about or talk about — there's a lot of stress behind it," Yates said. "So if we can give them an exciting feeling about interacting with money, that'll keep the stress down."
Service Credit Union: Committed to Community
Another component of financial wellness operates at the community level. Through the Service CU Impact Foundation, Service Credit Union awards scholarships and grants that positively impact New Hampshire.
But across its service area, even in Germany, the credit union itself plays a huge role in community building.
"We're a member-owned financial institution — that's what the credit union difference truly is," Yates said. "It's our choice to give back the way we do and to the extent we do."
In New Hampshire, a partnership with Swim with a Mission involves US Navy SEALS and raises funds for veteran service organizations. A collaboration with the Make-A-Wish Foundation lifts the spirits of children with critical illnesses. And in Germany, the credit union partners with the United Service Organizations, or USO, the leading charitable organization that provides entertainment to service members and military families.
Beyond these partnerships with national and international nonprofits, the credit union works holistically and on a branch level to facilitate giving where and when needed.
For example, during the 2022 year-end holiday period, the credit union's Project Elf spent thousands of dollars at 10 family-owned toy stores in New Hampshire and donated the toys to the Marine Toys for Tots initiative.
"It was powerful," Yates said. "We partnered with the New Hampshire State Police for that project."
The credit union has also participated in the Adopt a Nonprofit initiative, where individual branches pick local nonprofits to receive $1,000 in wish list items.
And through a partnership with Mobius Mobility, Service Credit Union puts its loan operation to work as an agent for community well-being. Mobius offers the iBOT® Personal Mobility Device to disabled persons as an alternative to conventional wheelchairs. The device extends in height to put the user at eye level with conversational partners.
"It's emotional for iBOT users to see eye to eye again with people, but the device is not cheap," Yates said. "Our program makes having an iBOT more affordable, more reachable."