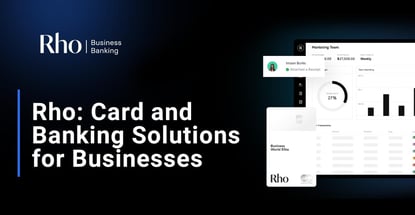 In a Nutshell: Rho is a modern business banking solution that lets companies view their banking, accounts payable, and corporate cards on one platform. It also offers virtual and physical corporate cards that allow companies to move between flex and float spending. Rho has altered its underwriting process so its team has a more holistic perspective on how much credit it can safely offer companies. 
The team behind Rho, a business banking platform, identified a pain point for small- to medium-size businesses to grow. With the unbundling of the bank, financial services became hyperspecialized. 
"There was a specialized service for everything. With each new service that came, there was a whole new set of logins to share and manage, apps to maintain, and fees to pay. Companies had data points they had to reconcile at the end of the day. It became time-consuming and expensive," said Olivia McNaughten, Rho's Director of Product Marketing. 
This complexity slowed growth for some businesses. The value proposition behind Rho is that companies can easily manage all business spending — including corporate cards, banking, and AP — via one intuitive platform. With fewer systems to juggle Rho makes it easier for businesses to scale, instead empowering finance teams with the software, credit, and support they need to drive business growth.
Rho bundles together three cornerstones: accounts payable, smart corporate cards, and banking. The platform is frictionless and easy to navigate.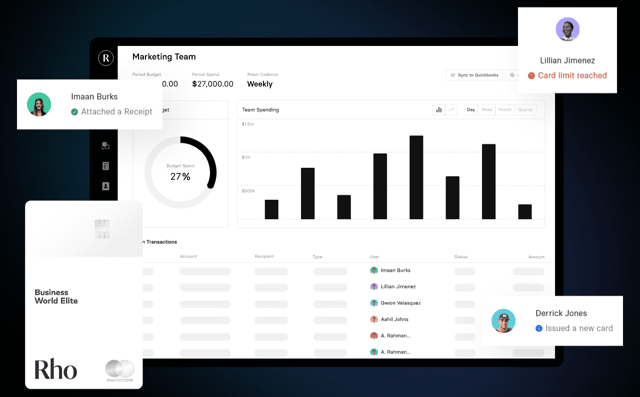 The banking platform has been in development since 2019 and first started operating in 2020. The company is sector agnostic — any business can use Rho. A few industries, including e-commerce, tech, construction, and manufacturing, have been early adopters, but professional services have also found value in Rho. 
Sectors that pay suppliers and vendors find that the banking platform effectively tracks their day-to-day operations. The company attracts everything from small merchants in traditional industries to tech startups. 
"We are built for high-growth businesses all the way up to mid-market businesses," said McNaughten.
Perhaps Rho's most valuable tool is the ease it provides in visualizing all of a company's spending. Teams can dive into department or individual spending, as well. 
"You can get a sense of how your company is performing across projects, teams, and individuals. Your whole team can gain access to Rho, but you can set unique permissions per person," said McNaughten.
Providing a More Useful Type of Corporate Card 
In addition to bundling services, the team behind Rho spent years creating unique corporate cards that help companies streamline operations.
"Each business has different needs in terms of credit, repayment terms, and the number of cards they need. So, we built a card that was flexible that could be tailored to business needs," said McNaughten.
So, if a business needs more time to repay the credit terms, for instance, they can take up to 60 days for repayment (inclusive of statement period), rather than the standard 30, with no penalty. Many businesses take advantage of this option during the holiday season when they are buying supplies. 
Corporate cardholders can also earn up to 1.75% cash back on their purchases. The rate of cash back earned depends on the repayment terms. For example, cardholders who repay within one day can earn the full 1.75% back, whereas cardholders who need 60 days to repay do not earn cash back.
What's more, the card is flexible in that companies can alternate between months where they can pay their balance right away and earn rewards or extend payments in lieu of cash back.
Companies can also choose whether to give their employees virtual or physical cards. There are zero fees for employee cards, no matter how many cards a company wants to distribute to its employees.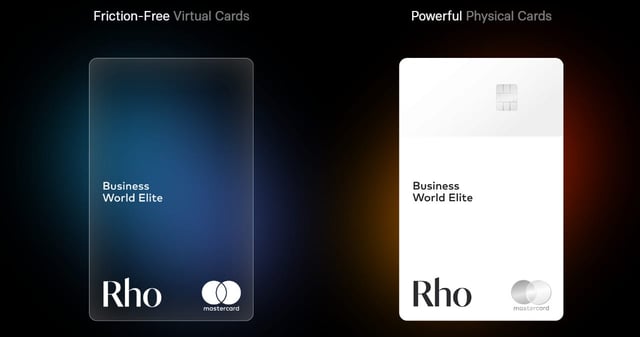 "Our virtual cards are more popular than our physical cards. We are living in more of a remote world right now. The power of the virtual card is that they're instant. You can assign it to an employee or vendor and start spending immediately," said McNaughten.
Unique Underwriting For Businesses in All Sectors
Rho adds value to standard corporate cards and banking by recognizing that each business is unique. This is also the company's philosophy regarding underwriting, as it found traditional business lending practices too rigid. 
Typical underwriters look at a company's years of operation and income. Whereas some of the new fintechs focus on the company's cash balance. Most underwriters use these standard factors to determine whether it will approve an application and how much it will lend.
But there is a problem with this formula, especially for growing businesses. 
"[Some corporate card issuers] use an equation to calculate your credit limit based on your cash balance. For a business to grow, you need to be spending. Your cash balance may decline, and that means your credit limit is also declining," said McNaughten. 
McNaughten mentioned an instance of a company having a variable credit limit based on an underwriting process that looks at your cash balance. Their Facebook ads were pulled when the company spent over its limits, and their credit dropped instantly. 
With these problems in mind, Rho has instead focused on holistic underwriting.
"We look at more metrics and factors to give you a higher limit that's more stable and can grow as you do. We can do it safely and confidently. We're not taking on more risk. We just understand your business more completely," said McNaughten.
Many businesses have already started finding value in Rho's services. 
"Rho has enabled Caraway's expansion. They adapt to our growth, provide superior products, and allow us to optimize our operating expenditure," said Mark Riskowitz, the Head of Operations at Caraway. 
"Our team is more efficient, and our costs are lower because we now have everyone working together within Rho," agreed Colin Darretta, the CEO of Innovation Department.
Rho: Streamlining Finances For Scalable Operations 
When a company signs up with Rho, they are assigned to a dedicated support person. Rho recognizes that software isn't enough and that their clients value human-first support. 
"They get a dedicated account manager and support seven days a week. Because they have such personalized conversations, the team is able to feed that back into the product," said McNaughten.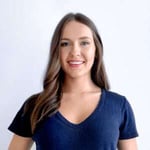 Team members can set up real-time spending tracking that they can view in one place. They can also integrate this platform with company accounting through Quickbooks. 
Rho promises to keep the finances of the businesses that bank with them secure. 
"Your money is safe and is FDIC insured. We have all the key things from two-factor authentication. Security is critical in this industry. When you're in this field, you don't release anything half-baked. You can't take those risks," said McNaughten. 
Though Rho has only been operational for fewer than two years, the team has many plans based on customer feedback in the works. 
The team's primary objective is doubling down on automation so finance teams can close their books faster. And the Rho team will continue to grow along the way — it's doubled in size over the past six months. 
McNaughten and the rest of the Rho team said they look forward to adding even more value to the platform. 
"We continue to scale alongside our customers," she said. "At the end of the day their success is our success. So we strive to develop the best products that support and accelerate their growth."
Advertiser Disclosure
CardRates.com is a free online resource that offers valuable content and comparison services to users. To keep this resource 100% free, we receive compensation for referrals for many of the offers listed on the site. Along with key review factors, this compensation may impact how and where products appear across CardRates.com (including, for example, the order in which they appear). CardRates.com does not include the entire universe of available offers. Editorial opinions expressed on the site are strictly our own and are not provided, endorsed, or approved by advertisers.