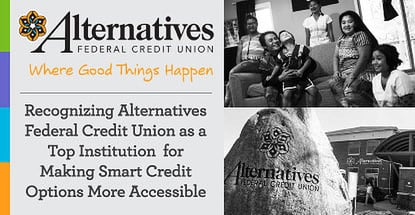 In a Nutshell: For four decades, Alternatives Federal Credit Union has provided affordable borrowing options and sound financial counseling to low-income clients who struggled to find fair treatment at banks and other lenders. In a time of high-interest credit cards and predatory lending, programs from Alternatives like Back on Track offer low-interest loans for emergencies such as medical care, auto repairs, or veterinarian bills. Alternatives treats all clients with respect and recognizes their unique needs. For example, the auto loan program offers flexibility to help clients get affordable financing for older-model cars within their budget. Alternatives never denies a loan based on credit score and still maintains a very low delinquency rate. For working to meet the borrowing needs of the underserved with respect and safe financial services, we recognize Alternatives Federal Credit Union as a Top Institution for Making Smart Credit Options More Accessible. //
Sometimes life presents obstacles that prevent even the most responsible person from making a payment on time. While many financial institutions might use intimidating tactics to encourage the borrower to pay the funds in such cases, Alternatives Federal Credit Union takes a different approach. If a client falls behind on a loan, the Alternatives staff will work with the individual to develop a personalized solution for getting caught up.
The mission of Alternatives is to build wealth and create economic opportunity for underserved people and communities. The organization offers low-interest loans for home, auto, personal expenses, and other necessities. These loans come with better terms than what clients might find elsewhere — especially individuals with low credit scores who fall victim to predatory loans and rentals.
Alternatives Federal Credit Union was founded in 1979 in Ithaca, New York, as a locally controlled, low-income credit union designed to support the financially diverse community by providing capital to businesses and individuals who have been ignored or mistreated by banks and other financial institutions.
While an individual's credit score may determine their interest rate, Alternatives never approves or denies a loan based on credit score.
Additionally, Alternatives provides financial counseling for individuals and businesses, including a Student Credit Union program that teaches students in elementary school how to manage money and community programs that offer free tax preparation, among other services.
Chief Lending Officer Carol Chernikoff, who has been with the credit union 35 years, said founder and former Chief Executive Officer Bill Myers always stressed that Alternatives was there to give a "hand up, not a handout."
That community involvement includes working with local non-profit groups to identify and meet the interests of modest-income and marginalized people. In a recent partnership, Carol Chernikoff said Alternatives and Planned Parenthood of the Southern Finger Lakes had launched partially grant-funded financial services and a counseling program for transgender individuals.
For its efforts to meet the needs of underserved individuals with an array of affordable loan options while maintaining ethical business and financial practices, we recognize Alternatives Federal Credit Union as a Top Credit Union for Smart Credit Options.
The Back on Track Loan Provides Affordable Assistance for Unforeseen Expenses
The car you rely on to get to work breaks down. You need an emergency root canal. The family pet gets sick, and vet bills pile up. These types of unanticipated expenses can strain budgets and drain savings accounts.
With a Back on Track loan, described as a safety net credit program, Alternatives helps folks weather financial storms of unexpected bills and expenses.
For example, information about the Back on Track is made available at area dental offices to provide an alternative to other financing options that often carry burdensome interest rates. The credit union also works with local non-profit groups to identify residents who might benefit from the program.
As a lending practice, Alternatives does due diligence to ensure that Back on Track loans are approved for unforeseen events and emergencies, rather than nonessentials like a new sofa.
"Our intention in doing this is to support people in their time of need," Chernikoff said.
The Back on Track program offers 8% interest on loans of up to $4,000, with flexible payment terms of up to four years and plans that are designed to fit a borrower's budget. For example, the monthly payment is $97 to pay off a $4,000 loan in four years.
Alternatives is dedicated to helping individuals and their unique financial circumstances with the Back on Track program and other smart credit options. That's why, if a person faces recurring costs instead of a one-time expense, a revolving line of credit rather than a Back on Track loan may be a better solution for their situation.
More Flexible Auto Loans Offer Borrowers Lower Rates
The majority of people today use vehicles to get to work, school, the doctor, and the grocery store. Alternatives understands just how important access to transportation is and offers more flexible auto loan programs to help low-income individuals purchase a vehicle that meets their budget.
What's different about Alternatives is in its approach to financing periods. When financing a vehicle with the credit union, a loan for an eight-year-old car will have the same low-interest rate and payment plan of up to six years as a loan for a year-old car.
Unlike other financial institutions, Alternatives also has loan programs available to purchase vehicles that are nine to 11 years old.
Furthermore, the financial institution provides local approval on loans, pre-approval for bargaining leverage, and refinancing to existing loans for lower rates.
Chernikoff said Alternatives auto loans intend to help someone get the vehicle they need within their budget, instead of straining their finances in the long run by forcing them into a newer car they cannot afford.
People are More than a Credit Score to Alternatives
In a rare yet successful approach to lending, Alternatives will look at the borrower's whole financial situation, which other lenders may not take the time to do. The credit union instead focuses on the borrower's ability to pay and will not grant predatory loans which people cannot afford.
"Credit score is a faulty tool," Chernikoff said. "We review the credit; we see what their credit history is, and; we make a decision. The rate is based on credit score, but the decision isn't based on credit score."
Individuals with credit scores of 490 or 510 have routinely received approval. And, Alternatives maintains a delinquency rate of less than 1%.
"After all these years, I can tell you with confidence the reason for that is relationships," Chernikoff said. "When you treat people with respect, no matter where you meet them, they respond. When you judge people, then they don't respond."
If Alternatives cannot approve a loan for a low-income individual, they work to help them build up their credit through a program designed for just that purpose.  Under this program, borrowers receive a $500 loan that stays frozen in their account. Once they pay off the loan, they get access to the money as a line of credit.
"That develops the habit of paying bills on time," Chernikoff said.
Building Meaningful Relationships with All Members
The last thing a person facing a stressful financial situation could want is an aggressive collections agent calling on the phone to hammer them over being late on a payment.
With a track record of helping low-income individuals through tough times, Alternatives understands this. It's one reason why the credit union renamed the Collections Department to the Solutions Department.
The credit union also sets itself apart by looking past credit scores, bank accounts, and loan documents to build a relationship with each client.
"We listen to our members," Chernikoff said. "We talk to others, not for profits, and members of our community who are addressing the needs of the underserved. "
In 2017, the focus on helping low-income individuals get money for life's necessities included $686,500 in funding to develop a car loan program for the underserved.
There are also community programs you will not find at other financial institutions. Since 2003, the Free Tax Preparation Program has prepared more than 24,000 returns and secured more than $44 million in refunds for local taxpayers in the Tompkins County, New York, and surrounding area.
For its efforts to meet the financial needs of low-wealth and underserved individuals with an array of affordable loan options and community programs while maintaining safe financial practices, we recognize Alternatives Federal Credit Union as a Top Credit Union for Smart Credit Options.
Advertiser Disclosure
CardRates.com is a free online resource that offers valuable content and comparison services to users. To keep this resource 100% free, we receive compensation for referrals for many of the offers listed on the site. Along with key review factors, this compensation may impact how and where products appear across CardRates.com (including, for example, the order in which they appear). CardRates.com does not include the entire universe of available offers. Editorial opinions expressed on the site are strictly our own and are not provided, endorsed, or approved by advertisers.