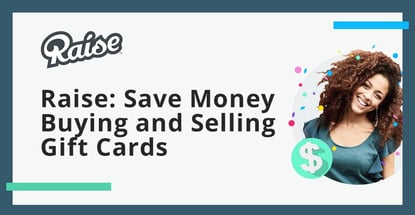 In a Nutshell: Gift cards make for great presents around the holidays, but billions of dollars in gift cards actually go unused each year. Raise provides an online marketplace where people can sell their unused gift cards and turn them into cash. Meanwhile, savvy shoppers can purchase gift cards from more than 4,000 brands at a discounted price. They can also stack other savings, such as cashback credit cards or coupons, on top of the gift card purchases to save even more. Raise's second app, Slide, offers yet another way for users to save money. The convenient app allows customers to use it to make purchases online or in-store and earn up to 10% cash back instantly.
Each year, up to $3 billion in gift cards goes unused. That's billion. With a b. As much as I love receiving gift cards and having the freedom of shopping with them in my own time, I'm guilty of letting them go unused from time to time.
I'll put a gift card to a restaurant or one of my favorite stores into a drawer to use later and completely forget about it. Sometimes I come across them years later after they have expired. Other times, I get lucky and they still have a balance on them.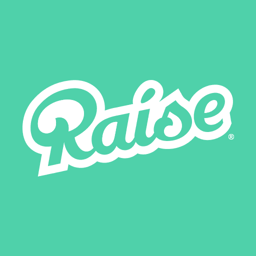 I also like giving gift cards, although some folks think gift cards tend to be too impersonal. But, as an adult with friends who can generally buy the things they need when they need them, picking out the right gift can be challenging. A gift card with a personalized touch goes a long way.
But there are other ways to use gift cards to your advantage, as well.
Raise is an online platform for buying and selling gift cards at discounted prices — along with other offerings — that helps people save money.
Raise CEO Jay Klauminzer said the idea for the platform actually developed after he learned just how many gift cards go unused every year.
"It's really straightforward — the idea of Raise is to give yourself a raise," said Klauminzer. "It's meant to give people a chance to take care of the problem of gift cards going unused."
We recently chatted with Klauminzer to learn more about how Raise works and to get some tips on maximizing savings using the platform.
Creating an Efficient Online Marketplace for Gift Cards
Klauminzer discussed the ins and outs of Raise, and how it helps solve the problem of wasted gift cards while putting money in people's pockets.
"For people with a junk drawer filled with gift cards they don't plan on using, or if they just need some extra cash, they can go ahead and list them on our marketplace," he said. "And on the flip side, consumers get those cards at a discounted rate, so it works for both sides."
The idea is for Raise to be akin to eBay, but for gift cards.
"It was purpose-built so people can sell their cards and buy cards with a discount," he said. "You can save money along the way."
Since Raise was founded in 2013, the company has generated more than $1.6 billion in gross transactions and saved its 3 million members more than $170 million.
"With Raise, consumers can save money and earn rewards on every in-store or online purchase instantly from their mobile wallet while retail partners can explore new ways to reward their customers and increase acquisition, retention, and loyalty," according to the website.
Klauminzer also discussed ways in which the marketplace has evolved since its inception.
"One area is the product itself," he said. "We've spent countless hours trying to make it really seamless for both buyers and sellers, making sure that there's no fraud on the platform and guaranteeing all of our cards for a year. So there have been lots of improvements on that side."
Raise Offers a Selection From Thousands of Well-Known Brands Across Numerous Industries
Klauminzer said Raise has put a lot of time and effort into improving the wide range of gift cards members can choose from. More than half of the cards being sold on Raise now come directly from the retailers.
"So, chances are, any brand that you want we will likely have marketplace cards for sale," he said. "But just in case we don't, we can then fill that with cards directly sourced from the retailers, and you can get discounts every day on all the brands that you love."
The Raise platform supports more than 4,000 brands, and the website offers an intuitive and efficient user experience. Many brands are featured prominently on the front page, but users can also browse categories or search for specific brands by name.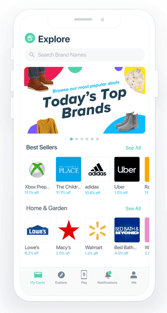 "If there's a brand that you want to shop at that offers gift cards, chances are we will support that brand," Klauminzer said.
Looking ahead to the holiday season, he expects shoppers will utilize websites like Raise even more to save on gifts.
"Shoppers are on the lookout for new ways to access deeper savings, especially given the ongoing effects of inflation and lingering supply chain issues," he said.
Raise also offers a gifting feature that allows users to send gift cards to friends and family on a specific date, ideal for holiday gifting.
"Raise's platform not only lets you buy and send gift cards, but also gives you the option to cash in unused gift cards," Klauminzer said. "If you receive a gift card that you don't want during the holiday season, you can sell it on Raise and make sure it doesn't go to waste."
Stack Savings Using Credit Cards, Coupons, and the Slide Cashback Program
"When people think of gift cards, they think of the namesake right? As in 'I'm buying a card to give to somebody,'" Klauminzer said. "But in our consumer research, we found that over 95% of purchases are actually people buying things for themselves to save money on their everyday purchases."
And the more discerning consumers find ways to save above and beyond just purchasing discounted gift cards. Raise helps make these extra savings possible.
"Our most savvy shoppers are combining their cash back credit cards with the Raise discounted gift card, with maybe a coupon they found online," Klauminzer said. "We have affiliate coupon programs as well. So some of our customers are doing all three of these things, and using our browser extension to save money at checkout."
Watch on
By combining these different saving methods, customers can end up saving a significant amount of money upon checkout which is what Raise is all about, he said.
Raise also recently introduced its Slide app to give users even more ways to save.
"We built Slide as the most rewarding way to pay. It's using very similar technology that we use on Raise," Klauminzer said. "It's an app that you can use to pay instantly at over 300,000 locations (and online) in the U.S. It's contactless, also. So if you're in a store, you just pull up the app and there's a barcode that gets scanned, and you walk out."
The big savings proposition through Slide is that users can earn up to 10% cash back instantly.
Klauminzer said users can also earn an extra percent cash back if they add cash to their wallet.
"It's the democratized Starbucks app, essentially," he said. "It's a Starbucks app for every other retailer. And that's how it really works. You load up funds, you spend them at the store. And the underlying technology is gift cards — it's just completely rebuilt."
If you have a drawer full of unused gift cards, Raise can help you turn those into cash. Or if you're a savvy shopper who's always on the hunt for a good deal, Raise — and it's 4,000-plus brands — likely has something for you.
Advertiser Disclosure
CardRates.com is a free online resource that offers valuable content and comparison services to users. To keep this resource 100% free, we receive compensation for referrals for many of the offers listed on the site. Along with key review factors, this compensation may impact how and where products appear across CardRates.com (including, for example, the order in which they appear). CardRates.com does not include the entire universe of available offers. Editorial opinions expressed on the site are strictly our own and are not provided, endorsed, or approved by advertisers.