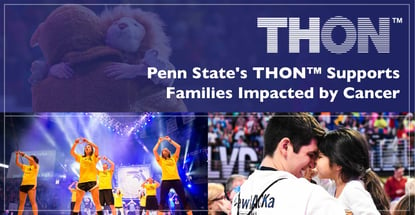 In a Nutshell: THON™ started modestly as a fraternity dance marathon fundraiser at Penn State University in the early 1970s. It's now the largest student-run philanthropy in the world, having raised nearly $170 million to fund critical cancer research and provide emotional and financial support to families impacted by childhood cancer. THON is a year-round effort that involved more than 16,500 student volunteers in 2019 and includes campus and community events, and a personal outreach program for families affected by cancer. The yearlong slate of events build up to an epic 46-hour dance celebration. THON is truly a phenomenon like no other, and you can become part of THON Nation, too.
The story of Penn State University's THON™ philanthropy begins with an 11-year-old boy named Christopher Millard, who in 1969 was diagnosed with cancer. Before he lost his battle with the disease, he wrote a tale about a knight on a quest for the four diamonds of courage, wisdom, honesty, and strength. After Christopher died, his parents, Charles and Irma Millard, founded Four Diamonds in 1972 to assist families with children diagnosed with cancer and support research at Penn State Children's Hospital.
Coincidentally, the members of the Penn State Interfraternity Council decided the following year to stage a fundraising dance marathon. A total of 78 dancers participated in a 30-hour event that raised more than $2,000. Over the next few years, the dance grew into a modest tradition.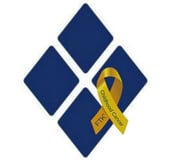 Then, in 1977, Four Diamonds entered into a formal charter with the Penn State Health Milton S. Hershey Medical Center — and the students who ran the dance at Penn State elected to make Four Diamonds their sole beneficiary.
From there, the dance just kept growing. In 1979, it outgrew its original location, and, in 1983, raised more than $100,000 for the first time. In 1987, the students rebranded the event as THON, and five years later, THON broke the $1 million fundraising mark.
It's not just a dance marathon now but a series of events that take place across the Penn State campus and community all year and together raise more than $10 million annually for Four Diamonds.
But as THON Public Relations Director Dan Mele notes, there's more than money at the heart of it all. "THON is so special to Penn State," he said. "It's our mission to provide not just financial but also emotional support, and it's a huge source of pride that we're able to make such an impact on families."
Adopt-a-Family Program Pairs Families Affected by Cancer with PSU Student Organizations
At its core, THON is powered by Penn State student organizations. Originally within the domain of the Interfraternity Council, THON now encompasses more than 400 organizations, many of which exist solely to fundraise for THON. This year's crop of 16,500 student volunteers donated an average of 15 personal hours a week to THON-related activities and events.
Organized by THON's Family Relations Committee, the Adopt-a-Family Program connects student organizations to families with children who have been admitted to Penn State Children's Hospital with a cancer diagnosis and have applied to participate in the program.
"These student organizations become like family to families being impacted by a child's cancer," Mele said. Students "adopt" their families, welcoming cancer children and their parents, guardians, and siblings into their organizations, spending frequent quality time with them, and generally being there in good times and bad.
"When the child's sick or they're having a tough day, the students will go out, even on a Friday night or a Saturday, and just make the trip out to spend time with them," Mele said. "Or, after treatment, they'll help the family get back into the groove of a normal lifestyle."
"I'd love for families to know even though it's overwhelming to meet a new group of people you never met before while trying to wrap your mind around the fact your child has cancer and all that that entails, being paired can be the best overwhelming choice you make. These kids will make fun for your child when you can't. The guys will play Barbies & the girls will play kickball, all while expecting nothing in return. They will be the light during a really tough time." — Jeremy Hawk Family, paired with Impact
Adopt-a-Family is one source of the emotional bonds that form between Penn State students and cancer families — and that can last for years.
"A lot of these relationships continue even after a student's four years at Penn State," Mele said. "I know stories of students attending a family member's wedding, five or 10 years down the road, just because they're keeping up that strong relationship."
THON Raises $10M+ Annually to Support Four Diamonds
When children are admitted to Penn State Children's Hospital with a cancer diagnosis, their families become "Four Diamonds families." Thanks to the $10 million or more in annual support received from THON, Four Diamonds takes care of all medical and financial obligations for those families beyond what their insurance covers.
Since Four Diamonds' inception, every cancer family at Penn State Children's Hospital — more than 4,000 in all — has received this comprehensive support.

"We're not only covering medical and financial expenses for these families, but we're also funding critical research at Penn State Children's Hospital, one of the nation's largest cancer research facilities," Mele said.
Initial contact from a Four Diamonds social worker occurs soon after the diagnosis is received. And the support the family receives is truly comprehensive.
"During treatment, if the family needs to stay in Hershey where the hospital is located, it covers the hotel expense," Mele said. "And, if they commute from home to the hospital, it covers the gas cards. It really does cover every aspect of a child's time in the hospital."
At such a grim moment in a family's life, Four Diamonds does everything it can to transform the hospital into a more therapeutic environment for the children. A total of 24 specialty care providers — including music therapists, a clinical nutritionist, a psychologist, a pharmacist, a genetics counselor, a neuropsychologist, and a chaplain in addition to social workers — dedicate themselves to serving the physical, mental, emotional, and spiritual needs of the children and their families.
The hospital also provides "child life" support, employing specialists who use play therapy and distraction techniques to assist families in coping with their cancer diagnosis and help the children confront their fears about the disease.
"It's a bright, uplifting environment, despite what these families are going through," Mele said.
THON Nation: Partner with Penn State Students and Alumni
In keeping with tradition, the dance celebration takes place every February during what's known as THON Weekend. More than 700 dance designees gather with students, volunteers, and Four Diamonds families at Penn State's Bryce Jordan Center, where the university's men's and women's basketball teams play.
The goal is for the dancers to stay on their feet for a full 46 hours. During that time, stage acts and speakers, a kids fashion and talent show, a pep rally on behalf of Penn State athletes, and other attractions entertain the crowd.
During the final four hours of the dance, Four Diamonds families are recognized on stage, with some sharing their inspirational stories before the fundraising total for the year is announced.
THON is a major part of Penn State culture all year. Associated events and initiatives include the THON 5K Presented by PNC Bank, a Harvest Day Celebration for Four Diamonds families, a partnership with Wigs for Kids for hair donations, an on-campus student celebration known as 100 Days 'Til THON, and a Family Carnival for the community at large.
In these and many other ways, THON stays top of mind at Penn State, in the university community, and with Four Diamonds families.
"We invite the families to attend the carnival and enjoy games, activities, and stage performances," Mele said. "It really steps up the excitement because it occurs right before winter break. Everyone's in 'final weekend' mode, so it's really an awesome time."
What's more, no matter where you are in the world or how you're connected to the battle against childhood cancer, you too can be a part of THON Nation.
Dozens of corporate partners support THON through in-kind and matching donations and by holding their own THON fundraisers. Through Friends of THON, anyone can apply to host a THON fundraiser or engage via social media with friends and family to generate support. Or, you can make your own one-time or recurring donation.
"There are so many great organizations out there," Mele said. "But we're unique because we're the largest philanthropy run by students. And, through all that cancer can bring, Penn State students bring not just dollars but joy and hope to Four Diamonds families."
Advertiser Disclosure
CardRates.com is a free online resource that offers valuable content and comparison services to users. To keep this resource 100% free, we receive compensation for referrals for many of the offers listed on the site. Along with key review factors, this compensation may impact how and where products appear across CardRates.com (including, for example, the order in which they appear). CardRates.com does not include the entire universe of available offers. Editorial opinions expressed on the site are strictly our own and are not provided, endorsed, or approved by advertisers.