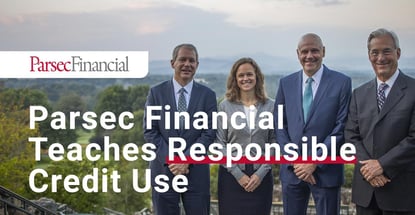 In a Nutshell: Certified financial planners from Parsec Financial have helped individuals and families to solidify and grow their assets for decades. Now, Parsec is reaching out to a new generation with its Young Money, Smart Money platform. It offers a collection of tools and resources to help young people understand their finances and investment planning. Parsec believes it's never too early to learn how to manage credit and begin an investment journey. Young Money, Smart Money, helps people in their 20s and 30s confidently take their first steps in that process.
Bart Boyer was a pioneering, fee-only investment advisor who prided himself on only selling his own knowledge and experience. That's why Boyer founded Parsec Financial in 1980.
His fee-only model ensured clients always came first and received unbiased advice free of ties to commissions or products.
It's an approach that has helped Parsec continue to build lasting relationships. Parsec could be considered one of North Carolina's leading registered investment advisory firms as it manages more than $3.6 billion in assets and provides investment management, financial and tax planning, and trust and business retirement services to 1,800-plus families and businesses.

"I always say that our product is advice — plain and simple," said Judson Meinhart, Manager of Financial Planning at Parsec. "Our clients pay us for our insights, not for any specific investment product."
Boyer also set out to help young people get started with investing. He coached his own children to buy and sell stocks, and, in 1993, the Boyer family even did a national television interview about how to get kids started with financial planning.
Today's digital financial landscape is much more complex than it was in the 1980s and 1990s. Parsec recognized the need for a new approach tailored to a generation that has grown up with the internet.
Its solution is the Young Money, Smart Money platform, built with modern technology and financial strategies in mind. Young Money, Smart Money offers a collection of tools and resources to help young investors learn about the fundamentals of saving and investing.
"We wanted to create a go-to spot for unbiased financial education and advice," Meinhart said. "In that way, the new site continues to reflect Bart's original ethos of putting clients first and helping young people succeed."
Learn to Prioritize Financial Planning
The biggest question for investors in their 20s and 30s is whether innovation in the investment space has changed the fundamentals of financial planning. Young Money, Smart Money argues that taking a deliberate approach is still a much better strategy than trying to time the market for short-term gain.
"The best investing decisions don't happen because you saw something on the news," Meinhart said. "They happen through a coordinated planning strategy, by understanding your long-term goals and building from there."
That's the way young families can set themselves up to fund their retirement and meet all the milestones along the way. Young Money, Smart Money takes a step-by-step approach to introduce investors to all the basics necessary to realize their potential.
Saving Basics begins by presenting savings and investment principles that apply at all stages of the investment journey, but have maximum impact when investors start early. Reducing or eliminating credit card debt, for example, always gives families more to work with financially.
Watch on
Financial Basics helps turn those savings into something more. Information on the benefits, risk and return characteristics, and tax implications of investment classes helps young investors learn about the most attractive options.
Investing Basics presents information on the mechanics of investing and why a long-term investment strategy is always the better bet. Another resource, Financial Planning Basics, can translate those fundamentals into instruments for realizing each family's unique goals.
"The first step is having a plan," Meinhart said. "With content created by Parsec certified financial planners, Young Money, Smart Money can help you get there."
Teaching People How to Invest in Themselves
Underlying much of the advice on Young Money, Smart Money is the concept of responsible credit use. Credit cards can be valuable tools for dealing with gaps in paychecks or funding major purchases. But when they are misused, they can destroy a consumer's financial potential before it has a chance to get off the ground.
"We adhere to the adage of good debt versus bad debt," Meinhart said. "Taking on student loans or a mortgage, where you're investing in yourself to potentially earn more in the future, is a much better strategy than burdening yourself with credit card debt."
When clients come to Parsec with liabilities on their balance sheet, the strategy is always to gather all the information necessary to model the most efficient way to pay down that debt.
"I've been there myself," Meinhart said. "You're thinking, 'How am I ever going to get out of this?' It can create a downward psychological spiral where you feel overwhelmed."
Having a healthy credit history and score is also an essential part of any financial success strategy. That means it's better to use cards wisely than to not use them at all.
"The length of time you have a good history is important," Meinhart said. "Under supervision, even a teenager can learn how — and most importantly when — to use a card."
When that happens, credit limits will invariably increase. That's a desirable outcome, but it's not a sign to increase spending.
"Your debt limit should be set by what your income looks like and what you can pay down regularly," Meinhart said.
Parsec Financial Helps People Accomplish Their Goals
The best way to put the advice on Young Money, Smart Money to work is to establish a personal relationship with a financial planner.
"Our initial calls always start with understanding the person," Meinhart said. "It is about understanding what they want to accomplish with their money."
For young professionals starting from scratch, building a comprehensive financial plan isn't easy. Given the complexities of matching unique life circumstances to the available financial choices, it requires up to a year of frequent communication with an advisor. Even after everything is in place, you still have to keep your eye on the ball.
"It's like landscaping your yard — you do it, but you have to continue to nurture it," Meinhart said.
That's why Meinhart is so enthusiastic about Parsec's fee-only model. Over time, circumstances and priorities inevitably change, but a fee-only advisor is always in a position to recommend the most profitable course of action for a client.
"I'm not a financial industry lifer. I spent 10 years in the nonprofit world, and the 25-year-old me would not have believed that the 35-year-old me would become an advisor," Meinhart said. "But being a fee-only fiduciary really lets me put my clients' interests first."
Working solely on behalf of his clients rather than for an institution or product provider allows Meinhart to apply that same commitment to achieving positive outcomes and building future security for families.
"It's great to serve people through our model," he said. "You can find a lot of financial planners out there who want to work with younger professionals in a fiduciary capacity — ourselves included."
Advertiser Disclosure
CardRates.com is a free online resource that offers valuable content and comparison services to users. To keep this resource 100% free, we receive compensation for referrals for many of the offers listed on the site. Along with key review factors, this compensation may impact how and where products appear across CardRates.com (including, for example, the order in which they appear). CardRates.com does not include the entire universe of available offers. Editorial opinions expressed on the site are strictly our own and are not provided, endorsed, or approved by advertisers.