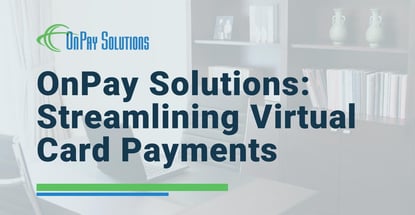 In a Nutshell: While certain departments within medium-to-large businesses have largely moved into the modern era, many accounts payable departments have struggled to keep up with evolving technology. OnPay Solutions helps these departments move into the digital age with its convenient solutions that make accounts payable processes faster, easier, and more cost-effective. The company's virtual credit card solution also provides unparalleled security when it comes to transactions. The virtual cards are generated for a specific transaction and self-destruct once the transaction is complete.
A large, third-party logistics provider sought to move from issuing hundreds of paper checks each month to an automated electronic payment solution. The logistics company is a diversified, cooperative group comprising domestic and international service companies, so it needed a solution that would work for domestic and international payments and save the business money.
It chose OnPay Solutions, which met all of its needs.

"Conservatively I would estimate the solution value to be about $150,000 annually, and we are working daily to grow that," the logistics company CFO told OnPay.
Securing the services of a reliable, modern platform for accounts payable departments gives businesses across all kinds of industries a leg up in today's competitive, globalized marketplace.
OnPay Solutions provides such a platform for companies around the world. The company "streamlines processes for accounts payable by automating invoice processing and payments, as well as accounts receivable payments to allow your complex organization to make and receive payments easily, securely, and at a low cost," according to the company website.
We recently had a chance to speak with Ben Frank, Director of Digital Marketing and Communications at OnPay Solutions, to learn more about the company's history and its suite of payment solutions with a particular focus on the growing utility of virtual credit cards.
OnPay Solutions has been recognized among its fintech peers with accolades each year beginning in 2017 to the present.
Identifying a Need in the Market for Forward-Thinking Payment Solutions
Frank said the story of OnPay Solutions begins in 2009 when Founder and COO Juliet Negrete-Anderson, after spending years in a successful communications and marketing career, had the opportunity to purchase an existing payment software company.
"The primary goal of that company was to allow businesses' accounts payable departments to print checks locally," he said. "Instead of having to go to a bank or do these other workarounds, it just enabled them to make that process a little bit smoother."
Purchasing the company was Negrete-Anderson's first foray into entrepreneurship, Frank said. But her husband, OnPay Solutions President and CEO Neal Anderson, was well-versed in the payments industry.
"I would consider Neal to be a little bit of a futurist in the sense that he was able to look at things holistically in the payments space," Frank said. "And he just had an eye on all the comings and goings of new currencies, new technologies, and where the industry was going."
Anderson was already a proponent of the idea that in the future, paper is going away for businesses, and at the same time they will need to be able to pay their suppliers quicker, more efficiently, and in more cost-effective ways, Frank explained.
Using Anderson's vision to guide the company, OnPay Solutions was born.
"Neal had this mission statement in mind, which is basically our mission today — to empower people to improve the lives of accounting departments globally," Frank said.
And that's just what it does — in a variety of ways.
Frank explained that, in many ways, accounting departments are stuck in the 1970s while marketing, sales, HR, and other departments have moved to more modern approaches.
So OnPay Solutions set out to eliminate checks entirely within accounting departments. Frank said that, while many businesses still depend on paper checks, they are not nearly as efficient or cost-effective as tech-based solutions such as the ones offered by OnPay Solutions.
Serving a Wide Range of Business Types and Sizes
OnPay Solutions offers a number of services to fit the needs of a variety of business types, from mid-market to enterprise level.
"What's really cool about being in this industry is we really have the ability to work with anybody," Frank said.
He said some of the company's larger clients are in industries such as retail, supermarkets, and transportation. But OnPay Solutions also supports clients in nearly every industry, no matter what size.
"We have some of the largest transportation and logistics clients that exist in the world, not just in the United States," Frank said. "But we also have clients in government, pharmaceuticals, real estate, hospitality. Manufacturing is a huge one. There's really no limit."
As far as the services themselves, the company's Accounts Payable Automation solution was one of the company's first offerings and remains popular.
"Say goodbye to incoming paper invoices and outgoing paper payments," according to the company. "Transform your AP department by eliminating manual paper-based processes. What could your team do with an extra 10+ hours a week?"
OnPay Solutions also offers No Touch Payments and Invoice Automation, which further enhances convenience when it comes to approving invoices and issuing payments.
It also focuses on strategic partnerships.
"Partner with us to enable AP payment automation out of any platform or system," according to the website. "We have integrated our solution with ERPs and AP providers. Give your clients the gift of payment automation in under 30 days."
The company has also entered the virtual card arena.
"Gain complete control and reduce risk of fraud by automating invoices and payments for AP, while earning cash back on AP spend through virtual card rebates," according to the OnPay Solutions website.
The Benefits of Virtual Card Payments
As a website focused primarily on credit cards, we couldn't help but ask Frank to take us on a deep dive into OnPay Solutions virtual credit card solution.
"Virtual credit cards, for all intents and purposes, function the exact same way a corporate card or physical card would work," Frank explained. "The primary difference is a virtual card is obviously virtual, so there's no physical card — there's nothing anybody can get their hands on."
That means virtual credit cards present a more secure way to make transactions.
"The other thing — the giant benefit of a virtual credit card is that it's created for one purpose and one purpose alone. It is for a specific vendor, a specific purchase, and a specific dollar amount," Frank said. "It's virtually impossible to attack it, steal it, or have any type of fraudulent activity on a virtual card."
Watch on
Additionally, after the virtual credit card is used, the number and everything about it is destroyed, he explained.
"It self destructs, never to be used again. So, from a safety perspective it is the highest form of payment method," Frank said.
Clients who use OnPay Solutions virtual card service can also make money by implementing it.
"Earn cashback on monthly spend by enabling virtual cards for your AP department," according to the company. "With no tiers or thresholds, some of our clients earn over $300K a year. vCards give AP departments the Midas touch."
With the COVID-19 pandemic in full swing for the most part of 2020, Frank said OnPay Solutions saw interest in its virtual credit card solution increase significantly in recent months.
OnPayConnectInvoice is the Newest Iteration of the Company's Flagship Product
As a forward-thinking company, OnPay Solutions is constantly looking for ways to refine and improve its solutions and offer new benefits for clients.
"One of the biggest things recently is that we just launched a newer version of our flagship invoice automation project," Frank said. "It's called OnPayConnectInvoice. It's one of the best invoice automation solutions I've seen out there."
He said the solution essentially does everything that most businesses are looking for, including machine learning and APIs that easily integrate with existing platforms.
Advertiser Disclosure
CardRates.com is a free online resource that offers valuable content and comparison services to users. To keep this resource 100% free, we receive compensation for referrals for many of the offers listed on the site. Along with key review factors, this compensation may impact how and where products appear across CardRates.com (including, for example, the order in which they appear). CardRates.com does not include the entire universe of available offers. Editorial opinions expressed on the site are strictly our own and are not provided, endorsed, or approved by advertisers.