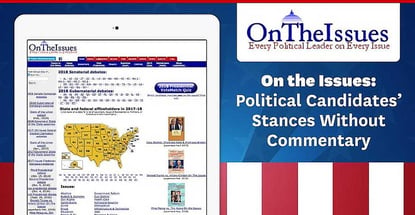 In a Nutshell: US politics is surrounded by an influx of voices espousing every opinion on countless issues — it can be overwhelming. Thankfully, On the Issues offers voters straightforward information about where political candidates stand on topics of public interest. The website was founded in 1999 ahead of the 2000 presidential election as a reaction to the news media's lack of real coverage on issues. Since then, it has grown to include house, senate, gubernatorial, and other elections. Voters can easily search for financial, social, or other issues that are important to them and see where candidates stand. On the Issues also recently launched a new book series, Promises Kept & Promises Broken, that focuses on one candidate at a time, in respect to how consistent or not they have been on particular issues. //
Politics is a noisy business, and it seems the recent discordant chorus of voices is nearing jet engine decibel levels. Talking heads present editorial opinions as if they were news, social media gushes forth a steady stream of faux experts, and don't even try to read the comments section.
At the heart of America's two-party political system lies two philosophies that often stand on different sides of economic and social policy issues. Generally, the conservative philosophy advocates for a smaller federal government, less government spending, gun rights, and is socially conservative. On the other hand, the liberal philosophy supports a larger government to regulate economic issues and support social programs, while taking a more progressive stance on social issues.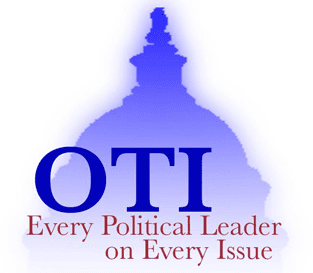 Now, take those two opposing philosophies and mix them together in every possible combination, add millions of opinions based on personal experiences, countless news stories, information of varying degrees of accuracy, religious standing, family history, and, well, an endless number of other factors.
Navigating the political waters in the US can be confusing for the average voter with so many opinions, facts, lies, and other considerations swirling around in their heads.
Fortunately, voters can take a break from the 24-hour news cycle and visit On the Issues, whose primary mission is to provide non-partisan information on candidates in the presidential, house, senate, and gubernatorial elections.
On the Issues accomplishes this by simply presenting facts that indicate where a political candidate stands on a particular issue.
"We also show you how you can get to that determination yourself by drilling down to the details in how we came to our conclusion," said Jesse Gordon, On the Issues Editor-in-Chief and Content Manager. "Then, we provide even further context and details for those who are interested. That's one of the values of the Internet — you can't do that with newspapers."
On the Issues was Founded as a Reaction to News Sources Covering the "Horse Race" Over Candidates' Platforms
Gordon said the idea for On the Issues originated during the 1996 presidential race but the Internet had not advanced enough at the time for him to implement his vision for the website. By 1999, leading up to the 2000 presidential race between George W. Bush and Al Gore, the Internet had made big strides and could support a website like On the Issues. The site launched in 1999 under the name Issues2000.org.
"The reason we got started is because CNN and all the other news media are pretty bad at reporting issues," Gordon said.
He said, if voters are lucky, a newspaper like The New York Times might run a table a couple of weeks before an election that lists the candidates and where they stand on the topics with a one-sentence blurb.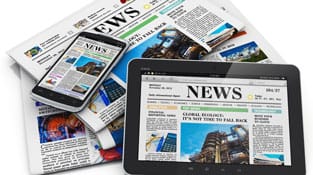 "That's nice if you trust that news source," Gordon said. "I say that today, most people don't. I never did. And I want to see the details behind those blurbs and be able to drill down."
He said it's much more common for the news media to report about the candidates' lives or treat election races as a popularity contest in what Gordon calls the horse race.
"Newspapers love reporting on that," Gordon said. "I get the tickers from the political newsfeeds and 9 times out of 10 they're talking about who's ahead in the polls and not actually what matters. You're not supposed to vote based on who's ahead in the polls, you're supposed to vote based on whether you agree with the candidate."
Gordon said his interest in presidential and other political races ramped up after receiving his master's degree from the Harvard Kennedy School of Government in 1994. When he began to read news and other information on the Internet in the mid-'90s, he said he saw where he could help provide a solution for the failings of the news media to report on issues.
Today, On the Issues is operated by a combination of paid staff and volunteers who compile and aggregate information from sources, including newspapers and op-eds, candidates' websites, debate excerpts, and — Gordon's favorite — television ads.
"I love TV ads. My wife knows that when a TV ad comes on involving a politician, everyone must be quiet immediately," he said. "They say so much in 30 seconds. It's just great."
Readers can Explore Politicians' Stances on Financial and Social Topics
Without the noise of editorial opinions, extraneous commentary, and polling numbers, readers who visit On the Issues can get straight to the heart of issues that are important to them and discover exactly where a candidate stands.
The site's most popular feature for first-time visitors is a vote matching quiz, Gordon said. The quiz presents 20 questions to determine the participant's views on various issues, then matches them up with the political candidates from their state (or presidential candidates) who have the most similar views.
"It will tell you who you agree with and then give you plenty of links so you can substantiate whether it's true or not," he said. "It's a fun quiz."
Gordon said the part of the website he enjoys most is what he calls the debate pages. A current example is the page covering the Massachusetts Senate race between Republican Geoff Diehl and Democrat Elizabeth Warren. Readers can catch up on the candidates on that page as well as in links that lead to the candidates' websites. On the Issues includes relevant excerpts pertaining to the candidates' stances as well.
"The gist is that you kind of get a summary of where the race is in a newsy sort of way for each state and for each race," Gordon said. "I like those pages because they're current and it gives you a big picture feel of where you're at as a state."
Of course, On the Issues provides sections covering big financial issues like the budget and economy, tax reform, social security, welfare issues, and more, Gordon said. But the most popular topics in the 18 years he has been involved in the website have consistently been social issues.
Gordon said the top three issues people explore are abortion, gun control, and immigration.
He said this revelation bucks conventional wisdom that says people tend to vote around economic issues.
"People vote their pocketbook based on how well the economy is doing. They're happy to keep the incumbent," Gordon said. "That's not what we have found people are interested in reading."
A New Book Series Focuses on the Consistency of Individual Candidates' Standing on Political Matters
On the Issues is now taking its format from the digital world and into print with a new book series called Promises Kept & Promises Broken.
Gordon said the book series is intended to really focus in on one candidate and how consistent — or not — they have been on certain issues over a period of time.
"The candidates are very bad at letting people know their issues," he said. "Any stance you have is going to alienate some group. So yes, one of the things we do is report on when their stances change or when their stances conflict with their past stances."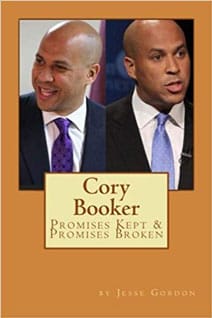 The first book in the series, released in 2017, takes a close look at Cory Booker, the Democratic senator from New Jersey. Gordon said one of the interesting findings in the book was that during his Senate race, Booker tended to be evasive when it came to discussing his stance on unions. Once he was elected, it became evident that Booker was in favor of charter schools and did not favor the teacher's union.
"He never said anything negative about the unions, but the truth came out after he started voting," Gordon said.
The next installment in the Promises Kept & Promises Broken series will focus on John Kasich, the Republican governor for Ohio.
"I hope to get out the John Kasich book during 2018, so we at least got one out this year," Gordon said. "And then in 2019, we're going to focus even more on the series and release three or four books, culminating in Trump: Promises Kept & Promises Broken."
When Election Season Heats Up, On the Issues Continues to be a Haven of Non-Partisan Information
Inevitably, when major elections are approaching, the already ear-splitting noise in the political arena can reach overwhelming volumes. And when voters need a break from the unending punditry, they can turn to On the Issues for straightforward, no-frills information on the issues that matter to them.
Gordon said he expects a large number of seats turning over during midterm elections, so he is gearing up to begin covering a lot of newcomers.
As a nonprofit organization mostly powered by volunteers, Gordon said On the Issues welcomes donations. Visitors can donate via a PayPal link of the website's front page or visit the About page for mailing information.
Advertiser Disclosure
CardRates.com is a free online resource that offers valuable content and comparison services to users. To keep this resource 100% free, we receive compensation for referrals for many of the offers listed on the site. Along with key review factors, this compensation may impact how and where products appear across CardRates.com (including, for example, the order in which they appear). CardRates.com does not include the entire universe of available offers. Editorial opinions expressed on the site are strictly our own and are not provided, endorsed, or approved by advertisers.