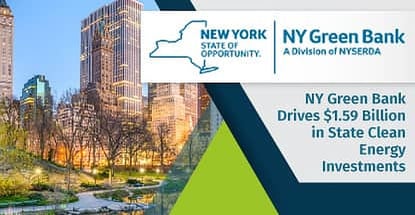 In a Nutshell: Individual states are often given the task of finding solutions to the nationwide push for cleaner energy and environmental recovery. That job becomes more difficult when it comes time to finance projects that can cost tens of millions of dollars. New York has long been on the cutting edge of everything from fashion to finance, but Governor Andrew Cuomo's Reforming the Energy Vision initiative looks to set the state apart in its environmental and resilience efforts. One piece of the plan, NY Green Bank, has committed more than $440 million in loans to over 20 transactions that increase renewable energy options and decrease greenhouse gas emissions. To date, NY Green Bank has helped fund the construction of multiple solar arrays, among other technology types, and its efforts are expected to reduce state greenhouse gas emissions by roughly 7.4 million metric tons, while turning a profit one year earlier than anticipated. //
My neighbor installed solar panels on the roof of his home last year. A bank loan funded the project, which furthered his mission of creating a green home that causes less strain on the environment.
Similar improvements have shown to increase a home's sales price over non-green dwellings. For my neighbor, it was a double win.
Consumers across the country turn to loans and government grants to make green home improvements easier and cost-effective. While that may work for the average homeowner, it's harder for commercial and industrial scale projects that require millions in funding.
NY Green Bank (NYGB), the nation's largest state-sponsored sustainable investment fund created to spur private sector investments in clean energy and energy efficiency, works to alleviate that problem.

NY Green Bank is a key financing component of New York Gov. Andrew Cuomo's comprehensive energy plan, Reforming the Energy Vision (REV). The initiative aims to reduce the state's greenhouse gas emissions by 40% eventually leading to the state generating 50% of its electricity from renewable sources by 2030.
Since its 2014 launch as a division of the New York State Energy Research and Development Authority, NY Green Bank has committed over $440 million to more than 20 clean energy transactions, helping drive $1.6 billion in clean energy investments throughout NY.
The organization's experiences helped create a set of best practices that differentiate between a good and bad project investment. As a result, NY Green Bank generated $2.7 million in positive income from $291.6 million in investments statewide in fiscal year 2016-17. The profit came one year earlier than government projections anticipated.
"New York is taking aggressive action to reduce our carbon footprint, and through the nation's largest green bank, we continue to invest in smart growth strategies that will help make our communities cleaner, greener and stronger than ever before," Governor Cuomo said in a press release announcing the milestone.
One area of focus for NY Green Bank has been the commercial and industrial (C&I) solar sector. Creating renewable energy sources for the state is a major part of achieving Cuomo's REV goals.
"Unlike relatively uniform residential solar arrays, C&I systems differ greatly in size, off-takers, and risk profiles," said Caroline Angoorly, Chief Operating Officer at NY Green Bank. "This makes financing for C&I systems more complex, potentially more expensive, and difficult to secure."
To date, 60% of NY Green Bank's transactions have been solar power-related. As NY Green Bank is a market-responsive entity, this focus reflects requests from the marketplace for it's capital and is expected to shift over time as financing gaps are alleviated and new frontiers are addressed.
$1.5M Investment Helps BQ Energy Build the First Solar Facility on a Capped NY Landfill
Although far from its largest investment, the $1.5 million NY Green Bank committed to BQ Energy's first project in what is expected to be a large portfolio of C&I projects exemplifies its focus on solving the state's energy problems.
BQ, a Poughkeepsie-based renewable energy project developer, came to NY Green Bank in 2016 with a portfolio of projects that are expected to aggregate into an approximately $30 million portfolio of loans over time. The first project funded under that umbrella was the PatterSun project — a 1.37 MW solar array on a closed municipal landfill in the Town of Patterson, NY.
The array was the first of multiple C&I projects that will utilize broadly the same underwriting process, same service providers, and is expected to be joined by several more like it so as to build up a standardized portfolio that could ultimately be of interest to third-party capital providers.
"When NY Green Bank started working with BQ Energy, which was seeking project-level capital back in 2016, there was a clear opportunity to address the market gap and standardize the underwriting process to drive down transaction costs and create a structure attractive to future private capital investors," Angoorly said.
TRC Companies, Inc., which partnered with BQ Energy on the PatterSun project, sees the installation as the first step toward alleviating the state's landfill problems.
"The PatterSun project is groundbreaking in the way that it allows both the solar farm and the underlying landfill to coexist, creating a dual-purpose facility that will provide continued, tangible benefits to residents of the state," said Chris Vincze, Chairman and CEO of TRC.
A Reduction of Up to 7.4 Million Metric Tons of Greenhouse Gas Clears the Air for New Yorkers
From its inception until the end of Q3 2017, NYGB's scoring committee received more than $2.1 billion in proposal submissions. Over $1.9 billion of those proposals have passed the committee's evaluation process and met the program's mandate and proposal evaluation criteria, which means they now represent potential investments proceeding toward closing.
Organizations submitting proposals that do not meet the committee's requirements are typically informed of the decision within two weeks. Proposals approved by the committee have varying time frames after the initial scoring.
"The investment process will depend greatly on where the proposer is in terms of project development, as well as the ability to finalize negotiations," Angoorly said.
To date, the funded proposals have made strides toward the program goals of resolving both solar and emissions issues. Over the life of their underlying projects, the current portfolio of proposals represents estimated lifetime greenhouse gas reductions of between 5.5 and 7.4 million metric tons – equivalent to removing between 54,800 and 72,500 cars from the road for 22 years.
To continue the progress, Cuomo has laid the groundwork to expand NY Green Bank's investment activities — both within and beyond New York State — working with private-sector capital. A December 2017 Request for Proposal (RFP) seeks advisors who will help NY Green Bank evaluate strategies for raising at least $1 billion in third-party capital to further support the state's energy goals and invest in clean energy and sustainable infrastructure across the nation.
The RFP — for Strategic Advisory and Capital Arranger Services — calls for hiring a firm to evaluate potential fund structures, market participants, and develop strategies to raise new funds.
Aligning with Gov. Cuomo's Reforming the Energy Vision (REV) Initiative
I recently spent a week in New York City and marveled at how efficient the whole city is. From trash collection to commuting, the city runs like a well-oiled machine. But that machine comes at a cost.
Thousands of tons of trash is produced daily in the city alone. The city's density with its narrow, traffic-jammed streets has gas consumption near the levels of 1920s America, but the demand for mass transit creates a large carbon footprint that's hard to erase.
Cuomo created NY Green Bank to further his renewable energy initiative and put the state at the forefront of America's environmental recovery push. To date, more than $440 million in commitments have financed solar arrays, fuel cells, bike shares, and clean-energy options that trim the state's energy consumption and decrease the greenhouse gas emissions throughout the state.
Since its launch, NY Green Bank has surpassed multiple milestones, including generating positive net income a year ahead of schedule and surpassing its capital commitment goals — all while delivering significant clean energy benefits to New Yorkers.
While New York City is on the cutting edge of everything from fashion to finance, the success of programs like NY Green Bank ensure the state will also be known as a leader of global environmental recovery.
Advertiser Disclosure
CardRates.com is a free online resource that offers valuable content and comparison services to users. To keep this resource 100% free, we receive compensation for referrals for many of the offers listed on the site. Along with key review factors, this compensation may impact how and where products appear across CardRates.com (including, for example, the order in which they appear). CardRates.com does not include the entire universe of available offers. Editorial opinions expressed on the site are strictly our own and are not provided, endorsed, or approved by advertisers.