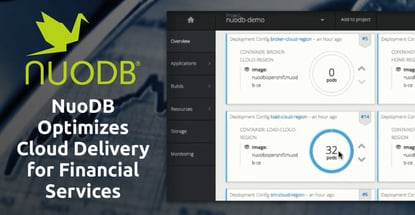 credit card news
Our experts and industry insiders blog the latest news, studies and current events from inside the credit card industry. Our articles follow strict editorial guidelines.
In a Nutshell: When you're casually consuming content on your phone, an occasional data hiccup is no big deal. But any latency in a global financial application could snarl a critical transaction and potentially damage the provider's credibility. That's why most banks hold onto tried-and-true on-premise SQL systems for decades, even when logic tells them the cloud is the way forward. With NuoDB's true cloud-native distributed SQL solution, providers now have a cost-effective way to transition to a cloud platform that offers increased scalability, performance, and flexibility to exceed customer expectations over the long term.
Research done under the auspices of the American Bankers Association (ABA) shows that in North America especially, the technology underpinning many enterprise financial services platforms remains in the past. Servers, software, and services get cobbled together over the decades to create labyrinths that may function adequately to meet current needs, but inevitably impede future innovation.
Even when banks add new capabilities, mainframe-based foundations built as early as the 1960s remain a fundamental structural weakness.
It all adds up to what the ABA research calls "technical debt" — an ongoing burden of unnecessary cost and organizational friction that acts as a counterweight to innovation. At the same time, emerging around the big banks are digital-only competitors unencumbered by obsolete platforms, ready to meet the changing expectations of consumers.
Those digital innovators are onto something, of course — the fact of the matter is that everyone knows the cloud offers the only logical way forward for banks. Software innovations, such as web-scale microservices and container-based applications, enable organizations to deploy new services quicker and with less cost. And an array of cloud platforms are ready and waiting to deliver that future to customers.
The puzzle piece that's been missing is a platform that lets banks cost-effectively take advantage of all the innovation around them from the ground up, without starting from scratch. NuoDB meets that demand, with a true cloud-native solution capable of delivering the transactional consistency and compliance of a familiar SQL platform while supporting the data and application demands of a modern container environment.
"It's a huge process for an enterprise bank to move everything to the cloud," President and CEO Bob Walmsley said. "We make it possible for banks themselves — not their platforms — to determine where, when, and how they deploy new applications."
Two-Layer Architecture Meets Scaling Demands Without Unnecessary Resources
Context offers the best way to understand NuoDB's distinctive advantages as a true distributed SQL solution.
Traditional relational SQL databases evolved in what's become a legacy world of data centers and on-premise servers. They're familiar to developers, and they work well in their legacy environments to deliver what programmers call ACID compliance (atomicity, consistency, isolation, durability).
"The problem," Walmsley said, "is that they don't scale well beyond a single computer."
Provisioning hardware and software in a traditional SQL system to deal with peak and eventual volumes needs to happen in advance, and that can mean costly underutilization of capacity when it's not needed.
So-called "NoSQL" alternatives scale better, but they establish a nonstandard language system, and the way they integrate data and application coding is inefficient from a developer standpoint. Moreover, ACID compliance in those types of platforms needs to be coded in from scratch, making them more complex and potentially less reliable.
NuoDB offers the familiarity and compliance of SQL along with an innovative two-layer architecture that facilitates scaling in the cloud. By separating and independently scaling transaction processing and storage management, transactional consistency is sustainable across multiple datacenters and optimized for continuous availability.
"That's because the transaction layer in memory is very fast," Walmsley said. And the result allows banks to operate deftly in the modern world.
"Cloud services, in general — and I think specifically mobile services — have really changed how people interact with providers. We're used to everything being online, all the time," Walmsley said. "But consumers have different consistency requirements from financial enterprises. If my Facebook post doesn't replicate for a few minutes, it's no big deal. But if you and your business partner simultaneously withdraw a large sum of money from different locations, that's a real problem. You need that heightened level of consistency."
Offering Agility and Flexibility Without Vendor Lock-In
Meanwhile, legacy database platforms and modern cloud infrastructure providers like Amazon and Google are attempting to achieve the best of both worlds by building their own integrations. While those types of solutions obviously scale better, they're typically built on a traditional relational database architecture, so on-demand scaling remains a challenge.
And, regardless of whether they come from the legacy world or the cloud providers, those solutions are optimized for their own platforms. And any strategy of anchoring operations to a single cloud provider necessarily limits future flexibility.
"There haven't been options that are both cloud-native and also cloud-agnostic," Walmsley said. "We've built our database so that you can deploy in any cloud, so you're not stuck with one or the other. You can choose — and you can actually deploy across more than one cloud with us, which is pretty unique."
It's in the interest of large financial enterprises to integrate globally across cloud platforms. NuoDB puts the puzzle pieces together to deliver all the advantages of an on-premise SQL database everywhere, all the time. With NuoDB, banks can achieve a level of platform robustness vital to delivering applications in today's web-centric universe.
"What you want to do is scale out, which is what the cloud enables," Walmsley said. "You don't pay for capacity you're not going to use — only what you need, when you need it."
You also want an architecture that frees application developers from ties to the data layer in favor of agility. Global deployment of modern containerized apps becomes practicable.
"That's one of the reasons we've made sure we use the same kind of SQL language consistency that developers are used to, so that's not another lift," Walmsley said.
Delivering ROI to Help Banks Migrate to the Cloud
NuoDB's achievement extends beyond platforms and integrations to help financial enterprises make a positive impact on their bottom line. It's important for these companies to compute direct costs associated with a particular set of platform choices as well as the benefits of alleviating the technical debt handed down from the past.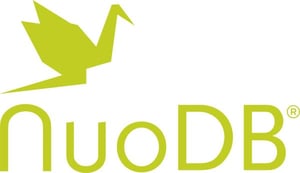 "What we see for many is a gradual migration," Walmsley said. "They'll build, say, a digital-only adjunct in cloud-native architecture and use all the fun cool stuff like containers and microservices so they can take advantage of that. And then they'll begin to transition their older things."
The result often has some functions remaining on-premise. "What we can do is branch that and present a single logical database from on-premise to public and private cloud so that you have a hybrid environment, and it will still work as though it's all in the same place," Walmsley said.
Analyzing how all the intersecting factors play out on a spreadsheet means looking at everything from streamlined hardware and infrastructure costs to app development savings and even new efficiencies gained in customer acquisition, onboarding, and retention.
Those all contribute to revenue growth potential and a competitive advantage that comes from being a better bank for customers who, moving forward, will continue to expect more.
"Think about the number of times people go on their phones every day to check their balances and portfolios — it's increased astronomically because it's so easy to do," Walmsley said. "Having changed how people expect their interactions to work, banks really need to move on from the monolithic architectures of the past to be flexible enough to continue to meet those demands."