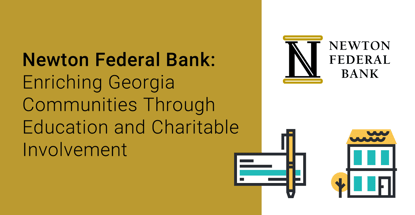 In a Nutshell: Newton Federal Bank is located in scenic Covington, Georgia, known to some as the Hollywood of the South for the numerous movies and shows filmed there. But beyond the city's outward charm are businesses like Newton Federal Bank, providing financial education to high schoolers, monetary donations to nonprofit organizations, and support to the residents of Covington and beyond. Institutions like Newton are essential to the people — and charm — of Covington, and is why we're recognizing Newton Federal Bank with our Editor's Choice Award™ for Community Commitment.
There's an old saying that if you do good, good will come to you. This can be likened to karma if you believe in that sort of thing, but people generally associate these presumptions with one's actions, not necessarily the foundation of banking operations.
But that's exactly the belief system Newton Federal Bank is built upon, which has proven to be a successful business strategy for this community bank in Georgia for 70 years.
"We have served this community for a long long time," said Jimmy Tanner, Vice President of Business Development and Retail Sales for Newton Federal Bank, who grew up in Covington, Georgia, and feels fortunate to serve people in his hometown. "If you're helping companies, helping people, doing things for the right reasons and your heart is in that, it becomes evident."
Tanner said people want to do business with companies they can trust, and when it comes to their money, that's more important than ever.
"We feel our reputation is a genuine community bank that gives back and serves and helps the community as a whole. You attract people who are attracted to those causes. Our purpose is our bottom line. And our purpose is serving others and making a difference in the community," said Tanner.
EverFi Programs Teach Local High School Students Financial Literacy
One of the many ways Newton Federal Bank enriches its community members is through financial literacy. Newton partners with EverFi, a popular e-learning program, to help high school juniors and seniors access basic financial education.
"We feel financial education and literacy is really important," said Tanner. "We have a five-year relationship with EverFi and are very proud of that. Tens of thousands of dollars [have gone to provide] that financial literacy to all of our high schools in the county for free."
The EverFi program for high school students covers topics that include banking basics, income and employment, budgeting, credit and debt, insurance, financing higher education, and other consumer skills. Tanner said many of the bank's employees have also completed the EverFi curriculum.
A ceremony is held in the spring to hand out certificates of completion to students who've finished the program, with nearly 300 students receiving a certificate in 2020. Additionally, a pair of $200 scholarships are awarded through a random drawing at these ceremonies.
While supplying EverFi's educational materials to local high schools is certainly one of the core ways this institution helps enrich its members and their family's lives, it's far from the only way Newton supports the community. The bank is busy year-round raising funds for local nonprofit organizations.
Year-Round Fundraisers Support Local Causes
When asked if there were any specific charitable events the Newton team looks forward to every year, a race with a funny name was top of mind for Tanner.
"One is called the Fuzz Run; it's a 5K road race [that has] several other races associated with it as well. This has been going on since the '70s and is sponsored by the Covington Police Department," said Tanner. "They have a nonprofit called Police Who Care and this is their annual fundraiser. They use the funds for this Police Who Care organization for various purposes in the community."
One such example is Shop with a Cop during the Christmas season. Police officers use the funds to take needy children shopping, hoping to bring a little holiday cheer to less fortunate youths.
"It's a great program, in fact, some of the police officers end up dipping into their own pockets to pitch in a little more money. And they tell great stories about how so many children will shop for their families instead of themselves. It's a great program," Tanner reiterated, adding that it has up to 3,000 participants every year.
Another big event each year is Relay For Life, with Newton Federal Bank being the presenting sponsor in Covington for many years now. Tanner said the bank conducts assorted fundraising efforts throughout the year to raise money for Relay For Life, including what they call Blue Jean Fridays.
"Employees can donate $12 for the month, and that money is rounded up by the bank and donated. Each month, a charity is selected. For March and April it's typically Relay For Life, other months it could be other causes like the Humane Society, YMCA, Boys and Girls Club, or other [organizations] of that nature," said Tanner.
While these are just a few of the organizations the bank actively supports, a look at the bank's Facebook page will leave you scrolling through endless photos and updates of the bank awarding checks, volunteering time, and supporting local businesses.
Covington's Downtown Square Provides a Scenic Venue for Seasonal Events
Not only is the bank doing what it can to support the efforts of other organizations, but it's happy to host its own seasonal events right outside its doors.
"Covington is unique in that it has an Old Town Square. Many events happen on the Square and the chamber of commerce promotes a lot of concerts and activities," said Tanner.
One such activity the bank hosts is Candlelight & Carriages, a free Christmas event where bank employees hand out goodies such as hot chocolate and cider to passersby. And, of course, attendees can enjoy ambient lighting and carriage rides around the Square.
Tanner mentioned that a lot of filming takes place in and around Covington and that several popular television shows and movies have been filmed around the Square. A little research found that Covington refers to itself as the Hollywood of the South™, after having served as a backdrop for more than 60 film productions.
Surely Covington's charm is one reason myriad producers choose to shoot their films there, and Newton Federal Bank adds to that charm, proudly serving the people who live within its city limits and beyond. That, of course, includes Tanner, who left Covington and returned 25 years later, and is happy to be in a role where he can directly help people.
"Building relationships and serving people — that's what I do and it's what I like to do," he said.
That commitment to service is exactly why Newton Federal Bank has earned our Editor's Choice Award for Community Commitment.
Advertiser Disclosure
CardRates.com is a free online resource that offers valuable content and comparison services to users. To keep this resource 100% free, we receive compensation for referrals for many of the offers listed on the site. Along with key review factors, this compensation may impact how and where products appear across CardRates.com (including, for example, the order in which they appear). CardRates.com does not include the entire universe of available offers. Editorial opinions expressed on the site are strictly our own and are not provided, endorsed, or approved by advertisers.