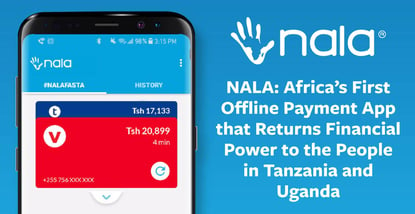 In a Nutshell: NALA is Africa's first offline payment processing platform that helps consumers view all of their financial accounts in one place. The solution's offline (internet-free) mode also allows users to send and receive funds without burning through costly data on their mobile devices. In Africa, consumers often have to use multiple SIM cards to process transactions through accounts tied to separate mobile numbers. But NALA enables those users to aggregate their accounts and view transactions, payments, and assets through a single, secure interface.
American consumers have become accustomed to sending money to friends and family through a variety of payment applications and websites. And they often connect those services to a bank account, which allows them to keep track of spending — and even put money aside for a rainy day.
But not every country has those luxuries. In many African nations, financial services link to a consumer's mobile device number — including bank accounts. That means consumers may need multiple numbers to access services from different providers and avoid paying high cross-network fees.
That's why many users link multiple SIM cards — containing multiple cellphone numbers — to their devices to make transactions across providers and networks. But multiple cards also mean multiple accounts, which makes it hard to keep track of money and payments.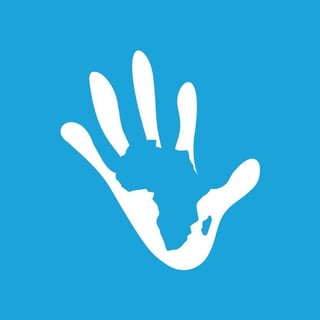 NALA set out to change that dynamic for consumers in Africa. Not only does the payment app aggregate existing accounts into one platform, but it also allows users to access their information offline — without having to use costly data.
The company is the brainchild of Benjamin Fernandes, a native of Tanzania, who moved to the United States to attend college. After finishing his MBA at Stanford, Fernandes purchased a one-way ticket home with the intent of helping his fellow Africans overcome financial obstacles and improve their payment structures.
"At that time, I wanted to pivot my career and get into payments — because that influences and empowers a lot of people," he said. "It's important, globally, but I really care about Africa."
While in school, Fernandes built and studied nine different payment platform prototypes. He focused his attention on peer-to-peer payments, merchant payments, and several other possibilities. As his knowledge grew, so did his curiosity.
"I wanted to build something that could show what 'Money 2.0' will look like," he said. "That curiosity got me on this journey in the first place. I want to make a difference in an area that I care deeply about."
So when it came time to graduate, Fernandes took his passion and poured it into NALA, a company that quickly rose to become one of the most downloaded financial applications in Africa.
"I said to myself, 'If I don't try to do this now, I don't know if I'll ever do it," Fernandes said. "I decided to take the largest risk I could take — without knowing exactly what it would turn out to be."
A Personal Mission Empowers Thousands of Users
The first step for Fernandes was to interview more than 600 African residents over three months to understand what they needed in a payment service.
Among the findings was that the average user owned about two SIM cards. That number is significant because, throughout Sub-Saharan Africa, bank (mobile money) accounts are tied to mobile operators link to one phone number.
"People had multiple SIM cards because they had multiple accounts," Fernandes said. "That creates mass fragmentation. So you're already low-income, but now you essentially have to have two bank accounts. And there's no centralized access point to see how much money you have, how much you're saving, and how much you're spending."
That lack of information makes it more challenging to create a financial plan that includes better financial decision-making. So Fernandes began his quest to build a system that aggregated all user accounts into one service. And he wanted the system to run on a platform that didn't use cellular data.
"We initially went to the big Telecom companies and asked for API access, but they all turned us down. In this part of the world, many large organizations aren't open to new technology innovation so instead of being open to learning, you are often met with barriers of defense," he said. "So, we realized that we needed to figure this out and what way we could tackle the challenges we had ahead of us."
So Fernandes and his team began working on NALA, an app-based payment interface that runs online and offline (internet-free) and provides users with access to financial information that was previously dependent on their own record keeping.
Within seven months of its release, NALA was the top-rated finance app download in Africa's Google Play store without running a single advertising campaign. Today, NALA still ranks #1 Top Free Finance Application in Tanzania and top 10 in Uganda.
Offering an Alternative to Expensive Payment Platforms
The most popular phones in Africa are devices that run more than one SIM card at a time. For example, a user may have SIM cards from both AT&T and Verizon, and use both from the same device.
Many Africans choose to maintain multiple accounts because sending money from an account run by one carrier to an account run by another carrier can incur as much as a 20% transaction fee. The fee for sending the money within the same carrier's network is nearly three times less. Add transaction and withdrawal fees and you could see a total transaction cost of 15% to 20%.
"The largest Telecom provider in Tanzania, Vodacom, has a mobile payments product that makes 18 times more revenue than the largest bank in the country," Fernandes said. "That tells you how high the fees are on those platforms."
Not only does NALA help to lessen fees, but it also provides a secure and comprehensive account management tool that lets users see all of their accounts on one screen. That ability, according to Fernandes, is what has driven the company's rapid growth.
"The offline application allows us to build trust, which is the backbone for any company in the financial services industry," he said. "As we build that trust, we can enable and leverage other services to layer on top of what we're already doing. "
The application currently works in Tanzania and Uganda, but Fernandes said the company is considering plans to expand to another African country by the end of 2019 — with even more growth planned for 2020.
#NALAFridays Help the Company Grow and Expand
Fernandes and his team talk to users almost every day to learn more about their pain points and what they need from the NALA app. One way it accomplishes that is through NALA Fridays, a day every week when employees venture out into the community to interview users on their recent experiences.
"I have over 300 users phone numbers saved in my personal cellphone. We do this for several reasons: To introduce new features, to A-B test things that we're curious about, and, ultimately, to see what we can improve," Fernandes said.
He noted that improvement is the primary motivation for those weekly interactions. While many companies use focus groups to help understand their entire customer base, NALA wants its employees to meet consumers face to face wherever they're using the app.
"That helps us to better understand everyone who uses the service," Fernandes said. "It's important to us as a company. We always make sure we prioritize our users."
Employees share the information gathered during NALA Fridays at their meetings and conference calls each week. They are also encouraged to share new ideas and strategies. That method of slow expansion through community interaction runs counter to the strategies of many other fintech companies on the continent. Fernandes said that's by design.
The NALA app has seen rapid adoption in Uganda since it launched there in late 2019. The plan is to introduce a third NALA market in late 2019 and continue toward the ultimate goal of operating in 30 to 40 African countries.
"I wish I could build 15 different fintech companies in Africa because there's so much that needs to be done," he said. "Most people think it's easy, but it's not. If it were easy, everyone would do it."
If early indications tell the story, NALA is well on its way to achieving its overall vision and goals.
"Trust is the most important part of what we do as a company," Fernandes said. "That means we always have to let users know what we're doing and what security measures we're taking with our application. We want to create a personal bond with people so they can trust us and feel safe with us."
Advertiser Disclosure
CardRates.com is a free online resource that offers valuable content and comparison services to users. To keep this resource 100% free, we receive compensation for referrals for many of the offers listed on the site. Along with key review factors, this compensation may impact how and where products appear across CardRates.com (including, for example, the order in which they appear). CardRates.com does not include the entire universe of available offers. Editorial opinions expressed on the site are strictly our own and are not provided, endorsed, or approved by advertisers.