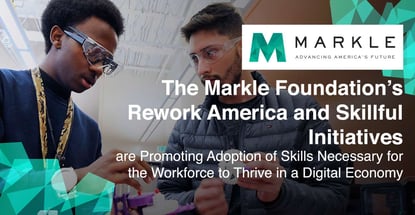 In a Nutshell: For nearly 100 years, the Markle Foundation has sought to improve the lives of Americans by addressing crucial problems through education and technology. In recent years, the nonprofit has been addressing the shifting needs of employers in the Digital Age and the skills workers need for success. With its Rework America Business Network (RABN), Markle and 11 large U.S. companies are promoting a skills-based workforce by developing training and resources to help fill the needs of employers. At the same time, the initiative, Skillful, shares a similar goal by providing tools to connect job seekers with well-paying positions.
When Bob Dylan sang "The Times They Are A-Changin'" in 1964, his folk anthem tapped into the gathering momentum supporting groundbreaking social and civil rights movements. But part of what makes the song a pop culture mainstay 55 years later is its timelessness and universality.
The times they are always a-changin'.
In recent years, many of those changes have been due to the Digital Revolution, which has ushered in countless shifts in social discourse, business practices, and even the workforce.
And like any good folk singer, Dylan always stood with the working class, as does the Markle Foundation.
The Markle Foundation focuses on realizing the potential of information technology to help address issues surrounding economic security, health, and national security in the U.S. Recently, the nonprofit has been striving toward its goals through initiatives that address changing technology and skills in the workforce.
According to data compiled by the Markle Foundation, 45% of U.S. employers report a talent shortage, 6.4 million Americans are looking for work, and nearly 70% of American adults do not have a college degree. Additionally, it's predicted that 1 in 3 Americans will need to learn new skills or find new work by 2030 and 52 million U.S. jobs will be displaced due to automation by the same year.
The nonprofit is tackling these issues head-on with a multi-pronged approach under the umbrella of its Rework America and Skillful initiatives. Both projects partner with influential companies and entities to prepare America's workforce to reframe the way skills are valued as it relates to hiring and career development.
The Markle Foundation believes a skills-based approach to labor development is relevant across industries, as it creates a more equitable job market that "filters in" for skills rather than "filtering out" for proxies like four-year degrees.
While the Markle Foundation isn't focused on specific skills, there is a growing demand for digital literacy among employers as the prevalence of technology increases across sectors. The nonprofit feels it is increasingly important that employees have some level of digital literacy skills to secure and maintain good jobs in the digital economy, according to information provided by Markle.
The Rework America Business Network Brings Together 11 Large U.S. Employers to Promote a Skills-Based Workforce
Markle's Rework America Business Network (RABN) launched in December 2018 and is advancing the adoption of innovative hiring and training practices to find, develop and retain the talent U.S. employers need while giving more Americans an opportunity to thrive in the digital economy, according to the foundation.
The 11 founding member companies of RABN are Boeing, Microsoft, Walmart, Aon, Archer Daniels Midland Company, Duke Energy, Kaiser Permanente, McKinsey & Company, Stanley Black & Decker, Zurich Insurance, and 21st Century Fox.
The RABN was formed by the Rework America Task Force, which is a diverse coalition of leaders across the private, public, and non-profit sectors. The network receives funding support from Rework America Task Force members Boeing, Microsoft, Walmart, Workday, and from Google.org.
"U.S. employers are struggling to fill a record 7 million jobs, while there are millions of Americans who might be able to fill these jobs if given the opportunity for training and development. The member companies of the Rework America Business Network will work to bridge that gap, expand opportunities for all Americans and build a stronger workforce," said Denis McDonough, senior principal at the Markle Foundation and chairperson of its Rework America Task Force, in a press release.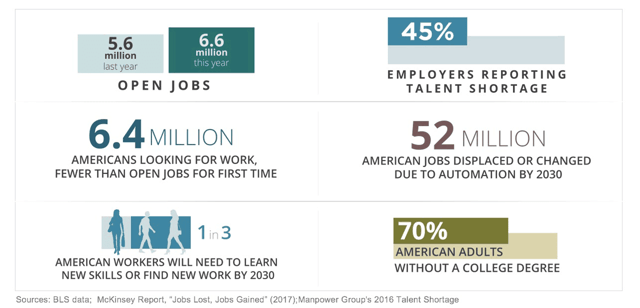 The primary goal of the network is to dramatically increase the number of U.S. workers with better pathways to career success by encouraging employers to adopt skills-based practices.
In business, this means emphasizing an individual's demonstrable skills — over other proxies of one's capabilities such as education, experience, references or pedigree — in all aspects of the employment cycle from sourcing and hiring to training, evaluation, advancement, and retention to workforce planning.
The RABN provides a forum for innovative U.S. employers to share expertise and have candid discussions on addressing the challenge of recruiting, developing and supporting the advancement of skilled employees. The network will share effective practices and encourage more U.S. employers to adopt them.
RABN network members are in the process of working together to define and implement best practices. The discussions build on notable work accomplished by member companies, such as Walmart's Training Academies, which has trained more than 400,000 associates in critical soft and technical skills to prepare them for new jobs and future advancement.
Another inspiration has been Stanley Black & Decker, which has undertaken a number of efforts to empower workers to embrace cutting-edge technology by creating "smart factories" and promoting innovation in key areas via startup accelerators.
Skillful Champions Skills-Based Practices to Enable Job Seekers to Secure Well-Paying Positions
"Inspired by our Rework America initiative, which brought together a remarkable and diverse group of leaders committed to work together to drive innovative actions to prepare workers and businesses to thrive in the 21st-century digital economy, Markle developed Skillful in 2016," according to the Markle website.
The initiative began with a partnership between Microsoft, LinkedIn, the state of Colorado, among others, and brings together important players from all areas of the labor market. The list includes employers, state and local governments, and educators.
The goal is to "help job seekers, workers, businesses, and educators adapt to the changing workplace and get and advance in in-demand jobs," according to the website.
The platform provides data, tools, and resources to help businesses define the skills they are seeking in employees. They are then able to translate the information into a skills-based hiring process. The result allows potential workers to demonstrate the skills they bring to the table.
Additionally, Skillful works with career coaches through the Skillful Governor's Coaching Corps program, a state-based training program designed to strengthen and support career coaches to be better equipped to connect people effective training opportunities and quality jobs.
The Markle Foundation first launched Skillful in Colorado and expanded the program into Indiana in October 2018. The expansion is intended to bring more investment, training, tools, and innovative methods to the state's Next Level workforce development agenda.
"The launch of Skillful Indiana brings together the Markle Foundation, Microsoft Philanthropies, the Walmart Foundation, the Lumina Foundation, Purdue University, and Purdue Extension with the Governor's Workforce Cabinet and regional workforce boards in order to create better pathways to good jobs for Hoosiers," according to Markle "Skillful Indiana will work with Indiana businesses and the state's innovative educational community to equip Hoosiers with the marketable skills that are the new currency of the digital economy."
The Markle Foundation Has Been Working to Disperse Knowledge and Promote the General Good Since 1927
The Markle Foundation was founded in 1927 by John and Mary R. Markle "to promote the advancement and diffusion of knowledge among people of the United States, and to promote the general good of mankind," according to the Markle website.
Today, the foundation fulfills that mission by "working to realize the potential of information technology to address previously intractable public problems, for the health and security of all Americans."
With their focus on tech-related skills and filling needs in the workforce, Rework America and Skillful get right to the heart of the mission and seek to solve an important challenge facing the U.S. in the coming years.
"At Markle, we have made it our purpose to inspire leaders from all sectors to leverage the very forces of change to improve the lives of all Americans," wrote Markle CEO and President Zoë Baird on the foundation's website. "We believe innovative actions that respond directly to people's real concerns and to their desire for a dignified place in this new economy are critically required."
Over the last decade, the nonprofit has also maintained a strong focus on impacting the future of health care and national security.
"By targeting how the federal government shares information, as well as how medical professionals and consumers share and exchange patient health data, Markle has helped strengthen services in both areas," according to the company website.
Many of Markle's recommended reforms have been realized in national security and health care laws, as well as in actions taken on state and local levels.
For nearly 100 years, the Markle Foundation has been there to support and meet the needs of the American people. Even when times were changing, as they always do, Markle remained nimble and changed with them to stay focused on addressing the most pressing issues of the day.
Advertiser Disclosure
CardRates.com is a free online resource that offers valuable content and comparison services to users. To keep this resource 100% free, we receive compensation for referrals for many of the offers listed on the site. Along with key review factors, this compensation may impact how and where products appear across CardRates.com (including, for example, the order in which they appear). CardRates.com does not include the entire universe of available offers. Editorial opinions expressed on the site are strictly our own and are not provided, endorsed, or approved by advertisers.