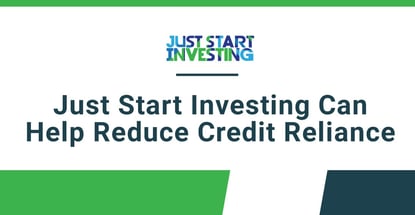 In a Nutshell: People need trustworthy, straightforward information for making the best retirement planning choices and productively managing their finances. Often the biggest challenge is knowing where to begin. The team at Just Start Investing offers tools and resources for building skills and reducing guesswork around investing, banking, budgeting, and managing credit. By cutting through today's money management clutter, Just Start Investing helps more individuals and families plan for the future with confidence.
If you've ever watched a panel of celebrity advisors discuss investment trends and strategies online or on TV, you might think investing is the most challenging field in the world. The message at Just Start Investing, on the other hand, is that growing your money for the future doesn't have to be complicated at all.
The team at Just Start Investing, led by owner Paul Jansen, is on a mission to eliminate the jargon (and high fees) that add an intimidation factor to investing. Because Just Start Investing cuts straight to the point with practical and straightforward advice, mastering the fundamentals to make sound decisions on your own is reasonably achievable without hiring an expensive financial advisor.

But without good money management habits, no investment strategy can reach its true potential. As Just Start Investing's readership grew and broadened in scope, Jansen applied his practical approach to investing to other financial topics.
The site expanded to include information about banking and bank accounts, credit cards and strategies for reducing credit reliance, and saving and budgeting, all aimed at individuals and families looking for advice they can easily understand and act on at all stages in their financial lives.
With more than 60 years of combined experience, Jansen and his team have built on their expertise to make the answers to common questions accessible and easily understood
"Without investing, you likely cannot retire — which is why everyone must have access to information and strategies about finance and investing," Jansen said. "Things change in the investment world blazingly fast, but the basics are still the same."
Expert Advice on the Basics of Personal Finance
Just Start Investing's blog covers all the basics with frequent posts from members of the content team. Along with the fundamentals of investing, banking, credit cards, and budgeting, the blog offers general advice on a wide range of topics such as savings tips for young adults and common financial mistakes to avoid.
A collection of personal financial resources lists investors, robo-advisors, banks, credit cards, and financial planning tools. The team either uses the listed resources daily or has extensively researched their value, leaving readers confident in the quality of the referral.
That approach continues in the site's core section on investing. A collection of "Investing 101" resources explains basic account types, asset classes, and brokerages; how-to guides teach steps for successful investing with a traditional broker or robo-advisor, and links to the blog offer the latest investing articles.
Watch on
"We share articles about the everyday questions people are having trouble with, and also talk about predictions and explain exciting news-related articles that are making shifts in the financial world," Jansen said.
The team also doesn't shy away from expressing preferences. For example, the section on types of investment vehicles recommends index funds and exchange-traded funds (ETFs) to most investors because those investment types are diversified and less expensive. Their performance also tends to exceed those of major indices with minimal intervention. In short, they're the best bet for personal investors looking for predictable long-term gains — just the right recipe for building a retirement nest egg.
"We always back up our content with research from industry experts, leading institutions, and the best investment books available to us," Jansen said. "Our primary goal is to make investing easy."
Understanding the Pros and Cons of Credit Cards
Credit cards can increase flexibility for managing day-to-day finances and even result in a net gain on the bottom line through rewards, Jansen said. But there's no getting around the fact that credit card debt must be paid in full every month to reduce credit reliance.
As is the case with the investing section of the site, Credit Cards 101 outlines cardholding basics with articles that compare different card types and explain why particular cards are better in different situations. Whether a rewards card with an annual fee is the right choice, for example, might depend on how a person's lifestyle fits with the reward-earning standards.
Reward types vary from simple cashback credit that can be used to offset other expenses to points rewards for general travel booking, travel with specific airlines and hotels, or shopping with particular retailers. Other cards eliminate rewards for a value proposition based on low fees and rates.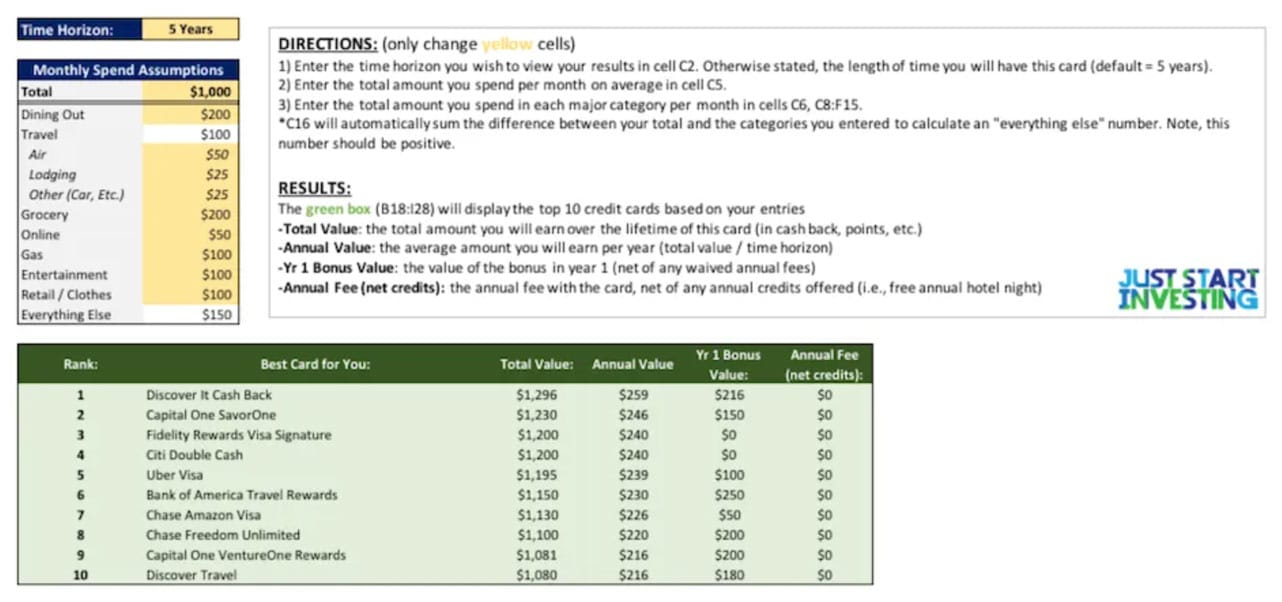 Just Start Investing offers a tool to help readers pick the card that's right for them. The tool analyzes spending in various categories and applies mathematical and measurement procedures to compare cards on an equal basis and recommend the best value choices for each individual.
Cards come with other benefits besides rewards, of course. Just Start Investing outlines credit card advantages, including rewards and other perks and the opportunity to build a positive credit history — perhaps the most significant bonus of all.
"It's essential for us to help people understand the advantages and disadvantages of credit cards and the credit system in general," Jansen said.
Just Start Investing: Tools to Achieve Financial Freedom
Banking and budgeting resources on JustStartInvesting.com run the gamut from the basics to tools for calculating net worth and choosing the best banks and bank accounts. When disciplined budgeting results in efficient household cash flow, the need to carry credit debt from month to month recedes. Budgeting can then prioritize paying off card debt before investing puts the power of compounding to work for the long term.
That's the way it's supposed to work, and Just Start Investing collects all the essential elements for getting there — no matter where people start and where they want to go on their financial journey. By exploring economic challenges in depth to arrive at sound conclusions based on the root of each problem, Jansen and his team give readers reason to turn off the TV pundits.
"Our primary goal is to make investing easy," Jansen said. "We want people to have access to resources and tools to help them achieve financial freedom."
Dedication to reader feedback sets Just Start Investing apart and helps Jansen and his team plan their content strategy. A growing and loyal audience guides the team to address areas of interest promptly.
And as more households begin to consider the potential advantages of today's lower-cost, high-tech investment services, Just Start Investing gains importance as a voice of clarity in an ever-noisier space.
"With the current economic situation and the COVID pandemic, people are increasingly turning to investing as a means to an end," Jansen said. "We all plan on retiring early for different reasons, but we can't do it without proper access to quality information to help us succeed."
Advertiser Disclosure
CardRates.com is a free online resource that offers valuable content and comparison services to users. To keep this resource 100% free, we receive compensation for referrals for many of the offers listed on the site. Along with key review factors, this compensation may impact how and where products appear across CardRates.com (including, for example, the order in which they appear). CardRates.com does not include the entire universe of available offers. Editorial opinions expressed on the site are strictly our own and are not provided, endorsed, or approved by advertisers.