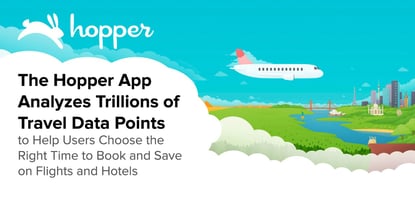 In a Nutshell: Traditional travel booking websites are great at comparing prices for flights available on a particular day. But there's no way to know whether all those prices are on their way down — or up. And if there's one thing for certain about airfares, it's that change is the only constant. The mobile-based Hopper app takes the guesswork out of booking the lowest-priced flights and hotels for millions of travelers by analyzing vast amounts of historical travel data to predict prices with 95% accuracy up to a year in advance. So, when Hopper sends you a phone notification that it's time to book your flight, you'll know exactly what to do.
It took about a decade after the Wright Brothers' first successful powered flight in 1903 for someone to figure out how to turn air travel into a business. On New Year's Day 1914, Abram C. Pheil, a former mayor of St. Petersburg, Florida, became the first paying customer on the St. Petersburg-Tampa Airboat Line, a short-lived company offering 20-minute trips across Tampa Bay — one passenger at a time.
Pheil didn't pay a set price to earn his place in history. Instead, he won the privilege in an auction, paying the equivalent of $8,500 in today's dollars to fill the first-ever commercial airline seat.
For millions of air travelers today, the process of purchasing plane tickets almost feels like an auction. Prices are so volatile, you're never really sure of the best time to buy.
Over the past five years, however, Hopper has applied the rigors of data science to crack the pricing code. Now, cost-conscious travelers can know with near certainty the best time, and price, to book.
More than 30 million travelers have used Hopper to save over $2.2 billion on the cost of plane tickets.
"Hopper was built on the premise that a combination of a lot of data and artificial intelligence could come together and solve an issue in the travel industry," Hopper Consumer Travel Expert Liana Corwin said. "It was hard for consumers to understand when they should be purchasing their flight, when they should be traveling at all, and how much they should be paying."
That's because airlines have long enjoyed a sort of technological upper hand over consumers when it came to pricing. By leveraging the massive amount of travel and pricing data at their disposal to eke out every bit of revenue from every ticket, airlines gave buyers little recourse other than their intuition when comparing prices.
Numerous websites purported to crack the pricing codes and reveal pricing secrets. But those were for people who had all the time in the world. "They really weren't contextualized in a way that made it easy for consumers to make decisions," Corwin said.
Instead, mobile-based Hopper brings ease and transparency to airline pricing. And soon the app will be doing the same for hotels.
"We're best known for flights, but we've launched a similar idea around hotels," Corwin said. "Later this year, we'll be rolling out to hotels more broadly, pretty much in every major city you can think of."
Prediction Algorithm Generates Precise, Personalized Recommendations
Everyone knows we live in an era of big data. What most consumers perhaps don't appreciate enough about airlines is that computerization has been the name of the game for generations.
Well before the internet, a complex network of global distribution service (GDS) providers brought the benefits of deep data insights to the airlines. It's the rise of the GDSs that gave rise to the volatility consumers see in airline ticket prices to this day.
"What's really interesting is that between the new year and your summer vacation, for instance, the fare you're looking at might change a hundred times on average," Corwin said. "That's certainly true of more popular routes. Tier 1 routes, like New York to Los Angeles, are going to change in price pretty much constantly until someone actually takes their flight."
By connecting to these same GDSs, Hopper takes in a constant stream of between 25 and 30 billion prices every day. And then the magic happens.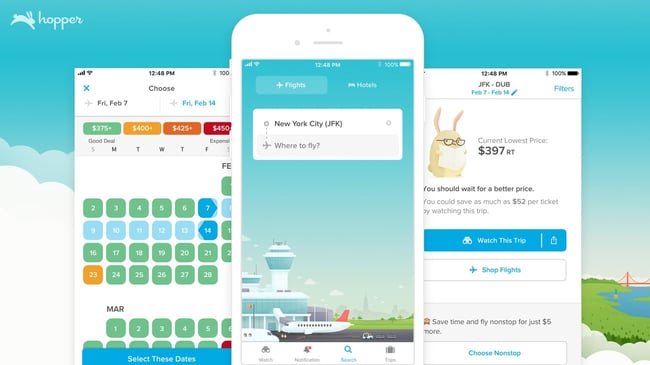 "We're able to monitor these prices with machines in a way that humans wouldn't be able to do themselves, find those deals, and send them directly to the consumer's phone," Corwin said.
In doing so, Hopper reveals the predictive power of all that data.
"We've been saving this information for the past five years, so we have a huge historical archive of trillions of data points," Corwin said. "And that allows us to forecast the future price of your airfare."
"We're able to look at the historical prices, compare them with that instant stream we're getting every day, and make recommendations with 95% accuracy," she said.
Notification Touchpoints Keep You in the Pricing Loop Until You Purchase
Getting the app up and running on your phone is as easy as entering your travel plans. You don't have to register until it's time to book your flight (which the app also seamlessly handles). Instead, simply tell Hopper to watch your flight, and sit back and relax.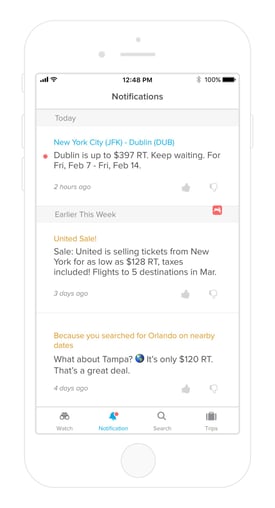 "When people come into Hopper and ask us to keep track of a flight for them, they give us permission to send push notifications to them," Corwin said. "We'll keep track of that flight and send them notifications up until the time of their departure."
Early Hopper iterations sent out the notifications only when it was time to purchase. But the Hopper team learned that travelers often wondered what the app was up to during the sometimes lengthy period between instigating a flight watch and actually buying a ticket.
"Let's say you start tracking a flight for three months from now," Corwin said. "About three-quarters of the notifications we'll send you will actually ask you to keep waiting. When we first started Hopper, we only sent a notification when it was time to buy, and we found people were anxious about that. They wanted to understand what was going on with their flight and why they shouldn't be purchasing now."
Hopper now sends notification touchpoints every few days to remind travelers that a ton of data processing is happening behind the scenes to ensure that, when the notification to purchase finally arrives, they can pull the trigger with certainty.
"We're only going to tell you to buy when we know the price is at its lowest predicted point," Corwin said.
Hopper Works for You to Make Finding the Best Prices Easy
Consumers using Hopper can strategize their travel purchases without contending with pushy sales objectives.
"What's different about Hopper is that we're not trying to convert users the moment they come into the app," Corwin said.
When a user installs Hopper and asks it to watch a flight, the user is invested in the outcome. "We know you're going to open our notification because it's about something you've asked us to watch for you," Corwin said.
Conversely, web-based travel businesses have to be more sales-forward because they can't guarantee users will return to their website — it's easy to click away to a different service. "That allows us to have a little bit more flexibility to really wait until we have great deals for people to purchase," Corwin said.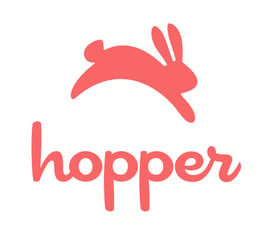 Plus, Hopper is totally free to use time and time again. "After you input your profile information and credit card, you never have to input that again. So it becomes a very simple shopping process for people," Corwin said.
About the only disappointment is that all of Hopper's data wrangling has revealed once and for all that there simply isn't a best time, day, or month to book a flight. Which is why it's so useful to have Hooper around, working for you.
"My best advice would be to start planning in advance — the earlier you start tracking your flights, the better opportunity you'll have to get a good deal," Corwin said. "Every route is different, and there are so many possible combinations of flights you could take. That's why Hopper is so helpful. It gets down on that granular level for each flight."
Advertiser Disclosure
CardRates.com is a free online resource that offers valuable content and comparison services to users. To keep this resource 100% free, we receive compensation for referrals for many of the offers listed on the site. Along with key review factors, this compensation may impact how and where products appear across CardRates.com (including, for example, the order in which they appear). CardRates.com does not include the entire universe of available offers. Editorial opinions expressed on the site are strictly our own and are not provided, endorsed, or approved by advertisers.