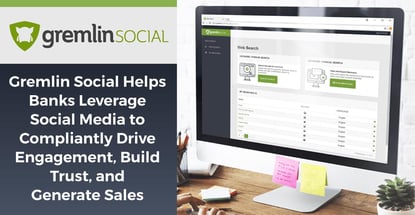 In a Nutshell: In financial services, a key factor in converting a customer is the trust engendered in that customer through a positive relationship with a loan officer or other external-facing employee. Although social media engagement can help build that trust, the ability to sell financial products doesn't necessarily translate into social media marketing skills. Institutions partnering with Gremlin Social gain a centralized platform for leveraging the social space. Through Gremlin Social, marketing professionals control social messaging, protect the organization from online missteps, and free loan officers and other direct sellers to generate a larger bottom line.
Consumers don't visit bank branches as they once did. Yet a key factor driving big decisions, like buying a home or setting up a college savings or retirement plan, is the consumer's personal connection with a financial institution.
Given those competing realities, providers looking to differentiate themselves are well advised to show customers who they really are. A bank isn't just a website — it's a team of people who live in the communities they serve and who have a stake in their success.
When it's handled correctly, a consistent, compelling social media presence can build that kind of authenticity more effectively than other forms of advertising. Gremlin Social is a platform that helps financial institutions put their people out in front in a way that boosts their professional standing and expertise, creates authentic engagement with customers, and ultimately drives sales.
"If you think about some of the most important financial services decisions you as a consumer will make, those are highly personal decisions," Gremlin Social CEO Douglas Wilber said. "They're predicated on building rapport and trust with the employee at the financial institution you're working with."
But digital rapport isn't easy to come by. Studies like this one show that consumers respond to brands that engage with users on social but turn away from inauthenticity.
"When you're evaluating a new relationship, you want to understand a person's perspective on the world, how they think about their business, and whether they're a true thought leader in their community," Wilber said.
That's what Gremlin Social helps its partners convey. "We're a sales enablement platform," Wilber said. "We feel deeply passionate about the opportunities financial institutions have to humanize their brands by putting their employees at the forefront of their marketing communications and harnessing the collective power of their social networks."
"Compliantly distributing thought leadership material on social media not only differentiates the employee but is more effective than traditional forms of advertising like television, print, and radio at creating opportunities for engagement with customers," Wilber said.
Create, Control, Schedule & Publish Content at Scale
Financial institutions of all sizes work with Gremlin Social because the skills that make employees great at closing deals with customers in person don't necessarily translate into social selling abilities.
"Recognizing that loan officers, wealth managers, and branch managers are very busy individuals who are not always trained in the art of content writing or marketing, we give marketing teams the ability to create, schedule, and publish content on their behalf at scale," Wilber said.
The Gremlin Social platform provides a variety of management and monitoring tools to assist partners in efficiently leveraging social media's potential. Posting to LinkedIn, Facebook, and Twitter is possible from within a single platform.
Marketing teams can create, store, and post content using a dedicated content library. Search tools help teams monitor engagement, connect with customers, and assign response tasks to specific employees.
"Within our platform, the bank's senior-level marketing people will be the ones who are creating the content," Wilber said. "They're posting it within our content libraries or making it readily available for employees to pick up and post."
At the same time, the platform allows for significant flexibility to ensure the institution's unique workflow preferences are respected.
"All of the folks who work alongside the marketing team to publish marketing and advertising materials — branch managers, loan officers, wealth managers, even compliance and legal employees — can all have different roles," Wilber said.
When a post is created from within that workflow, it can then be flagged for approval or for moderation or even blocked outright.
"That gives the institution control over how content goes out into the public domain and who can post," Wilber added.
Archiving & Keyword Filtration Tools Protect for Compliance
That level of control makes social media truly feasible in the sales- and compliance-oriented environment of financial services. The Gremlin Social platform also contains tools that help the institution protect its brand and permanently preserve its social media activity.
"You know, it's funny — we talk to so many significant-scale financial institutions that are terrified about what an employee might say on social," Wilber said. "In many cases, they just create a policy prohibiting employees from posting."
Gremlin Social enables marketing departments to exercise a level of care over the institution's entire social presence that's comparable to the control it may have over the direct-mail pieces and other dedicated media materials it produces.
Recognizing that loan officers, wealth managers, and branch managers are very busy individuals who are not always trained in the art of content writing or marketing, we give marketing teams the ability to create, schedule, and publish content on their behalf at scale." — Douglas Wilber, Gremlin Social CEO
The first of these tools, the platform's archiving service, preserves published social content in perpetuity.
"Everything is archived in a similar fashion to what an institution may have in place for email-based or direct-mail campaigns," Wilber said. "No matter where content is posted, it will always be archived on our platform."
In the event of an audit or other compliance-centered or regulatory event, people can always go back and look at what was posted. "Say there was a post that went up on LinkedIn. They'll ultimately decide whether they want to delete it. But you'll still have an archival record of it," Wilber said.
Meanwhile, keyword filtration flags suspicious messages and subjects them to the institution's internal pre-approval process.
"We have a list of a few hundred terms that are generally considered to be no-no terms," Wilber said. "There are things you don't want to post and things you don't want to do online, like guaranteeing rates or approvals. Depending on the institution's approval process, a higher authority within the Gremlin Social ecosystem at the bank will need to approve those posts before they can go out."
Strong Customer Relationships Generate Greater Results
In addition to marketing and compliance tools, Gremlin Social offers analytics, team management, and social listening functionality to route actionable posts from users to employees. But the platform's value proposition ultimately rests on its ability to transform external-facing officers and managers into marketers while freeing them to generate greater results for the institution.
"What gets us excited and what gets our partners excited is we turn those individuals who are tasked with driving the business development pipeline into social sellers on a platform that is differentiated relative to their peers," Wilber said. "They're distributing interesting, relevant, and actionable materials out to their communities, building deeper relationships, and ultimately translating those relationships into more closings."
Endorsed by the American Bankers Association (ABA) as the official platform for social media marketing, monitoring, and compliance for all U.S. member banks, Gremlin Social offers special pricing for ABA members. But financial institutions everywhere can take advantage of the results skillful social media marketing can bring over other forms of advertising.

"When you spend a lot of time on the road, you still see so many billboards promoting bank products along the highways," Wilber said. "And I would have to imagine that the conversion rate from a billboard is almost not even worth putting the billboard up."
The impact of social media, on the other hand, is compounded.
"There's a really interesting stat that a company's employees collectively have about 10 times more followers than the company itself," Wilber said. "If you think about that, just in terms of the number of impressions a brand can derive by harnessing the personas of its employees, it's really not hard to think about a world where you can outperform a paid campaign, Google Adwords, programmatic advertising, or certainly a billboard."
Given how the rise of digital transformation is leveling financial services, it's hard to imagine anyone being willing to leave that much on the table.
Advertiser Disclosure
CardRates.com is a free online resource that offers valuable content and comparison services to users. To keep this resource 100% free, we receive compensation for referrals for many of the offers listed on the site. Along with key review factors, this compensation may impact how and where products appear across CardRates.com (including, for example, the order in which they appear). CardRates.com does not include the entire universe of available offers. Editorial opinions expressed on the site are strictly our own and are not provided, endorsed, or approved by advertisers.