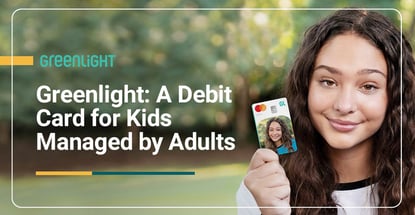 In a Nutshell: Many people in the U.S. struggle with financial literacy, and the subject is often not broached in households and is only recently gaining traction in schools. Greenlight teaches children about financial literacy from an early age with its debit card and app, which are managed by parents. The card lets kids learn about the ins and outs of saving and earning by giving them real-world experiences with real money. Children not only are able to use the card as they would any other debit card, but they can set and track savings goals, earn money for completing chores, and give to charities. Safety and security is Greenlight's top priority, so not only does it use state-of-the-art encryption, it also blocks unsafe spend categories and prevents kids from getting cash back at stores.
Generations of children in the U.S. have been taught the importance of pursuing a college education in preparation for a financially successful and rewarding career. Even those who are less likely to attend college are encouraged to learn a valuable skill to be gainfully employed in the trades.
But with all this talk about the importance of earning money, the U.S. has been negligent in teaching its children how to actually manage money. Talking about money at home is often avoided either because of outdated taboos around discussing finances or simply because it makes parents uncomfortable.
Similarly, many schools don't offer any kind of financial literacy resources for students either. There has been some positive momentum in this arena in recent years as more states are making it a requirement in schools, but there is still a long way to go.
Even people who studied business finance in college told us they hadn't learned anything about managing their personal finances in school.
Thankfully, companies like Greenlight are making inroads in financial literacy by helping to teach children real-world lessons in financial responsibility from an early age.
Greenlight offers a debit card for kids — along with a host of other financial literacy tools — that are digitally managed by parents.
"We're trying to raise the bar in terms of helping children start early, when the kids are just learning about personal finance," said Greenlight CEO and Co-Founder Tim Sheehan. "We try and basically teach them as much as we can. Greenlight provides a set of tools and content to help parent teach their kids to be smart about money and personal finance. It also lets kids learn firsthand by doing. They can access special educational content made just for kids that meets them where they are."
Greenlight is a Feature-Packed Card Managed by Adults
"Greenlight is all about helping parents raise financially smart kids," Sheehan told us. "Everything we're doing is toward that end. We're just trying to change the world in a positive way."
The company's approach to this mission is demonstrated by the wide-ranging tools and resources available to parents through the Greenlight platform. At the center of it all is the Greenlight debit card for kids.
"With the tap of a button, send money to your kids — anytime, anywhere," according to the company. "No trips to the ATM, no cash, no hassle. Set flexible parental controls that are right for your family and get real-time notifications every time your kids spend money."
Parents can also create in-app chore lists where specific chores are worth a certain amount of money. Once the child marks the task as completed, the parents can add the funds to the card. Parents can also set a weekly or monthly automatic allowance amount.
And, of course, parents will be notified any time the card is used. With the Greenlight mobile app, it's easy to keep track of how much your child is spending and where.
Children can also use a version of the app that helps them understand how they are using their debit card and offering valuable lessons in financial literacy. And, children can also personalize the debit cards by including a photo of themselves on it.
Families can try Greenlight for one month for free, and it costs $4.99 per month after. The subscription comes with debit cards for up to five kids. There is no minimum age or balance requirements and no transaction, international, or overdraft fees. Greenlight will also provide the first replacement card for free.
The Importance of Teaching Financial Literacy from an Early Age
Sheehan said that it's been exciting to see Greenlight catch on with audiences since its launch in 2017 because learning about financial literacy at a young age is so important.
"There have been some studies to show that, when kids do learn this stuff at a young age, they actually do much better financially as adults," Sheehan said. "Hopefully they're just not making some of the common mistakes that a lot of people succumb to. A lot of people fall in these (financial) traps, and once you fall in. it can be tough to get yourself out."
Greenlight allows children to set and track savings goals and even put aside money to give to charity.
"It can make a big difference in your life, if you're financially confident and you kind of understand all the ins and outs of the importance of having a savings account, learning and understanding what credit is, learning to invest, all those kinds of things," Sheehan said.
Greenlight understands the value of being financially literate and works to impart real-world knowledge, he said.
"That's all it is — knowledge," Sheehan said. "It's not magic. It's really just information and experience that you're trying to share."
The platform helps kids set their own goals, make tradeoff decisions, and generally learn about the power of saving, according to the company.
Teenagers who have jobs can also set up direct deposit to have their paychecks sent straight to their Greenlight account so all their money is in one place.
"It's about just trying to teach them basic things like money doesn't grow on trees, you have to work for it; you have to earn it," Sheehan said. "So the chores and tracking allowances help in that regard. They can start to connect, 'Oh, if I do this work, I earned that money.'"
A Secure Platform Praised by Parents and Kids
People can be understandably cautious when it comes to companies that handle their money. And they may be even more cautious when their kids are involved as well. Greenlight understands this, which is why the company always puts safety and security first.
"Greenlight's top priority is ensuring a safe and secure experience for every family we serve by protecting your data and your money," according to the company. "Every account is FDIC-insured. We use state-of-the-art encryption to protect your data. We block unsafe spend categories and don't let kids get cash back at the register."
Parents can feel confident that their information and that of their children is safe with Greenlight.
Sheehan said the company has heard from many parents and children who are very happy with Greenlight's debit card and financial literacy platform. And the result has been steady growth year after year.
More than 2 million parents and kids have used Greenlight, and the app has a 4.8 star app store rating out of 74,000 reviews.
"This app is amazing and such a great way to teach kids about money. You can give them an allowance on it. You can even decide where they are allowed to spend money. Parents, check it out!" wrote Molly E. on the Greenlight website.
Greenlight recently released its year-in-review data, which shows that 8.7 million chores were completed — 5 million more chores than were completed in 2019. And, overall, $458 million was earned, saved, spent, or donated using Greenlight in 2020.
The company also revealed that in 2019 Walmart was the most popular company among Greenlight kids, but in 2020 DoorDash takes the honor. This is no doubt due to the COVID-19 pandemic. Another product of the pandemic was an increase in giving. About $7.6 million was set aside for giving in 2020, and once the pandemic hit, Greenlight saw a steep increase in giving.
"Donations increased 78% from March to April, with No Kid Hungry being the top charity," according to the company. "That tells us that Greenlight kids really care about helping other kids. They also showed up on Giving Tuesday (December 1), marking a record high of daily donations."
Advertiser Disclosure
CardRates.com is a free online resource that offers valuable content and comparison services to users. To keep this resource 100% free, we receive compensation for referrals for many of the offers listed on the site. Along with key review factors, this compensation may impact how and where products appear across CardRates.com (including, for example, the order in which they appear). CardRates.com does not include the entire universe of available offers. Editorial opinions expressed on the site are strictly our own and are not provided, endorsed, or approved by advertisers.