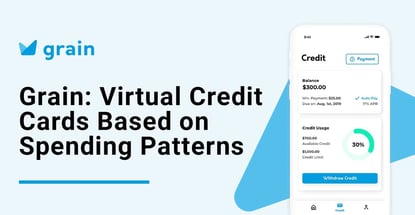 In a Nutshell: When consumers start their credit journey from scratch or need to rebuild after a setback, achieving a good score is a challenge. Grain is a modern app that offers a novel solution for overcoming the credit access barrier. It links an existing debit card to a line of credit based on consumer spending patterns without a credit check to help users boost their scores, access financial services, and more opportunity. Tools within the app also help users monitor credit utilization to make adjustments and improve their credit profile over time.
The people who need credit the most often have the hardest time qualifying for it. Cardholders who pay their balance in full every month typically see their opportunities improve. But those who don't have a credit history may be on the outside looking in.
Consumers who have made mistakes with credit or experienced a financial setback can find themselves in the same situation. They may need to work proactively to boost their credit score to gain access to financial products at reasonable rates.
Credit costs more and is less accessible for consumers on the wrong side of that credit access barrier. Low credit scores can also make milestone purchases, including homes and cars, more challenging.

That's why many people choose to start building or rebuilding a positive credit history so they can gain liquidity. Some consumers turn to secured credit cards, but fees and interest rates for those products can be high, too.
Grain is an app that helps users start building their credit quickly. Instead of basing underwriting decisions on credit scores, Grain analyzes income and cash flow. It also keeps fees to a minimum and charges the same low APR to all users.
"Our objective is to make credit more inclusive so that people can build a positive history without the threat of falling into crippling debt," said Christian-Robert Joseph, Grain's Co-Founder and CEO. "We also provide the right amount of credit that we know our users will be able to manage responsibly."
Connect a Debit Card to Access a Virtual Credit Line
Card companies must manage their own risk with regard to the credit they issue. Their success depends on a substantial portion of cardholders paying interest on the debt they carry from month to month.
Grain puts users in the driver's seat by tying the credit lines it issues directly to the user's proven income and spending patterns. And instead of issuing a physical card, Grain connects virtually to users' checking accounts and their existing debit cards.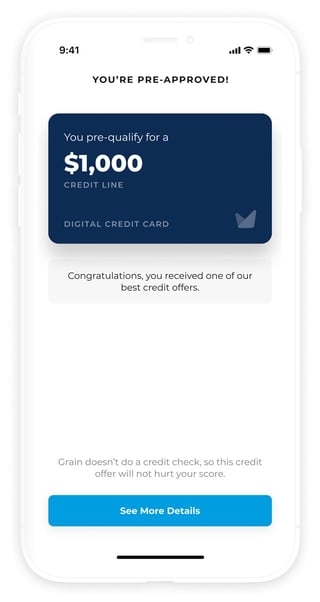 "We help shift the perspective on credit and how it can add value to your daily life," Joseph said. "Ultimately, users who improve their credit can make home and auto purchases at much lower rates. Because without that, life can get expensive."
Grain users simply download the app and connect their accounts with a few clicks. The app works with more than 10,000 U.S. financial institutions, including all the major banks. It is currently available on iOS, with a waitlist available on the Grain homepage for Android users.
"Our underwriting agent assesses your cash flow and determines the credit limit within a few minutes," Joseph said. "With your debit card, you can withdraw the funds you need and have that money transferred from the mobile app to your checking account."
Because there's no hard credit pull involved, getting up and running with Grain never impacts a user's score. But Grain reports payment history and utilization ratio to the major credit bureaus, giving users a chance to improve their scores over time.
"It's a revolving line of credit, so it functions just like a credit card," Joseph said. " We just don't believe that you should have to be in debt for us to make money as a company."
And because Grain partners with local banks and credit unions to provide credit, users also gain the additional benefit of knowing they're helping to maintain a positive competitive environment in the credit industry.
"Grain is the digital arm of the community banks and credit unions we partner with," Joseph said. "If we can help them expand their credit portfolio, that's better for communities in general."
Security and Transparency Earn Consumer Trust
Grain is simple to use, but as with any new fintech app, users may have questions about security and compliance and how it protects their assets and identities. Grain alleviates security concerns by incorporating bank-level 256-bit encryption on its platform.
That allows it to securely store all user data, including Social Security numbers, linked checking account numbers, and Grain transactions.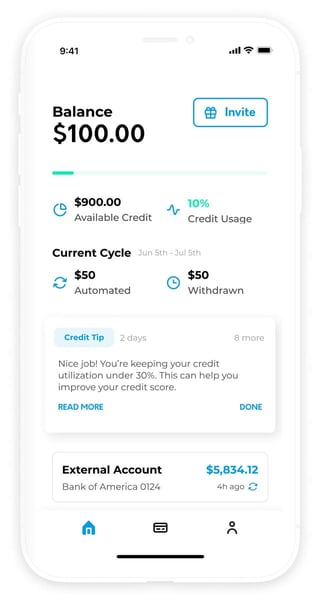 "Our chief technology officer is an MIT grad with a background in electrical engineering and computer science," Joseph said. "We're always making sure we're on top of fraud management solutions to protect us, our banking partners, and our customers."
Grain also alleviates compliance concerns through proactive outreach to regulators, ensuring its workflows and processes mesh with bank security imperatives.
"One co-founder is an attorney who has worked in the financial industry pretty much his whole career," Joseph said. "The regulators know us, and one of the reasons we reached out to them was because we wanted to ensure that what we had in mind aligned with user safety. That's one of the things we're proudest of."
Grain also earns user trust by charging the same low APR to all users rather than basing interest rates on a notion of creditworthiness as determined by the bureaus.
"That's different from what you usually see. We're not going to penalize you because of what you earn," Joseph said. "In deciding to stick with one APR, our objective is to show that if we ever increase it, it will only be because we're providing more value to the customer. Our customers appreciate that level of transparency."
Grain: Strengthening Local Banks and Credit Unions
The Grain app encourages users by updating their credit score on a monthly basis and displaying it prominently. The app also includes a tool for monitoring credit utilization in real time to help users stay under the 30% rate that signals responsible credit use to the bureaus.
"Traditional credit card companies will overextend you because they know people are susceptible to overspending," Joseph said. "We try to strike the right balance. So, when you withdraw on the app, a notification encourages you to maintain that 30% ratio or below to continuously improve your score."
Grain keeps the fine print to an absolute minimum, opting for a targeted communications approach that provides information necessary for the task at hand.
"We try to tie information to the intent or action you're taking on the product," Joseph said. "That smaller amount of information is more digestible to users, and they can retain it much easier."
Grain puts the financial puzzle together in a new way for consumers looking to make banking work for them. People who want to use credit to build something positive will find that Grain is on their side.
"Our intent is to provide the right amount of money for day-to-day purchases — small-dollar items that won't impact you excessively," Joseph said. "Once they use the app, users understand that goal, and they share the product with their friends."
Advertiser Disclosure
CardRates.com is a free online resource that offers valuable content and comparison services to users. To keep this resource 100% free, we receive compensation for referrals for many of the offers listed on the site. Along with key review factors, this compensation may impact how and where products appear across CardRates.com (including, for example, the order in which they appear). CardRates.com does not include the entire universe of available offers. Editorial opinions expressed on the site are strictly our own and are not provided, endorsed, or approved by advertisers.