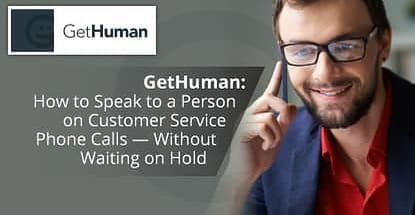 In a Nutshell: When calling a customer service number, people often expect a time-consuming and convoluted process. You could sit on hold for hours before eventually finding some semblance of assistance. Most large companies — like credit card companies — are content with this frustrating status quo, but terrible customer service doesn't have to be the default system. GetHuman provides a shortcut for anyone online. On this website and app, a dedicated team offers step-by-step guidance through the confounding maze of customer service. With a directory of over 10,000 company phone numbers at your fingertips, your customer service worries are over. The next time you're wasting away on hold trying to cancel a credit card or set up a bank account, consider handing the phone over to someone at GetHuman to make the process go a lot smoother. //
In 2005, Paul English faced a terrible reality. His father was suffering from Alzheimer's disease, growing more forgetful with each passing day. Even simple chores became frustrating and confusing — and when something broke he didn't always know who to call for help.
Seeing the struggle his father was going through, Paul took action. He created a list of company phone numbers and then put together the sequence of numbers it took to actually get through to a person. This way, whenever an issue arose, his father was no longer helpless to fix it. His cheat sheet made getting in touch with a customer service agent much quicker and easier.
Paul thought this resource was something others could use as well, so he shared the cheat sheet online with his friends and family. It went viral. He'd hit upon an idea that could truly help people; however, he was already Co-founder of Kayak.com and not in a position to grow the site he called "GetHuman" into a national brand.
So it remained a popular list of about 500 companies — until 2013 when Christian Allen stepped in as President and Co-founder.
Christian wanted to see what he could do to fix the problems of bad customer service. With today's advanced technology, he didn't believe that enduring long hours on hold was really necessary. GetHuman seemed to be an effective remedy for this trying process.
Under his leadership, the site grew rapidly into a centralized hub of company contact information, with over 10,000 phone numbers currently available online.
Today, GetHuman sees about 3 million visits per month. Over the course of a year, it provides about 1 in 8 Americans with speedy and stress-free solutions to many kinds of customer service issues.
Whether you want to get in touch with Equifax, Chase, or Facebook, this site will direct you to the fastest route to getting a human being on the phone. Additionally, if you hate sitting on the phone (and who doesn't?), GetHuman will make the call for you and can even handle your issue on your behalf.
Talking to a real-live person who works at a credit card company, phone service, fast-food restaurant, website, or any popular company becomes much easier through the professional guidance and support of this site.
A Small Team with a Big Heart: 8 People Serve Millions
Based out of Boston, GetHuman is maintained by a small but dedicated group of people. Adam Goldkamp, the Director of Operations, spoke with us about the company's mission and goals to end the heartache associated with customer service.
Currently, this gargantuan site runs itself through the hard work of only eight individuals. "We're a scrappy team that's just impassioned about helping customers," says Adam, "and definitely looking to grow."
Dissatisfied with how customer service is handled by indifferent companies, the GetHuman team set out to put an end to the frustrations of long hold times, unclear listings, and outsourced call centers. It's a cause that's easy to rally behind because so many people can relate to this issue.
"What we've created is a way for consumers to handle their customer service issues," he says. "We've taken the time and called all the numbers — I know I have personally dialed thousands and thousands of these numbers trying to figure out the sequences to get through."
From Paul's original list of hundreds, GetHuman has expanded to thousands of top companies that are the most difficult to reach by phone. With painstaking care, the team mapped out the quickest way to get help from a customer service representative.
This meant calling and re-calling to figure out the best way to escape getting trapped on hold — essentially by spending hours upon hours on hold. "There's nothing exciting about actually having to call all those numbers," Adam says ruefully, but in the end the team got amazing results, saving others the strain and pain of dialing useless customer service numbers.
From this experience, the team can confidently inform users about the time frame and process necessary to solving a particular problem with thousands of companies via phone.
"Everybody has had a frustrating experience calling a credit card company or a cable company — you name it," he says. "So basically we have a team of empowered, impassioned, and dedicated people who are fed up with the way that customer service is handled."
GetHuman Helps Consumers Deal With Customer Service
Slow, incompetent, and unhelpful customer service is a systemic issue that plagues many companies and consequently consumers.
"You spend so many hours each year trying to get through to these companies and waiting on hold," GetHuman's Direction of Operations says, "banging your head against the wall trying to call them back again to resolve an issue that wasn't resolved the first time."
All too often, large companies ignore the problems of customers waiting many tedious hours on the phone line. The system, it often seems, is made to be arduous and time-consuming rather than user-friendly.
There are four primary ways that GetHuman can help with bad customer services:
Finding the Best Contact Information for Companies
Dialing the Company From Your Browser
Robo-Calling to Connect You When a Person Picks Up
Handling the Issue For You
A consistent theme in GetHuman's services is a desire to facilitate and expedite the customer service process of other companies.
"We're just trying to help you save your time and your frustration," Adam says. "Imagine living in a world where you don't ever have to call these companies again — now you can just hand your issue over to someone from GetHuman."
1. Find Phone Numbers in a Database of Over 10,000 Companies
A portion of the site is still the simple directory that Paul first envisioned for his father — though it's now quite a bit larger. Thousands of company phone numbers are alphabetically organized and easily searchable online. You'll be privy to the best phone numbers, contact information, and secret shortcuts to reach a customer service agent.
GetHuman has a straightforward database of more than 10,000 companies for your convenience. It will even estimate how long it will take you to make your call.
"We grew the list partially from our initial researching, but we also got a lot of feedback and submissions from our users," Adam explains. Through a mixture of internal and external methods, the list expanded to the impressive compendium it is today. The website excels at being a clear, instructive resource for those in need.
If you have a particular question about a company, from glitches to cancellations, you can go to the Guides page to ask GetHuman directly or see if someone has had a similar issue. On this page, knowledgeable employees offer step-by-step guides to solving your problem.
2. Web Call: Call a Company Straight From Your Browser
To avoid using up your phone minutes or to save money on international calls, GetHuman gives you the option to make a web call from your browser. You simply look up the company in its directory, find the "web phone" option and click on it. You'll be taken to a page with a virtual phone, and all you have to do is press the Call Button.
On web calls, GetHuman auto-dials and records the call for you.
"Our web-phone calls Chase over the Internet," the Chase page explains. "This can save when calling Chase foreign and non-toll-free numbers from abroad — or if you are on a pay-as-you-go or otherwise limited phone plan."
3. No More Waiting on Hold: Instead Have a Robot Call For You
Ready with yet another useful and time-saving tool, the site has set up a callback program that puts you in touch with a human without the wait time — because they call you!
"From the app or the website," Adam explains, "you can go through and say 'I want Chase to call me back when someone is ready to speak to me on the phone.'"
Once you put in your phone number, GetHuman gets to work. The team contacts the company for you, braving the long wait time, and calls you only when someone picks up on the other end. You'll be connected with a customer service representative without investing any of your time, energy, or anguish.
"It's literally as simple as putting your phone number in," GetHuman's Director of Operations says. "Our program will ring your phone back when someone is ready to talk to you."
GetHuman expends many man hours to streamline customer service for consumers. By using its services, customers can get the help they desire without spending a single minute on hold. It's as easy as picking up the phone.
4. Concierge Service Takes Care of the Issue For You
For the past six months, GetHuman has offered a concierge service that's quickly taken off. For a one-time fee, you can ask the site's team to solve any customer service issue for you. Handing your problem over to professionals saves you time, energy, and headaches because a trained rep handles everything for you — no muss, no fuss.
Adam tells us that since the concierge service's implementation, it's been "growing like crazy" as people eagerly take them up on their offer.
"You can always submit your issue to us," he explains. "We've expanded our time coverage to cover the majority of the day."
If the issue is time-sensitive, you should notify GetHuman of that up front so that the team can assess whether they can get you help quickly enough. For instance, if you're stuck in an airport in Mumbai at 3 a.m., Adam suggests that you book your travel yourself rather than wait on them.
"Ideally we want to grow into a 24-hour on-call service," he says. "We want to make this more of an instant product, so you can get someone from GetHuman any hour of the day."
With only eight people working on the whole site, the team support isn't there yet, but it's quickly developing to meet the growing needs of customers.
By and large, people are more than happy to pass off their issues to GetHuman. A positive deluge of feedback has bolstered the morale of the team, who spend their days waiting on hold, creating step-by-step guides, and brainstorming ways to lessen the hassle of dealing with customer service.
"If you want to cancel your card, but don't want to call the credit company, you just hand it over to us," Adam says cheerfully. "For a small fee, one of us will take care of it for you."
Don't Get Frustrated — Get a Human
Ten years ago, Paul didn't intend to create a website that would help millions of Americans cut through crowded phone lines — he just wanted to help his ailing father. This personal project touched a chord among people continually frustrated by a shoddy customer service system, and thus a website phenomenon was born.
GetHuman uses its directory and services to make finding help that much simpler for the average consumer. In search of fast and easy assistance, people flock to this database and find thousands of company phone numbers at their fingertips.
As the website grows, the team looks for more innovative ways to expedite the customer service process. Through robo-calling, web calls, and concierge services, this eight-person team continually expands what it can offer you.
"Customer service is just getting worse — it's not getting better," Adam says, "but the good news is that we can help, and we're very good at it. Hopefully, the more people who believe in what we're doing, the bigger dent we can make into this serious pain point."
Advertiser Disclosure
CardRates.com is a free online resource that offers valuable content and comparison services to users. To keep this resource 100% free, we receive compensation for referrals for many of the offers listed on the site. Along with key review factors, this compensation may impact how and where products appear across CardRates.com (including, for example, the order in which they appear). CardRates.com does not include the entire universe of available offers. Editorial opinions expressed on the site are strictly our own and are not provided, endorsed, or approved by advertisers.