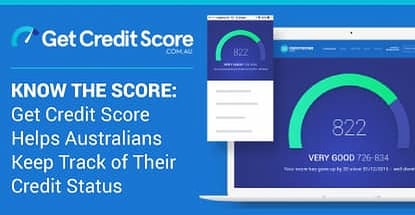 In a Nutshell: A person's credit history — whether it's solid or shaky — can have an impact on the outcome of big life decisions, such as taking out a loan to purchase a car or home or starting a business. That's why it's important to know where your credit stands. GetCreditScore offers a free and simple way for Australians to keep track of their credit score, understand the factors that influence a credit score, and learn how to improve it. //
Most consumers will need to take out a loan at some point in their lives to ease the burden on a big purchase. When the time comes to borrow, a good credit history is one of the most valuable assets consumers can bring to the bank: It could be the deciding factor in determining whether a loan is approved or denied.
Australia's leading credit score website, GetCreditScore.com.au, was launched in 2014 as one of the first websites to offer free credit scores in Australia. Today, more than 1 million members rely on GetCreditScore to keep track of their credit standing and access deals and tips — and the numbers continue to grow.
We interviewed GetCreditScore Marketing Manager, Lloyd Smith, who helped break down common credit myths, why good credit is so important, and how GetCreditScore works to empower Australians to make informed decisions about their finances.
"We advocate for transparency of credit reporting information by assisting the customer to obtain their personal Equifax credit score in a safe and secure environment," said Smith. "We see it as only fair for Australians to use this information to their advantage and ask for a better deal — particularly as the nation's financial landscape shifts to a risk-based pricing model."
Knowledge is Spending Power: Understanding the Value of Good Credit
Smith said it simply: "Your credit score isn't a number you should ignore."
Banks, lenders, utilities and phone service providers, may look at credit scores, as part of their assessment to decide whether applicants are worth the risk for a loan — so a good credit score may make all the difference in approval odds.
"A credit score is calculated from the information in your credit report, which is a record of your credit history. A high score indicates that you are more likely to repay a loan, while a low score indicates that you are less likely. They help lenders, such as banks and credit card providers, to understand how responsible you are to lend to, and to assess the likelihood of you repaying the loan," Smith said.
Knowing and understanding your credit score is a valuable asset. Credit lenders may pull information from an individual's credit report — which can include info such as credit repayment history, how long they've held credit accounts, outstanding debt, and collection actions — to predict how reliable that individual will be in repaying a loan. A good credit score indicates the individual has a history of paying off outstanding balances and bills on time.
Smith notes that good credit scores may also open doors to bonus perks from lenders.
"Lenders may also offer borrowers with a high credit score lower interest rates on credit products. This is similar to a good driver being rewarded with lower insurance rates," he said.
Know Where You Stand with GetCreditScore's Free and Simple Tracking Tools
Learning your credit standing should never be a hassle, which is why GetCreditScore ensures that signing up to receive your score is a quick and painless process. The tools to understand what drives your score and how to improve it are free, simple, and quickly accessible.
"The way we see it knowledge is power. GetCreditScore enables Australians to access their credit score online, instantly and for free — no catch. It takes less than 60 seconds to sign up and is as easy as filling in your details and logging into your account. Plus, we'll notify you each month to check your credit score, so you never forget," said Smith.
Credit report inquiries from lenders can sometimes cause a temporary drop in score — but accessing your report through GetCreditScore will never negatively impact your credit score.
"We provide information on what is helping or hurting your credit score, and tips to help consumers manage and improve their financial situation … we pride ourselves on empowering everyday Australians to learn more about their financial position to ensure they're making informed decisions," Smith said.
GetCreditScore retrieves credit scores directly from Equifax (formerly Veda) and uses identity checks and encryption to protect its users' data.
Be Informed: Avoid Myths and Misconceptions About Credit
An advocate of the idea that knowledge is power, Smith set the record straight on the top three misconceptions about credit scores he often encounters.
1. Credit scores aren't important: "Credit scores are important because they might be the difference between being approved for a loan, a new phone contract, or a credit card. With comprehensive credit reporting (CCR) being mandated in Australia from the 1 July 2018, it is even more important to know and understand how to manage your credit score, so you can be in the best position to access more products and seek the best deals," Smith said.
2. All credit scores are the same: "There is no standard measurement for credit scores among different credit bureaus, so your credit score may be different depending on where you access it from," Smith explained.GetCreditScore retrieves its credit scores from Australia's leading credit bureau, Equifax.
3. My credit score is only affected by the credit I use: "Multiple credit applications can negatively impact your score, as it can give the appearance you're overly dependent on credit — so be sure to only apply for credit you actually need," Smith advised.
GetCreditScore Membership Includes Exclusive Lender Offers and Credit Tips
Knowing and understanding your credit score is a great start to improving and maintaining good credit, but GetCreditScore offers more.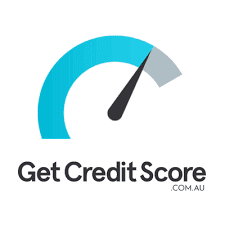 "We would love to see all Australians empowered and actively taking an interest in their financial well-being. We send out a monthly newsletter to our members that is always jam-packed with the latest offerings from our partners — with many of them being exclusive to our members — and new features we've rolled out, as well as helpful tools and tips," Smith said.
In addition to member-exclusive tools and partner deals on credit cards, personal loans, home loans, car loans, business loans, and insurance — GetCreditScore produces a series of articles featuring credit health tips.
Although his lips are currently sealed on what kind of new features GetCreditScore has in the works, Smith dropped a hint of interest to the company's 1 million-plus members.
"Keep your eyes peeled for some exciting news about one particularly big new feature the team has been working really hard on developing," Smith said.
We have to give him credit: Smith knows how to keep a secret.
Advertiser Disclosure
CardRates.com is a free online resource that offers valuable content and comparison services to users. To keep this resource 100% free, we receive compensation for referrals for many of the offers listed on the site. Along with key review factors, this compensation may impact how and where products appear across CardRates.com (including, for example, the order in which they appear). CardRates.com does not include the entire universe of available offers. Editorial opinions expressed on the site are strictly our own and are not provided, endorsed, or approved by advertisers.