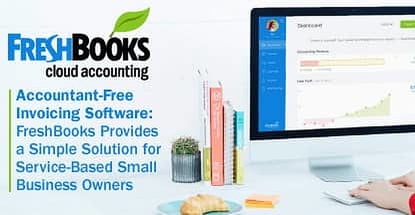 In a Nutshell: Despite the wealth of accounting programs out there, for many years service-based small business owners were stuck using unwieldy or bloated software to meet their invoicing needs. That is, they were — until one frustrated business owner took matters into his own hands and created FreshBooks. Today, the cloud-based accounting platform has been used by more than 10 million people to track time, generate and manage invoices, and even collect credit card or Apple Pay payments — all from one simple, intuitive user interface. Whether accessing through their desktop or mobile devices (or both), small business owners are saving over 16 hours a month streamlining their accounting through FreshBooks. //
Many 9-to-5 employees stuck behind cubicle may find themselves daydreaming of owning their own small business. As images of writing, developing, or consulting from a cozy home office, clad in PJs and bunny slippers, dance through their heads, they imagine a leisurely life without clocks.
For those who make the leap and start their own small business, that idealized world of slippers and leisure is quickly replaced by the real world. Here, projects and work hours need to be regularly updated, invoices drafted and sent, and client payments collected — all while constantly tracking, recording, and calculating the details as you go.
The fact is, business owners are rarely only that. No, the job of a small business owner comes with a lot of extra slashes attached; it's not just Owner, but Owner/Operator/Whatever-Else-Needs-Doing.
In early 2003, business owner Mike McDerment, Owner/Designer/Accountant of a four-person design firm, was performing the duties of one of his slashes — that of Accountant — when the unthinkable happened. With the wrong click of a key, Mike accidentally saved over an old invoice, losing important financial data. Frustrated, Mike became fed up with the limitations of invoicing through his suite of office software. Unfortunately, many of the alternative programs were too convoluted to be practical, bloated with features his small business simply didn't need.
Out of options, Mike decided to do something about his accounting problem himself. However, it didn't take long for him to discover that it wasn't just his problem — but one faced by many of the service-based small business owners just like him. From his parents' basement, Mike's simple accounting solution turned into FreshBooks, a cloud-based invoicing platform designed specifically for the "/Accountants" who needed it most.
"The accounting options at the time were great pieces of software, but they didn't really fit the needs of service-based small business owners who really just wanted to send and track invoices, without learning a bunch of accounting," explained Mark Girvan, the Chief Commercial Officer for FreshBooks. "What's unique about FreshBooks is we take a very different view from other accounting and invoicing platforms. We tailor our software to business owners, not accounting professionals."
Save Up to 16 Hours a Month with Streamlined Time Capture, Invoice Creation, and Payment Reminders
Being dedicated to service-based small businesses, FreshBooks knows that when a business owner is already doing the work of three or four employees, time is their most valuable asset. With that in mind, the team at FreshBooks is determined to help you save as much of it as they can. In fact, according to the site, the average FreshBooks user saves more than 16 hours of time a month.
"The time savings comes from improving the general workflow that our customers have to perform," Mark said. "Whether that's the logging and capturing of time, preparing invoices and sending them out; it's not only billing your clients but making sure you're following up on that."
Instead of slogging through bloated programs or painstakingly embedding equations in spreadsheets, FreshBooks provides a clean platform with just the right features. It includes all the features needed to log time, create custom invoices, and manage payments; the software will even automatically send payment reminders to ensure each invoice gets paid. Users can also use FreshBooks to keep track of expenses and see profit-and-loss reports, giving them a snapshot of their finances at any given time. And it's all housed in a simple, intuitive user interface that makes getting started a breeze.
"All the onboarding and setup is designed for a business owner to start themselves," said Mark. "Everything we do — from product design to support development — is to help those business owners as they're beginning their journey with FreshBooks. And, if they require additional guidance, we provide free phone support from 8 a.m. to 8 p.m. (EST)."
Even with customer support, the FreshBooks team tries to ensure they're not wasting anyone's valuable time. Callers won't find a pesky automated menu on the other end of the service line — they'll get real people.
"We have no phone trees," Mark said. "When you call for support, you will typically get your phone call answered in fewer than three rings. That service is there to really cater to the business owners who don't have a lot of time to set this thing up. They need to get up and going. They want to spend the vast majority of their day working on their craft, their business — not on learning accounting."
FreshBooks Payments Lets You Accept In-Person Payments on Android and iOS
With invoice creation, sending, and tracking taken care of, FreshBooks turned its attention to the other end of the service-based transaction: payments.
"We had lots of clients who were billing out of FreshBooks, then trying to collect payments through PayPal," described Mark. "It just wasn't a good process and workflow. By bringing that right into the FreshBooks software, we immediately fixed a lot of issues, further improving the accounting process for our clients."
According to Mark, solving those payments workflow issues not only saved FreshBooks clients a headache — but a lot of time. Instead of jumping through hoops with the bank, business owners can get started with credit card payments in just a few minutes.
"We took a look at the pain a lot of our small business clients go through if they want to sign up for a merchant account," he said. "Then we designed a solution, in conjunction with some of our partners, right in our UI. There, you can sign-up — in one or two clicks — and begin accepting credit cards right away."
If there is anything a small business owner needs to save as much of (if not more) as time, it has to be money. When it comes to the cost of payments processing, bigger means better — better prices, that is.
"We bring the heft of our network into negotiating the best prices for all of our customers," Mark explained. "We can drive that through a single offering, rather than our customers having to negotiate individually with various gateway providers."
Additionally, as a platform dedicated to the specific needs of service-based small business owners, FreshBooks can go anywhere those businesses need to be. Users can log time, create and manage invoices, and even accept payments from their mobile device. FreshBooks now allows users to collect payments via Apple Pay, too.
"We had lots of customers who required the ability to support in-person payment, so a year ago we began to support mobile, through Android and iOS," said Mark. "Apple Pay was then a natural extension for us."
Try It Free for 30 Days with Just an Email Address
In stark contrast to its humble basement beginnings, FreshBooks has grown into a flourishing company, home to more than 200 employees. Today, Mike's simple personal accounting solution has been used by over 10 million people around the world.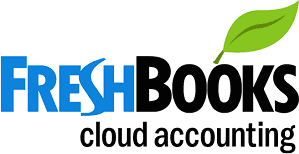 Ready to join them? Try it free for 30 days, no strings attached (or credit card required).
"The vast majority of our customers start by signing up for a free trial," Mark described. "Just go on the site or download the app and enter an email address — that's all we require to get started with FreshBooks."
Advertiser Disclosure
CardRates.com is a free online resource that offers valuable content and comparison services to users. To keep this resource 100% free, we receive compensation for referrals for many of the offers listed on the site. Along with key review factors, this compensation may impact how and where products appear across CardRates.com (including, for example, the order in which they appear). CardRates.com does not include the entire universe of available offers. Editorial opinions expressed on the site are strictly our own and are not provided, endorsed, or approved by advertisers.