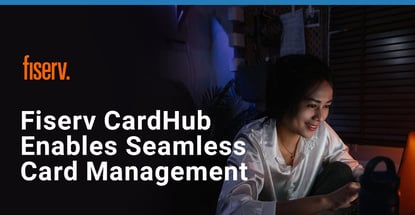 In a Nutshell: Thousands of clients count on Fiserv for payment processing technology and services that anticipate market trends. Fiserv continues that commitment with CardHub, a platform for card issuers that enables consumers to seamlessly access, use, and manage their credit and debit cards. CardHub is suitable for issuers of all sizes and offers scalable, future-focused technology to help clients claim more market share.
As digital transactions become more ubiquitous worldwide, card issuers compete in an environment where differentiation depends on user experience and engagement. Issuers must now present compelling reasons for users to choose their cards over competitors.
That's because the transaction experience has become increasingly frictionless for consumers. And once a card becomes a part of a purchasing routine, whether it's physical, housed in a digital wallet, or on file with an eCommerce merchant, it typically remains there. And knocking it from that top-of-wallet status can be difficult.
Fiserv understands the challenges card issuers face as they navigate in a marketplace crowded with new technologies and larger competitors. It has a track record of more than 35 years working with clients as a payment processor and fintech service provider.

The company's new platform, CardHub, helps issuers of all sizes offer modern, connected card experiences that can win and retain cardholder loyalty. Even issuers that don't use Fiserv processing can leverage CardHub to make the right impression and give their customers a reason to stick with a card that works.
"CardHub is a platform-agnostic approach for bringing credit and debit together in the same digital experience," said Randy Piatt, VP, Product Solutions & Marketing, Ondot at Fiserv. "We enable institutions at any scale to compete with the largest players out there, from the big banks to Apple Card. And they can achieve traction in their markets, growth in their portfolios, and retention in their existing customer bases."
A Unified Card Experience for End Users
Fiserv works with nearly 10,000 financial institutions and millions of merchants to move money globally at a rate of about 12,000 transactions per second. CardHub enhances its position as a card services provider for future-focused financial institutions and businesses.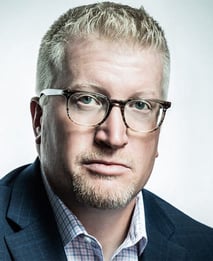 CardHub integrates with all major digital financial platforms. Consumers using CardHub-enabled card products can quickly access and manage their credit and debit cards on desktop and mobile devices without needing multiple apps or logins. When cards are that easy to use, there's a greater likelihood that consumers will use them repeatedly.
Ease-of-use features extend to card management capabilities that go well beyond turning a card on and off. Cardholders can make real-time decisions to block transaction authorizations in specific merchant categories, for example, or by transaction type or purchase amount.
"Maybe I want to allow in-store purchases, but I don't want to allow over-the-phone or eCommerce purchases. I'm able to do that," Piatt said. "Or maybe I want to limit purchases on single transactions or as an aggregate purchase amount across the month."
Alongside those innovations, CardHub leverages mobile technology that allows users to tie the location of a card-present purchase to a geographic area. For example, cardholders can pinch to zoom on a map to indicate their home area and then set their cards to function only when transactions occur inside that designated location.
"It just works, and it doesn't slow down the authorization decision because it evaluates it in real time," Piatt said.
Helping Issuers Achieve Top-of-Wallet Status
CardHub recognizes the importance of mobile tech and integrated location services. That underscores the platform's commitment to helping issuers achieve and maintain top-of-wallet status.
In a more digitally focused transaction environment, CardHub continues to push the user-engagement envelope.
"From an issuer perspective, what you're seeing is a desire to increase the footprint of the card," Piatt said. "A paradigm shift has occurred that isn't specific to any one consumer demographic."
When the COVID-19 pandemic started in 2020, merchants rapidly shifted to card-on-file or digital-wallet-supporting experiences that could be initiated at home or on a mobile device. Those transactions could start online and end with curbside pickup, for example. As cardholders realized they could transact almost entirely online, issuer demand for platforms to leverage digital insights grew.

One way CardHub delivers on that demand is through location-based spending insights. Cardholders can review purchases by location, locate merchants on a map, and even contact them directly without leaving the app view.
They can also review and spend any rewards they've accumulated and see lists for recurring and subscription payments and card-on-file merchants.
CardHub-enabled card platforms function as one-stop shops for consumer digital card activity. Conveniences are only a tap or click away, and it incentivizes users to complete more of their purchases through the app because of simplicity and rewards.
"There are a lot of opportunities, and it all builds on top of CardHub controls and alerts that apply to every transaction," Piatt said. "It's a very robust approach that gives cardholders preference over the most minute details of how their cards are used."
Meeting Modern Consumer Digital Expectations
CardHub takes the concept of control to the next level with capabilities for digital issuance and card management that create additional win-wins for issuers and their customers. These enable traditional card issuers to fill user-experience gaps that nonbank fintechs increasingly seek to occupy.
CardHub enables issuers of all sizes to offer a digital experience with the physical card tied back to an app.
"When you look at the Apple Card, there's no card number, no security code, and no expiration date on that physical card— it's all about driving users back to that digital experience," Piatt said.
CardHub can also provide a purely digital card experience without a physical card. Traditional programs require customers to wait up to 10 days to receive a physical card before making a purchase. That wastes critical time-to-spend opportunities for issuers as well as for their customers.
Many fintechs want to incorporate popular buy now, pay later functionality into their platforms. Future functionality will see CardHub enable post-purchase installment lending that brings all the benefits of buy now, pay later but adds the consumer protection of traditional credit purchases.
A security breach at a merchant can have less impact because transactions are viewable and enriched allowing the cardholder to more quickly identify any fraudulent transactions. Further, CardHub encourages use of the digital wallets, which are virtually incorruptible from a fraud perspective, thereby decreasing the potential impact of fraud on the cardholder and the issuer.
Issuer response to CardHub has been exceptionally positive. The platform went live in 2021 with an aggressive implementation road map. Every CardHub implementation is managed by a relationship manager, and clients know they have a direct line to offer feedback and receive support.
"It's all about creating seamless experiences," Piatt said. "Issuers realize that the more transparent they can make their card programs, the better."
Advertiser Disclosure
CardRates.com is a free online resource that offers valuable content and comparison services to users. To keep this resource 100% free, we receive compensation for referrals for many of the offers listed on the site. Along with key review factors, this compensation may impact how and where products appear across CardRates.com (including, for example, the order in which they appear). CardRates.com does not include the entire universe of available offers. Editorial opinions expressed on the site are strictly our own and are not provided, endorsed, or approved by advertisers.