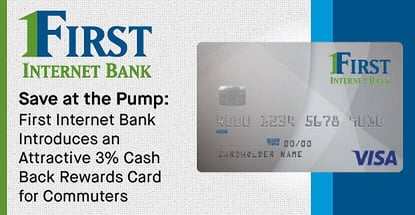 In a Nutshell: First Internet Bank's Cashback Card boasts an impressive 3% back on fuel purchases and 1% back on everything else. The offering was designed specifically to meet the needs of the bank's clientele, many of whom carry RV and horse trailer loans. By focusing on strong offerings that reward its members, First Internet Bank has seen steady annual growth. While the Cashback Card was designed to be attractive to truck and RV drivers, anyone can benefit from the competitive cash back rates. //
It may be hard to believe, but there was a time when gas cost less than a quarter a gallon. I remember when it first hit and maintained a price of $1 per gallon. And I remember even more vividly when the gas stations all refitted their signs to accommodate prices exceeding $1.99 in the early 2000s.
Prior to that, the display on most gas station signs couldn't accommodate digits beyond "1" for dollars. It was as if nobody considered prices jumping over $2. Now, most of us look back wistfully to a time when gas prices were so low.
Every time gas prices increase, people across the country are affected. But those who drive semis, RVs, SUVs, full-size trucks designed for hauling trailers, and other gas-guzzlers are disproportionately affected by higher gas prices.
And that's why First Internet Bank created its Cashback Card.
"The Cashback Card, with its 3% reward on gas purchases, was designed with RV and horse trailer loan customers in mind," said Nicole Lorch, Executive Vice President and Chief Operating Officer at First Internet Bank.
Over the last two decades, Lorch has worked her way up from the marketing department to her current role as EVP and COO.
She said the bank is dedicated to improving member satisfaction, and her goal is to develop strategic initiatives — like competitive credit card offers — to impress both current and prospective members.
Cashback Card Rewards 3% on Gas, 1% on Everything Else
While the Cashback Card was designed for RV and horse trailer customers, they certainly aren't the only ones who can benefit. A good number of credit cards offer rewards for gas purchases, but few offer as much as 3% — and those that do usually don't offer the rewards year-round as does First Internet Bank's Cashback Card.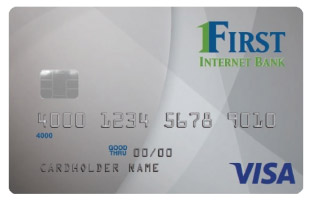 Assuming gas prices don't change more than predicted for the rest of 2018, an average Ford F-series pickup owner will spend $1,800 in gas this year. Those driving an efficient SUV, like the Nissan Rogue, will spend $1,366. Even someone driving a fuel-sipper, like a Toyota Camry or Honda Civic, will pump $1,165 into the tank over the course of a year.
By using First Internet Bank's Cashback Card, the average pickup driver could earn well over $50 cash back on fuel purchases, and fuel-efficient SUV and sedan drivers could receive as much as $40 back. These examples assume the average American drives 13,000 miles per year, but those who put more miles on their vehicles stand to reap greater benefits by using First Internet Bank's Cashback Card.
But the benefits don't stop with cash back on gas. Cardholders also receive 1% cash back on all other purchases, a competitive 12.99% APR, and an 18.99% cash advance rate — all for no annual fee.
The CONNECT Classic Card Offers a Strong Alternative
First Internet Bank's CONNECT Classic credit card is a solid offering for those whose credit ratings don't put them in the running for a rewards card. While the CONNECT Classic doesn't provide rewards, it features a competitive interest rate of 16.99% and no annual fee. As with the Cashback Card, minimum payment will be set at $25 or 5% of the new balance, whichever is higher.
The CONNECT Classic Card's 16.99% cash advance rate is actually lower than the Cashback Card's 18.99% — something customers who regularly take cash advances may want to keep in mind when deciding which card to apply for.
"There are a lot of great credit card offers out there that people don't even know about," said Lorch. She explained that cards from smaller institutions, like First Internet Bank, are sometimes overlooked because they aren't featured as prominently in advertising as offers from larger brands.
First Internet Bank Continues Impressive Organic Growth
First Internet Bank has experienced 40% annual growth despite not making a serious bid to directly compete with high profile credit cards in advertising. The bank has deliberately chosen to focus on organic growth instead by listening to member feedback and providing solutions.
A sizable portion of First Internet Bank's business involves RV and horse trailer loans, many of which are obtained through the dealerships where they buy their trailers or vehicles. The bank saw an opportunity to expand its business with its existing customers — a client base it had already vetted for creditworthiness.
The Cashback Card, which was designed to better connect these loan customers with banking products and services, is just one example of First Internet Bank's commitment to provide competitive offers that resonate with its customers.
Reconsidering Contactless Cards as Popularity Increases
Several years ago, First Internet Bank was one of the first to have contactless cards and even offered payWave with Visa.
Lorch said that while First Internet Bank isn't in a rush to get back in the contactless card market, the bank is taking a long look at it. The trend toward contactless cards has been growing globally, but the option hasn't yet caught on in the US quite like it has in Europe.
"At First Internet Bank, we always want to provide the optimal products and banking solutions to meet our customers' needs," said Lorch. "We're constantly monitoring industry trends and taking customer feedback into account. If we see a growing usage of contactless cards in the US or if our customers request it more frequently, we'll re-evaluate this option."
If, like most of us, you've felt some pain at the pump, you may find First Internet Bank's customer-centered approach — and 3% cash back on gas — is just the thing to keep you rolling down the highway.
Advertiser Disclosure
CardRates.com is a free online resource that offers valuable content and comparison services to users. To keep this resource 100% free, we receive compensation for referrals for many of the offers listed on the site. Along with key review factors, this compensation may impact how and where products appear across CardRates.com (including, for example, the order in which they appear). CardRates.com does not include the entire universe of available offers. Editorial opinions expressed on the site are strictly our own and are not provided, endorsed, or approved by advertisers.