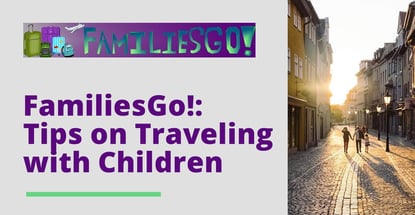 In a Nutshell: Traveling is great. Traveling with a kid is also great — but different. FamiliesGo! understands this and provides a wealth of resources on how to travel with kids, including where to go, how to get there, and what to do when you're there. The handy website also includes planning guides, packing lists, and an array of itineraries for destinations all over the world for parents looking to cash in on credit card rewards. We spoke with FamiliesGo! Co-Founder and Traveler-in-Chief Eileen Gunn about launching the website, traveling with her own family, and how FamiliesGo! stands out from other travel websites.
Traveling to new places and experiencing the food, seeing the sights, and interacting with people from different cultures is invaluable. I've been fortunate enough to travel overseas a number of times as well as visit the many states in the U.S.
When I was younger, traveling was accompanied by an unbound sense of adventure. Anything could happen, and I was free to take it all in. And it's always been a great way to cash in on those credit card rewards.
Then, my wife and I had our first child.
Traveling became different, to say the least. Especially during the early years. We still very much enjoyed traveling. But packing up and hitting the road or boarding a plane came with new considerations.
There was a learning curve.
FamiliesGo! is a website built with travel-loving parents in mind. The website is all about how to travel with children of various ages, the best places to go, and how to help your kids enjoy traveling as much as you do.
The website is largely written and curated by Co-Founder and Traveler-in-Chief Eileen Gunn. But it really is a family affair, Gunn said, with her daughter occasionally contributing photos, and her husband Rich in on the family's adventures, as well.
We recently spoke with Gunn about how the website got started and gained some valuable insights into traveling with children. We also hope our travel-minded readers will get a few ideas on how they can cash in their credit card rewards on their next trip.
Learning to Travel with a Party of Three
"I got into this probably the way a lot of other family travel writers do," Gunn said. "My husband and I traveled a lot before we had our daughter. And then, when we had her, we were thinking, 'All right, now, how do we travel?'"
Gunn and her husband did continue their travels with their young daughter, but she said that, during the first couple of years, she made some interesting observations about the travel industry.
"We felt like the travel industry doesn't understand families. There's a lot of information, and a lot of it was distorted," she said.
Many of the recommendations included activities like visiting zoos, aquariums, and children's museums. And while those are great, Gunn said, parents still want to have location-specific experiences as well — they just want to know how to have them with their kids.
"And the hotel recommendations were often the cheap chain hotels that were outside of town that had a pool and free breakfast," she said. "But the breakfast wasn't really very good, and you weren't near where you wanted to be. And when you have a baby, you don't care about a pool."
Gunn began thinking about what she really wanted to know about traveling with kids and asked other parents what they were interested in as well.
"We talked to a lot of other parents and found they had the same frustrations we did," according to the FamiliesGo! website. "While parents love great family vacations — the bonding, the memories, the chance to introduce their kids to new places and experiences — they don't like the large amount of time and effort it takes planning them."
So Gunn launched FamilesGo! as a resource parents can turn to to get their basic questions answered and learn important information about planning and even get ideas for places to visit and what to do while they're there.
It's so hard to get the most basic questions answered, and if you make bad decisions, there is the guilt that you ruined your family vacation.
How to Plan a Vacation with Little Ones
"I wanted to create a website that would have the kind of information that I felt a lot of my friends were looking for," Gunn said. A major blind spot in the travel writing world was what to plan for when traveling with children.
Questions that seemed to frequently come up included basic logistical conundrums about getting from point A to point B.
"You travel to a destination — you're not renting a car but you need to get from the airport to your hotel," Gunn said. "You don't want to bring a car seat just for that. But finding a local taxi company that has car seats is hard. Even booking an Uber with a car seat can be challenging."
FamilesGo! makes a point to address these kinds of overlooked yet common problems through its rich collection of articles.

"There's also the idea that so much family travel is child-centric, and families aren't children," Gunn said. "Families are children and adults, and the adults are often forgotten. For a while there was this trend where hotels were offering free milk and cookies to kids at night, and I'm on vacation. My kid has more sweets than they need. By eight or nine o'clock, I just want them to go to bed."
All of these considerations and more are addressed within the pages of FamiliesGo! And planning ahead with little ones is crucial.
"I have a whole section on planning and planning tools that are like worksheets that can help parents think through what they want to do, where they want to go, how they want to spend their money," Gunn said.
Other important things to consider when planning for traveling with children is how often to dine out, when and where to take breaks, and what activities are suitable for the whole family. Parents can also take the time to consider where and when to utilize their credit card rewards when booking flights or identifying restaurants to eat at.
FamiliesGo! also provides packing lists for parents. (And, as a parent, I can say packing lists are extremely useful before a trip.)
Gunn said that another big consideration is the age of the children. Traveling with a baby or toddler is much different than traveling with a 6-year-old, which is also much different than traveling with a 10-year-old.
Great Destination Ideas for Traveling with Children
Gunn explained that when she was pregnant and researching family travel in anticipation of future excursions with her husband and daughter, she encountered so many rules that ultimately didn't make any sense to her.
"I read things like, 'Traveling with a baby? Don't stay with friends. Traveling with a baby? Don't go to Europe,'" Gunn said. "I was really discouraged, but then I thought well, there are children in Europe — Europeans have babies. The idea that there are places that are safe and places that are not safe aside, there are children everywhere in the world."
With things like this in mind, FamiliesGo! offers travel ideas for destinations all over the world (and at home), itineraries, and practical advice. The website features numerous articles on places to visit with consideration to the age of the children. It also includes guides on what to do when you reach your destination.
Visitors to FamiliesGo! can also expect to find reviews and best-of lists for kid-friendly hotels and resorts, plus tips on alternative lodging like home swaps or vacation rentals.
But Gunn's outside-the-box thinking really helps set FamiliesGo! apart from many other family travel guides. Gunn has gone deeper than the simple, surface-level questions and presents information that can truly help families have great travel experiences.
And, since Gunn's daughter was essentially the inspiration behind the FamiliesGo!, it's only fair that the website gives us an update on her travels, several years on.
"(Gunn's) well-traveled tween has ventured beyond the U.S. more than a dozen times, hit three continents, taken three cruises, boarded several planes, and logged countless miles in the car," according to FamiliesGo! "She loves hotels and has strong opinions about what makes for a good one."
Focusing on Domestic Travel During COVID-19
The COVID-19 pandemic put a stop to many travelers' plans during 2020, although some are still finding safe ways to venture out. As for FamiliesGo!, Gunn said the website continues to publish quality travel advice with consideration to the current state of travel.
"I have a lot more domestic coverage coming up because that's how people are traveling these days," she said. "There's a lot of uncertainty right now with people just not knowing how far out they can plan. But you can still travel locally, and you can still staycation."
And, don't forget, you don't have to go out of town to cash in those hard-earned credit card rewards at restaurants and even hotels in your area.
Advertiser Disclosure
CardRates.com is a free online resource that offers valuable content and comparison services to users. To keep this resource 100% free, we receive compensation for referrals for many of the offers listed on the site. Along with key review factors, this compensation may impact how and where products appear across CardRates.com (including, for example, the order in which they appear). CardRates.com does not include the entire universe of available offers. Editorial opinions expressed on the site are strictly our own and are not provided, endorsed, or approved by advertisers.