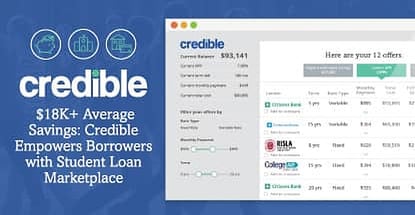 In a Nutshell: With millions of Americans carrying student loan balances in the tens of thousands of dollars, the need for manageable repayment options continues to grow. Credible.com, the online student loan lender marketplace, works to help users understand their student loan options, including loan origination and refinancing. By providing access to an entire network of vetted lenders, Credible has helped over 130,000 users, with those who refinance through Credible into a loan with a shorter repayment term seeing an average 1.7% interest rate decrease — a savings of $18,668 over the life of a $56,000 loan. With the help of the Credible marketplace, students, parents, and graduates can take control of their student loans and determine all the repayment options. //
When they graduate with a master's degree, the average graduate student will owe around $55,000 in student loans. To give you a better idea of what that number means in the real world, with $55,000 you could:
buy 67 shares of stock in Google
put 20% down on a house worth $275,000
purchase a brand new 2017 Corvette
eat 9,000 fast food meals
download 1,375 seasons of TV shows
As if the sheer size of the average debt weren't enough, these loans often come with high interest rates, some ranging as high as 8%. For a $55,000 loan paid over 15 years, that 8% rate adds an extra $39,610 in interest payments — a whopping 72% of the principle.
Those high interest rates are partly responsible for the millions in defaulted student loans across the country — and the inspiration behind Credible.com, an online lender marketplace for student loan origination and refinancing.
Stephen Dash, the Founder and CEO of Credible, hails from Australia, where student loan debt isn't a major problem. This is, in part, because of the lower cost of education, but mostly due to the government's involvement in subsidizing student loans. According to Stephen, one of the keys to Australia's success is the loans have nearly non-existent interest rates.
"The interest rate on student debt in Australia is equivalent to inflation," he described. "So student debt carries an effective 0% real interest rate."
While student loans in the U.S. will rarely carry an interest rate so low, students do have options for lower-interest student loans. What Stephen realized was most students are completely unaware of the options they actually have, including refinancing existing loans for a better rate.
"For every $3 in student loans outstanding and in repayment," he said, "one third could be refinanced at a lower rate." Refinancing, the process of taking out a new loan to pay off the old loan, relies on the fluidity of interest rates in the market.
An example? If that same $55,000 loan was refinanced at a lower rate, say 6%, then the borrower would pay just $28,542 in interest. That's a difference of more than $11,000 over the life of the loan — or about $60 off each monthly payment.
According to Credible, that 2% rate decrease is close to that seen by the average user who refinances a loan through the Credible marketplace. Stephen described the marketplace as a consumer-eccentric platform, designed to help people understand which avenues of repayment may be open to them.
"We want to help students, parents, and graduates manage their student loans and understand their options," he said. "Simply put, we are making student loans more fair."
Find Accurate and Unbiased Rates, Without Having Your Information Sold
The first step to ensuring Credible users get the best results is actually three steps — the three criteria by which Credible lending partners are judged. "We ask a lot from our lending partners," Stephen said. The first qualification? The lender has to be ready to keep the entire qualification process on Credible.
"We have deep integrations with our lending partners," described Stephen. "We can run user information against our lending partners' models to deliver personalized rates, without sharing user information with lenders."
Keeping the pre-qualification process on Credible saves users a lot of hassle down the road — like a mailbox full of lender offers and advertisements for the next six months. "We think people deserve to receive real, personalized, and accurate offers when they shop for loans — not rate ranges or marketed rates."
Once a lender agrees to Credible's pre-qualification process, they are vetted for rate consistency. "The offers our users receive on Credible.com are the exact same as those they would receive if they went firectly to the lender's website," said Stephen.
The last criterion for a Credible lending partner is price. Credible does not charge users a fee for using the marketplace, and they don't sell customer information, so it makes sense the profit comes from the lenders. Credible gets paid only when someone goes through their platform to refinance.
How to Get Offers in Seconds and Financing in Days
Credible's goal has always been to help users take charge of their student loans, so it should be no surprise that the actual signup and offer process is simple, and fast.
The initial signup form is just 14 questions, covering the basics such as where you went to school and your current income. Fill out the form, hit submit, and you can have personalized rates in seconds.
"It takes about 30 seconds," said Stephen. "We do a soft credit check — which doesn't affect your credit score — and then present offers from multiple lenders. Every lender out there is really targeting a slightly different audience, so it is an easy way to check which lender is right for you."
Users are then taken to their individual Dashboard, where the offers for which they qualify are displayed. "We lay out all of the offers, and the user can filter them by APR, term, or total cost of the loan."
When you find an offer that fits your requirements, and select a lender, you'll be taken to a slightly longer form — this one specific to the lender you chose. There won't be any wasted time, though, as the information entered on the initial form will be migrated to the new one.
"Once the form is finished, we submit your profile to the lender. This is the first, and only, time the user goes through a hard credit check," Stephen explained. "Within about a day (often less), the user can expect to receive the formal offer from the lender through their Credible account."
Credible's Future: Focused on Market Growth
While binging on burgers or buying a brand new sports car may end up being a lot more fun than earning a Master of Education, the graduate degree is likely the better investment. Despite the high cost of education, getting a degree is still one of the best ways to ensure future career success, and, in many cases, can make the student loan debt worthwhile in the long run.

That said, with the nation's total student loan debt reaching $1.2 trillion in 2016, it's estimated that almost three-quarters of today's graduates will be paying off student loans while struggling to establish their careers. For them, companies like Credible may be not just helpful, but necessary.
Stephen and the team at Credible are keeping the growing debt trends in mind as they move forward, but the main focus is on their core products — and on continuing to mature within the student loans realm. Stephen hopes to see continued growth as they work to become a big player in the industry, and is confident the product speaks for itself. "It's all about the customer experience."
Advertiser Disclosure
CardRates.com is a free online resource that offers valuable content and comparison services to users. To keep this resource 100% free, we receive compensation for referrals for many of the offers listed on the site. Along with key review factors, this compensation may impact how and where products appear across CardRates.com (including, for example, the order in which they appear). CardRates.com does not include the entire universe of available offers. Editorial opinions expressed on the site are strictly our own and are not provided, endorsed, or approved by advertisers.