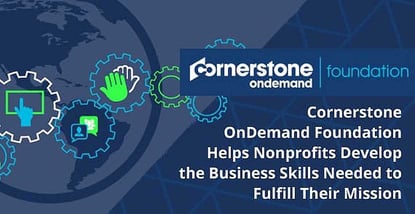 In a Nutshell: Nonprofit organizations, much like successful businesses, need effective professional development programs to cultivate leadership, a skilled workforce, and retain talent. But often, they don't have the resources to launch and manage such a program in-house. The Cornerstone OnDemand Foundation leverages the technology of Cornerstone OnDemand, a leading workforce training and learning software platform, to provide free resources to disaster relief organizations, nonprofit groups, and teachers. The foundation works with subject-area experts, including many who volunteer their services to provide nonprofits with coaching and consulting resources. Since its establishment in 2010, more than 180,000 individuals in 190 countries have used Cornerstone OnDemand Foundation learning programs.
Nearly a decade ago, Cornerstone OnDemand Founder and CEO Adam Miller decided it was time to expand his company's reach to help those in need. In 2010, he established the Cornerstone OnDemand Foundation to expand his company's workforce training and learning software solutions to assist nonprofit organizations.
"He saw the impact that Cornerstone was having on for-profit companies and knew the need for this type of content, information, and technology was even greater in the nonprofit sector," Cornerstone OnDemand Foundation Chief Marketing Evangelist Alec Green said. "The need for talent management is heightened in these organizations because individuals are asked to do a lot of different jobs. The need for skills development is also an ongoing challenge. There was an opportunity for us to leverage our technology in online learning and our entire ecosystem to address this challenge."
The Cornerstone OnDemand Foundation is built to transform "the way people help people." The cloud-based platform provides free, customized learning materials and professional development resources to organizations' staff, volunteers, and board members — as well as individuals seeking a career in the nonprofit sector. Open online learning programs include tracks specifically designed for disaster relief organizations, nonprofit groups, and teachers who may want to use a nonprofit organization's innovative program in their classrooms.
And when the Cornerstone OnDemand team identifies gaps in skills development that no existing professional development resources address, it will often commission subject-matter experts to work with learning design experts and develop new resources to meet the need.
Customized Programs Have Reached More Than 130,000 Learners in 190 Countries
Cornerstone OnDemand established the CSOD Foundation as a registered 501(c)(3) organization in 2010. Its mission to support other organizations through talent management software and capacity-building programs makes the CSOD Foundation unique in the nonprofit sector.
"We're not doing the direct service work. But we know that the people out there doing it need access to knowledge to develop the skills and the confidence to do their jobs more effectively," Alec said. "That's especially true in the nonprofit sector. There may be 10 people in an organization. Each of them has a job title. But that job probably encompasses any number of responsibilities that aren't included in their job title — or their background."
To date, the CSOD Foundation has tallied more than 15,000 volunteer hours with a cumulative value of $137 million supporting nonprofits. More than 180,000 individuals in 190 countries have used CSOD Foundation learning resources. Programs are divided into three main tracks to maximize the effect on an organization or sector: DisasterReady, NonprofitReady, and TeachingReady.
Training Aid Workers for Emergency Preparedness and Response
DisasterReady gives humanitarian aid workers and volunteers access to free online resources related to their work — anytime, anywhere. Users search by topic or keyword to find featured courses and collaborate with other aid workers in an online learning community.
One course focuses on remote management of personnel in insecure — potentially unstable — environments. The CSOD Foundation developed the course in conjunction with World Vision and Mercy Corps to fill a gap in skills training.
Other courses cover the soft skills necessary for emergency response and understanding of the elderly and their needs in a humanitarian context.
Alec said global children's rights and relief organization Save the Children made some of its employee professional development training materials available to anyone working in its humanitarian aid sector. That's also a prime example of how aid organizations and nonprofits can use the CSOD Foundation as a channel to help their fellow relief groups and charities.
Clearing a Path to Close Skills Gaps and Retain Talent
NonprofitReady provides resources tailored to help nonprofits fill gaps in workforce development initiatives and retain top talent.
"There are more than 10 million nonprofits around the world today, and the vast majority of them do not have the resources to invest in a full learning management system," Alec said. "But the need to close the skills gap is no less real for a person working in a nonprofit with five people than it is in a nonprofit with 5,000 people."
NonprofitReady features more than 300 online learning courses in essential job functions such as leadership, fundraising, marketing and communications, operations, and program or volunteer management.
The free training resources help organizations upskill their workforces without driving up overhead and administrative costs. They also give individuals seeking a career in the nonprofit sector a way to build a foundation of necessary skills.
Linking K-12 Teachers with Innovative Programs
TeachingReady links K-12 teachers with nonprofit organizations that have educational and school-based programs. The initiative is designed to support schools and school districts that have less opportunity to provide educators with skill development and enrichment training. The program also helps nonprofits with effective school- and classroom-based programs expand their audience and impact.
"We want to give nonprofits that have innovative programs geared toward K-12 educators a platform to deliver those programs more effectively and to more teachers," Alec said. "They may have a program that's working well at a local level and they want to leverage technology to make it available to more teachers. TeachingReady is a platform for them to deliver that training online."
Some program subject areas include obesity reduction, tolerance training, conservation, bullying, and aligning with the common core educational standards.
Pro Bono Services Developed to Benefit Organizations with Limited Resources
Subject-area experts also volunteer their time to the CSOD Foundation to better prepare nonprofits to fulfill their missions.
The HR Pro Bono Corps links organizations to HR professionals with human capital management expertise who provide free coaching or project-based consulting to address specific training challenges.
"Accountants and attorneys routinely donate their time and expertise as skilled volunteers to help nonprofits," Alec said. "We discovered that the idea had not really made its way to the HR side — and many nonprofits really struggle with areas of talent management."
CSOD subject matter experts work with nonprofits on an individual basis to design learning, performance management programs, and succession plans.
In addition, they will often lead one- to three- hour coaching sessions or volunteer for ongoing consulting services for a specific talent-management initiative.
Beyond the HR Pro Bono Corps, the CSOD Foundation continuously seeks partnerships with other foundations and donors that support its mission.
Helping Nonprofit Teams Develop Hard and Soft Skills
Humanitarian aid workers, teachers, and nonprofit employees have dedicated themselves to working for the benefit of others. Many have passed on the opportunity to make more money in the for-profit sector to make a greater social impact about a cause they care passionately about. But too often, these organizations lack the resources to implement their own training and talent development programs.
The CSOD Foundation gives them free, open access to its massive online catalog of training courses and videos.
Expert materials cover specific hard skill areas of disaster response, nonprofit operations, or classroom teaching while focusing on soft skills — such as communication and leadership that apply across nonprofit sectors.
The access to CSOD Foundation resources allows organizations, employees, and volunteers to prepare to fulfill their charitable missions. The ongoing professional development helps nonprofit employees advance their careers — which benefits organizations that may otherwise lose talent to for-profit firms.
Through that development, engagement, and empowerment, the CSOD Foundation is fulfilling its mission of strengthening nonprofits and charitable organizations around the world.
Advertiser Disclosure
CardRates.com is a free online resource that offers valuable content and comparison services to users. To keep this resource 100% free, we receive compensation for referrals for many of the offers listed on the site. Along with key review factors, this compensation may impact how and where products appear across CardRates.com (including, for example, the order in which they appear). CardRates.com does not include the entire universe of available offers. Editorial opinions expressed on the site are strictly our own and are not provided, endorsed, or approved by advertisers.