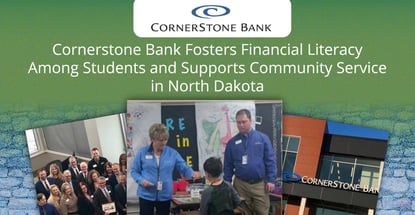 In a Nutshell: Cornerstone Bank has roots in North Dakota dating back to 1936. The community bank demonstrates its dedication to the regions it serves in several ways, including its various financial literacy initiatives tailored to students. Cornerstone Bank and its team members also support a number of nonprofits through donations and volunteer efforts. And its banking products and quality customer support are based on strong values that promote honesty, integrity, and being a good neighbor. We are recognizing Cornerstone Bank with our Editor's Choice™ Award for Community Commitment for its continuing efforts to support individuals and organizations in the areas it serves.
In April, as the warming temperatures of the North Dakota spring hinted at summer vacation just around the corner, 400 first- and second-grade students learned about the value of money and the importance of saving.
Cornerstone Bank staff members delivered the lesson as just one of many financial literacy initiatives the longstanding institution leads in its communities in North and South Dakota.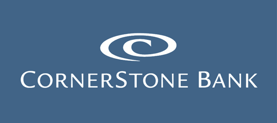 "The response is always great from both the students and teachers when we're able to go into the classroom and give these lessons," said Kristin Jaeger, Vice President and Director of Marketing and Communications at Cornerstone Bank. "They have a lot of fun and a lot of positive interactions."
Cornerstone Bank has been creating positive reactions in its communities since what would become its first member institution was founded in 1936. In 2014, the current iteration of Cornerstone Bank was solidified when Cornerstone Holding Company, Inc. and Lakeside Holding Company merged. Cornerstone Holding Company is one of North Dakota's 10 largest financial institutions.
The community bank now maintains North Dakota bank locations in Bismarck, Dickinson, Fargo, Makoti, New Town, Parshall, Plaza, and Watford City. It also has a bank in Sioux Falls, South Dakota.
Cornerstone Bank not only delivers quality banking products and services to its communities, but it also promotes financial literacy and community support in a number of ways. We're recognizing the institution's impressive efforts with our Editor's Choice™ Award for Community Commitment.
We recently spoke with Jaeger to learn more about how the bank delivers financial education to students and the other ways it gives back to its communities.
Helping Students Learn About Money
Cornerstone Bank's focus on delivering financial education in schools goes way back.
Staff members from the Watford City bank (known as McKenzie County Bank at the time) began teaching children at the Watford City Elementary School about checkbooks. The bank has actively assisted teachers in providing financial education to students ever since.
Jaeger said Cornerstone Bank works with students of all ages in its communities and provides lessons on topics that include the basics of money, how to manage money, and the importance of saving.
"Some of our communities also partner with the Junior Achievement organization, and our bankers will work through that program to go into the classroom and teach kids," she said.
And even in communities that don't have the Junior Achievement program, bank employees work with schools to implement financial literacy programs.
Cornerstone Bank also engages high school students through its Cooperative Work Experience (CWE) program. Vicki Monsen participated in the program as a high school student in the 1980s and today serves as Cornerstone Bank's Market President.
"Through the years, we've worked with many grades in the school system. The community and school system have grown tremendously, and we're grateful to continue to have the opportunity to be active in the schools," according to Monsen in a Cornerstone Bank news release.
Jaeger said that, in one of the schools it serves, bank employees talk to students about careers in banking.
"We share insights with students about banking careers and what it's like being a Customer Service Rep or a loan officer," she said. "We also talk about IT and marketing and accounting, all of these different things that you can do for the bank."
Encouraging Volunteerism and Giving Back to the Community
"We definitely value our role as neighbors and contributors to the community and encourage our team members to be involved," Jaeger said. "Our team members usually tend to be the type of people who are involved in their communities as it is, and we try to help facilitate that."
She said the community activities the bank and its employees support can vary widely depending on the region where the banks are located.
"In some of our communities, there's a lot of Chamber of Commerce-type involvement, and other communities will lean toward supporting more nonprofits like the United Way — things like that," Jaeger said.
Other organizations Cornerstone Bank locations have supported include Big Brother Big Sister, Habitat for Humanity, the Red Cross, and many regional nonprofits.
Additionally, the bank participates in community service events such as annual trash cleanup days. And a number of Cornerstone Bank employees serve on community boards in various positions, she said.
"We also have a donations program where team members can request contributions from the bank to support certain causes," Jaeger said. "Some of those contributions are made on the bank leadership level, but we also have a gift matching program where the bank will match team members' contributions to nonprofit groups, up to a certain amount."
She said a large part of the bank's contributions budget is allocated to the gift matching program because the bank's leadership believes it's more powerful to have its team members help determine which causes to support.
The bank also supports team members volunteering to support causes that are important to them. Jaeger said there's not a formal volunteer program established, but team members discuss events and causes with the bank leadership on a case-by-case basis to determine how to best go about supporting them.
Supporting Products and Services with a Strong Set of Institutional Values
Cornerstone Bank offers an array of banking products and services for individuals and businesses.
For individuals, the Simply Easy Savings account offers the lowest opening minimum balance at $200, and interest is compounded and credited quarterly. The personal Money Market Savings account requires a $1,000 opening minimum balance, and the Cornerstone Savings account requires a $10,000 opening minimum balance.
Personal checking options include the Interest Rewards account, the Gold Checking Account (for customers over 50 years of age), and the Everyday Perks account. The bank also offers Visa® and American Express® credit cards.
Cornerstone Bank offers similar products geared toward business and agricultural banking.
No matter the product or service, the institution maintains a strong set of values that helps to ensure a quality experience and top-level customer support.
"We believe that, while bank products are similar in most financial institutions, Cornerstone Bank offers one distinct difference: here you have easy access to the experts — the people who help you make decisions, whatever your business and whatever your balance. We offer honest insight from people who know our communities and how to make the most of your money," according to Cornerstone Bank's website.
The bank's vision is to be the go-to source when people are making important decisions about their money. Its mission is to "give straight answers and the best financial options," according to the bank website.
On its website, Cornerstone Bank lists its role as a neighbor and community contributor, and pledges a commitment to uphold an extensive set of values, that include positivity, honesty, knowledge, bold ideas, and empowering employees. These values help encourage team members to provide the best customer service possible, support their communities, and treat customers with fairness and professionalism.
With Cornerstone's array of financial literacy initiatives, gift matching program, volunteer efforts, and other demonstrated community support, it's clear that the bank practices what it is preaching.
Advertiser Disclosure
CardRates.com is a free online resource that offers valuable content and comparison services to users. To keep this resource 100% free, we receive compensation for referrals for many of the offers listed on the site. Along with key review factors, this compensation may impact how and where products appear across CardRates.com (including, for example, the order in which they appear). CardRates.com does not include the entire universe of available offers. Editorial opinions expressed on the site are strictly our own and are not provided, endorsed, or approved by advertisers.