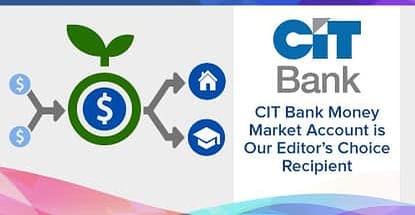 In a Nutshell: The popularity of online banks has increased so rapidly in the last five years that their brick-and-mortar competition has scurried to keep up. Internet-only banking companies frequently offer superior rates and technology thanks to their lower overhead costs. A leader in this tech revolution is CIT Bank, which unveiled its first Money Market account in March 2018. The account features a low $100 minimum deposit to open and pays interest at a rate of 1.85% APY, compounded daily. The lack of a monthly maintenance fee means CIT customers get to keep their earnings. The account is our Editor's Choice Award recipient for 2018's top-yielding Money Market account. //
Online banks have steadily increased in popularity for much of the last decade. As today's consumers increasingly shift toward conducting daily financial transactions on mobile phones, the need for physical branch locations has decreased.
Since online banks don't have the staff of the brick-and-mortar branches to maintain, the institutions save on overhead costs and often pass those savings on to customers in the form of better interest rates, greater technology offerings, and 24/7 online customer service.
One of the most successful US online banks, CIT Bank, has positioned itself as a champion for consumers who want to grow savings without losing their earnings to fees. Those consumers responded by making the bank one of the fastest-growing online offerings in the country.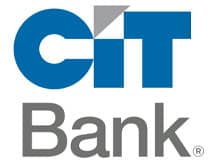 "Our whole mission is to advance consumers' savings strategies, empower customers, and facilitate their savings through our products," said Ravi Kumar, the Head of CIT Bank.
Kumar's mission has been successful to date. While online banks continue to grow in popularity — and assets managed — CIT Bank ranks among the top 10 online institutions, which primes the organization for future growth.
"We want to continue to encourage and empower consumers in their savings," he said. "Our new Money Market Account, which was launched in March 2018, is our latest way of doing that."
We do our fair share of research into banking products and credit cards at CardRates. The information we find often leads us to definitive opinions on the best consumer financial products currently available. Although CIT's Money Market account is a newcomer to the game, its low rates and lack of fees makes it stand out as our Editor's Choice for 2018's top Money Market offering.
On the surface, the account shines for its stellar 1.85% APY that compounds interest daily. Under the hood, you'll find a small minimum balance of $100 to open an account and no penalty to close the account. Currently, customers can earn that top interest rate on any balance, while many other institutions impose maximum balance restrictions that slash the earning potential for balances above $25,000.
"The Money Market account is categorized into a savings account, which, by regulation, only allows consumers to conduct six transactions per month," Kumar said.
Account holders have the benefits of a desktop interface that is among the best in the industry. CIT architected its mobile application to mirror that experience.
"Our customers today can open all of our products on their mobile phone," Kumar said. "You can start your journey on mobile and end your journey on mobile. Our app also allows customers to perform all of their day-to-day functions without having to visit the desktop interface if they so choose."
No Monthly Maintenance Fees and Low Balance Minimums
CIT Bank did away with those pesky monthly maintenance fees that tend to eat away at interest earnings. And with low minimum balance requirements, the account is accessible to consumers with any financial background.
"We have people on the lower end of the financial spectrum and at the higher end of the spectrum," Kumar said. "They both have very different needs, and we want to make sure we can serve all of them."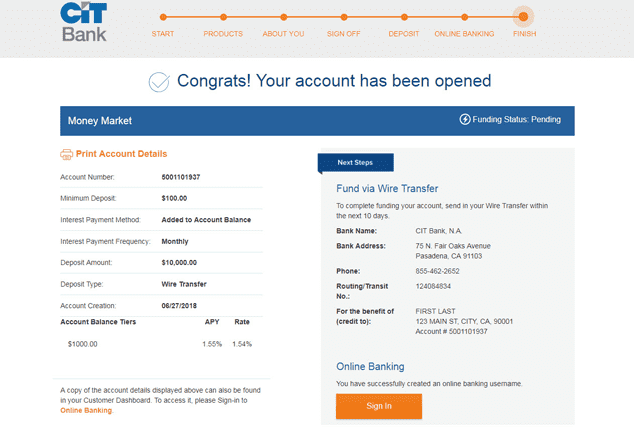 Aside from the Money Market account, CIT customers can also take advantage of competitive CD rates and high-yield savings accounts that provide interest rates of up to 1.55% APY.
"In terms of pricing, we look at various factors — including the market, the bank's needs, and also what the competition is offering," Kumar said. "Our idea is to offer competitive rates to our consumers, and you'll find that we offer attractive rates across the board, for the most part. Those rates can change, though, depending on the market and the bank's needs."
People Pay Integrates with Paypal for Faster Transactions
Another popular feature available through CIT Bank's Money Market account is People Pay. The application integrates with Paypal and allows CIT customers to transfer funds to friends and family by using a mobile phone number, email address, Paypal account, or bank account number.
The free service comes standard with the Money Market account and is accessible from a desktop or mobile interface.
"You can send money from your Money Market account to almost anyone with an email address and a mobile phone number," Kumar said. "If they have a Paypal account, all you need is their email address to send them money to that account."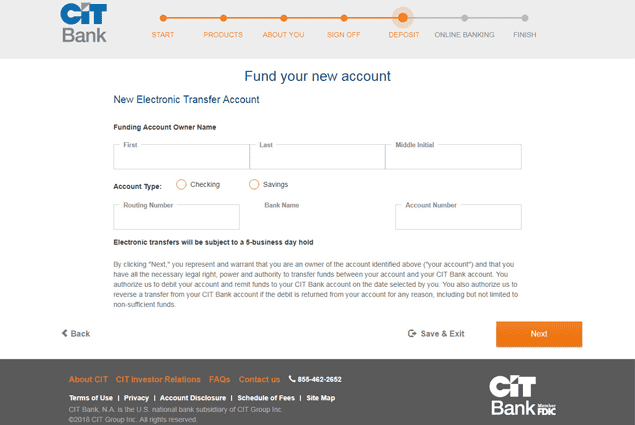 Paypal payments arrive instantly to the recipient, while other methods can take up to two business days to clear.
Bill Pay Capabilities Launching Later this Year
Despite already sporting an industry-leading interest rate and an ever-growing list of functionalities, Kumar said CIT Bank strives to further improve its Money Market account.
"We're going to be adding a bill-pay feature later this year," he said. "That gives consumers an additional access mechanism. Like all other banks, we are working on various concepts, products, and ideas."
Those products will no doubt appeal to a wide range of customers since online banks are no longer the exclusive territory of tech-savvy millennials. Today's online institutions offer products and services that are pulling traditional banking customers away from their brick-and-mortar roots.
"We don't have a specific demographic that we're going after," Kumar said. "At the end of the day, we want to serve all of the consumers across the nation who want to save money using various means."
Advertiser Disclosure
CardRates.com is a free online resource that offers valuable content and comparison services to users. To keep this resource 100% free, we receive compensation for referrals for many of the offers listed on the site. Along with key review factors, this compensation may impact how and where products appear across CardRates.com (including, for example, the order in which they appear). CardRates.com does not include the entire universe of available offers. Editorial opinions expressed on the site are strictly our own and are not provided, endorsed, or approved by advertisers.