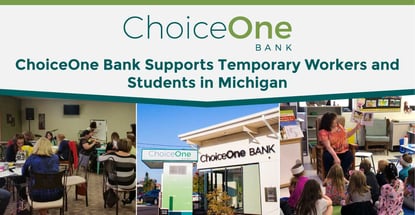 In a Nutshell: ChoiceOne Bank begins and ends in farm country, working since 1898 on behalf of farmers, businesspeople, and families in West Michigan. As times have changed, the bank has too, but one thing that hasn't is its commitment to the people who help its communities succeed. With ambitious and creative programs that make financial services accessible to temporary agricultural workers and by helping area students start career savings accounts, ChoiceOne is building a better Michigan for today and tomorrow, earning it our Editor's Choice™ Award for Community Commitment.
The next time you munch on a cool, crisp apple, consider for a moment that it may have been grown in Michigan — and that the worker who harvested it may be living a better life thanks to a bank.
Michigan produces almost $1 billion worth of apples each year, behind only Washington and New York, the two top apple-producing states. Apples must be picked by hand and loaded into bins for selection and processing, and in Michigan, that tough job is outsourced to thousands of workers, mainly from Central and South America, who travel to the state under the authorization of temporary visas.
Voters protect temporary agricultural workers with standards for wages, housing, and access to services, among other things. But these protections, as important as they are, don't mitigate cultural impediments and language barriers that can lead to struggles, missed opportunities, and even threats against the workers.
In West Michigan where much of Michigan's apple and other fruit crops are harvested, ChoiceOne Bank is changing that, stepping in with an ambitious bilingual program to bring access to financial education and banking services to the workers and helping them transform their paychecks into lasting benefits.
ChoiceOne doesn't stop there. Acting on the theory that it's never too early to teach kids how to save for their own futures, the bank has partnered with two area nonprofits in a long-term program to help thousands of schoolchildren start career savings accounts that will grow with them from kindergarten to graduation.
As impressive and distinctive as those two initiatives are, ChoiceOne has many more irons in the fire, continuously building on a 120-year legacy of commitment to farmers and businesses in West Michigan.
In the words of COO Adom Greenland, "ChoiceOne employees are passionate about giving back to our community."
Helping Temporary Agricultural Workers Gain Access to the Financial System
ChoiceOne started with only $15,000 in capital. More than 120 years later, the bank is headquartered in the village of Sparta, Michigan, and operates 14 branches.
"The area we're in around here is known as the Ridge, and it's where a pretty significant portion of the Michigan apple crop and other fruit crops are grown," Greenland said.
Seasonal workers travel thousands of miles leaving behind the comforts of home to settle in camp communities that have sprung up over the years. Before ChoiceOne stepped in, farmers paid these predominantly Spanish-speaking laborers in cash or by check. The workers didn't have bank accounts nor the understanding necessary to use financial services to their advantage.
"No big bank was reaching out to them to provide access," Greenland said. "Being the main community bank, our role is to get them a bank account. That obviously pushed us to increase our bilingual staff and produce bilingual educational materials and presentations. We go onsite to the camps, where we give financial literacy lessons and we open bank accounts [for the workers]."
Now, the farmers use direct deposit, and the workers no longer have to deal with the security threat of carrying cash or the expense of dealing with an exploitative check-cashing service. It's also much easier to send money home, which is why many of them travel to Michigan in the first place.
It's a win-win-win situation. Farmers and ChoiceOne benefit from the efficiencies of electronic remittances. And ChoiceOne employees are taking Spanish classes to better deliver services to the workers.
The Independent Community Bankers of America® recognized ChoiceOne in 2017 with its National Community Bank Service Award for broadening access to mainstream financial services for underserved communities.
"Since the launch of our program we have impacted over 2,000 people," Greenland said.
Kickstart to Career Partnerships Build Student Career Savings Accounts
In addition to its work with Spanish-speaking seasonal farm workers, ChoiceOne has embarked on Kickstart to Career — a children's savings account program designed to encourage savings and help with post-secondary education expenses.
In Newaygo County, every kindergarten student is eligible for a $50 deposit to a ChoiceOne savings account made by the Fremont Area Community Foundation. "They receive notification that they have it — their parents get letters sent home," Greenland said. "It starts in kindergarten and follows the child through high school."
ChoiceOne is partnering with the Fremont Area Community Foundation, and in Muskegon County, the bank is working with a group of local credit unions and the Community Economic Development Association of Michigan, the Michigan Children's Savings Account Consortium, and the Upper Midwest Children's Savings Account Consortium.
The theory behind the career savings account movement is that when children learn at a young age that money is being put aside for use after high school, they're more likely to develop positive life and career aspirations.
"There'll be incentive deposits and the ability to match deposits, and family members will be able to deposit into the accounts as well," Greenland said. "That's all provided by us with no fees, and we administer everything. Plus, our employees will be physically in the schools delivering financial education every year."
It's not just a college savings account — the money can be used for vocational school and other kinds of post-high school career development.
"We're committed — we love it. We're partnering with some really good community organizations. We do that a lot at ChoiceOne — we partner with other organizations to do more than we can do on our own," Greenland said.
Investing in West Michigan Communities Since 1898
Another such affiliation is with the Muskegon Oceana Community Action Partnership (MOCAP), which helps senior citizens in Muskegon County. One day this past winter, MOPAC and bank employees spent a day packaging 332 boxed meals for seniors.
"We are small, but we are mighty," Bank Vice President Patricia Brown said of the event. "We are a group of ordinary people doing extraordinary things."
ChoiceOne's board, management team, and employees are residents of the Ridge communities they serve and are deeply involved in local community affairs. Greenland said there's no better barometer for where ChoiceOne needs to focus than the bank's own employees.
"We try to lead with our time," Greenland said. "We're not just writing a check, our people are giving their time. We let our employees drive us to where they're passionate, which has worked out well."
A few weeks before the MOCAP event, the bank was forced to close all its offices to protect employees and customers from the effects of a particularly dangerous winter storm. Its response upon reopening was to hold a jeans day to raise money for a Grand Rapids warming shelter.
ChoiceOne employees also worked with Home Repair Services of Kent County during the winter to help vulnerable homeowners repair their homes. Employees at its 14 branches also held a "step challenge" with the branch accumulating the most steps donating to charity.
Whatever ChoiceOne decides to do, it commits to wholeheartedly. "We build something and we follow through on it," Greenland said. The programs for bringing financial access to temporary workers (and apples to grocery stores) and savings accounts to schoolchildren, for example, are long-term arrangements — and "significant investments of our time and talent," Greenland said.
ChoiceOne intends to continue to stand on its commitments as it has since it opened.
"On our page moving forward is continuing our grassroots involvement with our communities and empowering our employees to be involved," Greenland said.
Advertiser Disclosure
CardRates.com is a free online resource that offers valuable content and comparison services to users. To keep this resource 100% free, we receive compensation for referrals for many of the offers listed on the site. Along with key review factors, this compensation may impact how and where products appear across CardRates.com (including, for example, the order in which they appear). CardRates.com does not include the entire universe of available offers. Editorial opinions expressed on the site are strictly our own and are not provided, endorsed, or approved by advertisers.