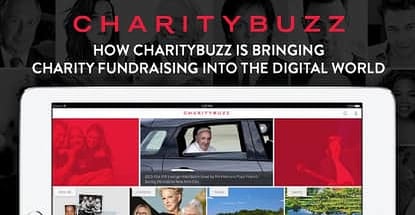 In a Nutshell: The spirit of giving is alive and well in our modern world. Hundreds of billions of dollars are donated to charitable organizations every year in the U.S. alone. Now, as the rest of the finance industry rapidly goes digital, so, too, goes fundraising — thanks to Charitybuzz.com. A part of the Charity Network, Charitybuzz has helped bring fundraising into the 21st century by bringing it online, through its digital auction platform. Offering everything from luxury vacations and unique memorabilia to one-on-one celebrity meet-and-greets, Charitybuzz auctions allow users to bid on the experience of a lifetime while helping a worthy cause. Proving digital fundraising is the way of the future, Charitybuzz has seen more than 325,000 bids on 50,000 auctions — and has helped its clients raise and donate over $135 million. //
While the modern world is becoming an increasingly digital one, some hold true to the belief that, sometimes, analog is just better. For instance, I know a great many who feel an MP3 can never do justice to the music of the Rat Pack the way a vinyl record can. And, the mere mention of a film being "digitally remastered" can send shivers down the spine of a die-hard Star Wars fan.
Of course, such enthusiasts are hardly the norm; your average American has embraced the digital revolution with open arms — and for good reason. A great many results of the growing digitization trend have actively improved the effectiveness and efficiency of their targets. Take the digital watch, for example; not only does it show the time and date like its analog counterpart, but it can even include any number of features, from a stopwatch to a depth meter — to an entire mobile phone.
It's not just products that have benefited from the transition to digital, either. Digitization has impacted and updated everything from how we correspond to how we date — and just about everything in between. The latest field to be pulled into the modern era? Fundraising. What once consisted of badgering phone calls, mountains of letters, and expensive private banquets has now gone digital.
"The analog way of raising money was usually an auction in a room at a fancy gala, where there were 200 people," described Jan Svendsen, Chief Marketing Officer for the Charity Network, which operates leading digital fundraising platform, Charitybuzz.com. "Charitybuzz is sort of the opposite of that; it's the digital way of reaching people, and the fundraising potential is exponentially higher."
The website, which allows potential donors to bid on dozens of auctions for everything from luxurious getaways to once-in-a-lifetime meet-and-greets with celebrities and corporate moguls, is changing the way we think about charity fundraising. Charitybuzz takes fundraising from the private banquet hall to the World Wide Web, reaching hundreds of thousands of people and raising a total of more than $135 million.
"We're not saying those galas shouldn't exist," Jan explained. "We're just saying, this is another way to raise money — one that is most often more effective and more efficient. The galas can still have a place and be celebratory in nature — while we do some serious fundraising through our digital platform.
Providing Bidders the Experience of a Lifetime While Giving to a Worthy Cause
The charity auction is a long-standing tradition, a way of giving to a worthwhile organization while having a little fun, and maybe coming away with something really special. Charitybuzz took the age-old idea of the charity auction and ran with it — all the way to the 21st century.
"Charitybuzz services not-for-profits around the globe," said Jan. "We auction luxury travel packages, fashion pieces, memorabilia, and one-of-a-kind experiences." Charitybuzz has a wide variety of auctions going at any given time, including resort hotel packages in hot destination cities, like Las Vegas, and signed collectibles. Those unique experiences are often the most popular, however, featuring one-on-one meetings and once-in-a-lifetime events.
"We work with some of the most recognizable celebrities and brands; everybody from actors to musicians to sports stars, business leaders to political leaders," Jan described. "For instance, we found that many of our clients were interested in meeting business leaders, and we've had everyone from Mark Cuban to Richard Branson to Mike Bloomberg, all raising money for the charities important to them. We've had several auctions for sit-downs with Apple's Tim Cook, which have collectively raised almost $1 million for the Robert F. Kennedy Human Rights foundation."
Unlike an expensive benefit auction or private gala, auctions on Charitybuzz reach the company's international network of over 200,000 high-net-worth philanthropists. More than 325,000 bids have been made on the site in the last 10 years. You don't have to be in the millionaire's club to participate, though; anyone can join the site and bid on an unforgettable experience, with some auctions going for just a few hundred dollars.
"At the close of the auction the winning bidder's credit card is charged the full auction price, plus any applicable shipping, handling or tax charges," said Jan.  "Then, we remit 80% of the net proceeds to the charity, and our fulfillment service takes over.  They handle the details, and that's done in conjunction with the charity and/or celebrity."
For the extreme philanthropist who wants the full VIP treatment, Charitybuzz offers a private portal with individual concierge service. The concierge service allows customization of the experience by directly connecting buyers and sellers — while still sending proceeds to the selected charity.
"Instead of a traditional online auction, in our private portal are clients who tell us what their interests are and let us get to know them," Jan explained. "Then, we can go to those clients with private sales for different experiences and different celebrity interactions, based on their personal interests."
Auction Specialists Use Comprehensive Marketing and Detailed Analytics to Ensure Successful Fundraising
One the other side of the coin, using Charitybuzz to raise money for your organization is equally simple. It starts with contacting Charitybuzz, either by phone or through their online form, and becoming a client. Clients are assigned an auction specialist who puts together the most effective campaign.
"Once a charity becomes a client, we'll then look into the right experience; it could be lunch with some celebrity, it could be a travel package, or even a business experience," said Jan. "Then, our auction specialist will help put together the fundraising potential and develop the actual campaign, and plan for executing the experience."
According to Jan, the client never has to do any of the heavy lifting for their auction. "Our goal is to make this very easy for our clients, whether they are celebrities, charities, or brands," she described. "We do the PR, put together comprehensive marketing plans, create the videos, and deal with all the production that goes along with it. We try to make this an all-in experience for them and as light-lifting as possible so that their outcome is really the best outcome for them."
How does the team determine the best outcome? Hard data.
"Because we're a digital company, we're very focused on the analytics and the metrics. We really look at this from a scientific point of view," said Jan. "We create algorithms that will help predict some of the outcomes for us, and then we put together very thorough analytic and recap reports. We can use that information when we have a similar auction or event."
Having the analytics on hand means the team can determine not only what to auction — an experience versus an event or product — but also how to auction it.
"Depending on the type of experience the client is going to auction, we may do a portion of the fundraising on the main site, and some through our private portal," described Jan. "We try to think very strategically about what brand it is, or what celebrity it is, or what charity it is, and we try to help them come up with the best scenario in which to raise the most money."
Beyond the data, what Jan said really sets Charitybuzz apart is their dedication to all of their clients — not just the charities themselves, but the brands and celebrities that make the auctions possible.
"I think the thing that differentiates us from some of the others that do this type of work is, we try to connect in a genuine, authentic way with not just our charities, but all of the celebrities and brands with whom we work," she explained. "We find causes that are really meaningful to them, near and dear to their heart, and help them make a difference."
Raise Money the Modern Way with Charitybuzz
Despite the protests of the purists, digitization is occurring all around us, and at a rapid pace. While we may not all agree that our watches need to play music or send messages, the majority of us can agree that digital outperforms analog in a great many situations — including charity fundraising.

"We're disrupting fundraising and the way people think about fundraising," said Jan.  "We're really trying to revolutionize and democratize the way fundraising works. We want to digitize it so that it is a more powerful tool, allowing more people the opportunity to give."
Advertiser Disclosure
CardRates.com is a free online resource that offers valuable content and comparison services to users. To keep this resource 100% free, we receive compensation for referrals for many of the offers listed on the site. Along with key review factors, this compensation may impact how and where products appear across CardRates.com (including, for example, the order in which they appear). CardRates.com does not include the entire universe of available offers. Editorial opinions expressed on the site are strictly our own and are not provided, endorsed, or approved by advertisers.