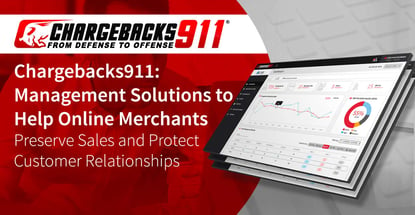 In a Nutshell: Consumer chargeback requests with card issuers contribute to between $30 billion and $60 billion in lost revenue for online merchants each year. But Chargebacks911 helps sellers retain revenue while protecting customer relationships with its comprehensive, service-oriented approach to settling chargeback disputes. Before transactions take place, Chargebacks911 is proactive in assisting merchants with compliance and fraud mitigation. The company acts as a liaison between sellers, card issuers, and cardholders so that all participants can be satisfied and ecommerce merchants can continue to thrive.
As ecommerce continues to grow by double-digit percentages each year, credit cards have become an increasingly vital part of the online economy. That also means chargeback rules protecting cardholders from fraudulent credit charges have increased in importance and complexity.
After all, with transactions requiring only a few rapid clicks to complete, what's to stop a merchant in a different part of the world from acting in bad faith and then disappearing?
The vast majority of online retailers are not bad actors. On the contrary, most understand that customer service is one of the most significant aspects of their business. But consumers are increasingly using rules designed to protect them in ways that are leaving merchants footing the bill.
According to a 2018 Retail Dive article, online businesses lose between $30 billion and $60 billion annually to chargeback fraud. And the high cost of fighting chargebacks has led many merchants to accept those losses as the cost of doing business.
Chargebacks911 helps merchants effectively manage chargebacks while preserving legitimate sales and customer relationships. And it works proactively to improve the merchant's transaction process to prevent chargebacks from occurring.
The chargeback process can be a one-sided affair with customers directly contacting their card issuers — not the merchant — if they have an issue with a transaction. When the issuer regards a customer's claim as legitimate, the process often ends with a refund issued to the cardholder and the merchant's account debited in the amount of the original transaction.
But Chargebacks911 helps merchants reclaim a role in that process, eliminate fraudulent chargebacks, and help them retain the revenue they've rightfully earned.
"We act on behalf of merchants to address the legitimacy of chargebacks and represent the merchant to the bank," said Karl Layton, Sales Development Representative at Chargebacks911.
And, in the process, Chargebacks911 helps clarify the rights and responsibilities of all parties involved in online card transactions.
Tools and Services to Outsource Chargeback Representation
Chargebacks911 was inspired by Founder and COO Monica Eaton-Cardone's own experiences as an online retailer about a decade ago.
"She was getting a lot of chargebacks," Layton said. "But she knew those purchases were good."
So Eaton-Cardone and her colleagues began to explore the system and examine documentation provided by the major payment networks to learn more about the dispute process.
"She found ways for merchants to protect themselves — and to collect information from consumers before the purchase to protect the transaction once it occurs," Layton said.
The result of that research was Chargebacks911, a streamlined way for merchants to address the realities of chargeback requests in the current online environment. The sobering fact is that an increasing number of customers are looking to exploit the consumer protections they enjoy to obtain merchandise for free — sometimes called friendly fraud.
Some consumers simply don't understand the dispute process and approach the issuing bank without ever attempting a resolution with the retailer. Still, others may regret purchases, but don't want to confront the merchant, or they don't qualify for a traditional refund because a time limit has passed.
Managing an effective response to all of those scenarios as the rules continuously change has become a complex, subjective, and expensive challenge for merchants.
That is why so many ecommerce retailers choose to outsource the task to Chargebacks911. The company provides customers with an end-to-end solution that addresses chargeback disputes not just with technology but also through human intervention.
"It's a psychological problem, not a problem that can be automated," Layton said. "So we have to have hands-on interaction with the data to extrapolate what's going on to interpret the information and make a logical decision."
Chargebacks911 representation can help return revenue to merchants and uncover additional dispute opportunities.
Customized Mitigation Plans Address Unique Challenges
The company's solutions are proactive — not just reactive. Customized mitigation solutions from Chargebacks911 help businesses deal with challenges upfront by addressing applicable threats and circumstances.
In addition to friendly fraud and criminal activity, Chargebacks911 conducts a 106-point merchant compliance review to eliminate chargebacks caused by merchant error, which represent as many as half of all chargebacks filed against a business.
Seemingly minor merchant missteps that often turn chargebacks from an annoyance to a threat include faulty return authorization policies. Unclear return rules can create ambiguities and disputes that damage customer relationships. The same is true of policies on defective merchandise.
And companies are often lax in nailing down precise billing descriptors for themselves. When customers can't recognize the name of a company on their statement, they may view the transaction as fraudulent and take it up with their card company.
And a surprising number of retailers — up to 75% in a survey conducted by Chargebacks911 — can't confidently match chargeback requests to item-by-item transactions. That means when disputes arise, merchants may lack compelling evidence to support their case.
Chargebacks911's compliance check helps merchants improve in those areas, and more, objectively analyzing all transaction procedures to ensure regulatory conformity. And experienced consultation services provided by the Chargebacks911 team ensure that the merchant's customers receive the best possible experience and that relationships with card issuers are enhanced.
"The fact that our customers maintain their relationships with us through continued service speaks for itself," Layton said. "Because, if we weren't performing, they wouldn't continue to work with us."
Bringing Consumers, Merchants, and Card Issuers Together to Benefit Everyone
As chargebacks become a significant pain point for online merchants, Chargebacks911 offers them a seat at the table in disputes and helps them retain their hard-earned money. And the company wants to ensure that the process works as intended — for consumers, card issuers, and sellers.
"Merchants can collect information in a positive way that's also going to help protect the consumer. So it's a synergistic relationship between the consumer and merchant as opposed to the Wild West like it's been," Layton said.
To that end, Chargebacks911 offers a variety of educational resources aimed at a general audience of merchants and consumers. Those resources raise awareness of consumer rights, responsibilities, and liabilities and assist smaller merchants that can't afford to outsource chargeback management.
"The education aspect is focused on helping the consumer understand the importance of following direct avenues. If you file an illegitimate chargeback, you can be charged fees," Layton said.
And merchants can use free tools like bank identification number (BIN) lookup. Merchant processors that want to learn about a particular dispute or card number can use the tool to find the origin of specific chargebacks.
"If merchants can see the chargebacks related to the specific BIN, they can start to build a relationship with that bank, so the bank knows who they are," Layton said.
And as regulators and card issuers continue to adjust the terms governing chargeback disputes, Chargebacks911 works directly with issuers on systems that introduce efficiencies to the process. For example, as the largest officially licensed facilitator of Visa's claims resolution system, Chargebacks911 is building a software feature called Visa Merchant Purchase Inquiry (VMPI) to assist merchants in stopping chargebacks before they're submitted.
"The chargeback process was built for one thing but is increasingly used for another," Layton said. "If Visa can tell the merchant in real time that a customer is requesting a legitimate refund or chargeback and the merchant can issue it, everybody saves time."
Advertiser Disclosure
CardRates.com is a free online resource that offers valuable content and comparison services to users. To keep this resource 100% free, we receive compensation for referrals for many of the offers listed on the site. Along with key review factors, this compensation may impact how and where products appear across CardRates.com (including, for example, the order in which they appear). CardRates.com does not include the entire universe of available offers. Editorial opinions expressed on the site are strictly our own and are not provided, endorsed, or approved by advertisers.