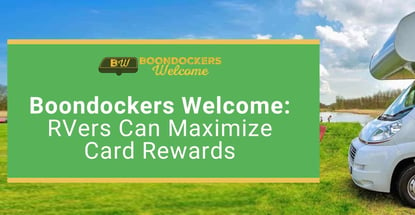 In a Nutshell: The RV lifestyle is more popular than ever, but state parks and commercial campsites are also more crowded and expensive as a result. Boondocking away from power and water hookups is an enticing alternative, but often that just means sleeping in a Walmart parking lot. Since 2012, Boondockers Welcome has connected RVers with folks able to provide free overnight parking on private property. When you and your gas rewards card are on the road, Boondockers Welcome is your ticket to a relaxing night and maybe even a new friendship.
Among the many twists and turns associated with the pandemic is how the RV lifestyle has continued its 40-year growth despite temporary shutdown of parks and campgrounds.
Actual manufacture and sale of recreational vehicles also went into temporary hiatus during the height of COVID. But 2021 is projected to be the industry's best year ever, with 56 million Americans expected to go RVing this summer, according to a survey.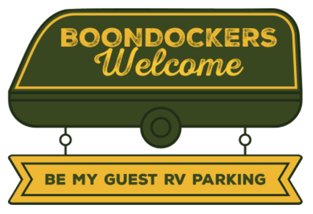 That puts more pressure than ever on parks and commercial campgrounds. It also adds cost and logistical pressure for RVers, who have to plan far ahead to reserve pricey spots where they can hook up to the power, water, and other facilities they need to stay on the road.
And it makes Boondockers Welcome a more important resource than ever. Since 2012, Boondockers Welcome has connected hosts able to provide free free overnight boondocking sites on private property with RVers looking to save money and spend a night or two away from the crowds.
These boondockers, as they call themselves, drive self-contained rigs with power and water management systems that enable them to sustain a few days away from hookups.
That's partly why RVers are into their lifestyle in the first place — rather than spend money on flights and hotels, they choose to fuel their rigs. Gas rewards cards are often a big part of how they save, and free overnight accommodations secured through Boondockers Welcome also help.
"It's only $50 a year to sign up for a guest membership to begin to request free accommodations through our site," said Carrie Price, Director of Marketing and Community Support. "That's basically the cost of staying at a campground for one night."
Connecting Hosts and Guests on a Global Platform
Although Americans and Canadians may think they have a monopoly on RVing, the RV lifestyle is catching on everywhere. The wide open spaces of Australia, for example, are a perfect backdrop for what the locals there call caravaning.
Europeans are getting into it too — all told, almost 3,000 RV enthusiasts and fans worldwide have signed up to serve as hosts on Boondockers Welcome.
"We have several hosts in Europe, and basically what happens is they come to North America, use Boondockers Welcome, and then go back home and become hosts themselves," Price said.
It works that way in North America as well — hosts offer their private property to RVing guests not to make money but to share the lifestyle. In fact, most hosts are also RVers.
"If you sign up as a host, you can join as a guest for 50% off," Price said. "And for every guest who stays at your property, you receive credit that you can put toward your guest privileges."
That means that most hosts don't actually pay for a membership. And hosts aren't required to provide hookups, although up to 75% of them do provide electricity.
Only self-contained RVs are allowed, which means the rigs have some kind of toilet as well as a greywater holding system.
"We want to make sure that our hosts aren't in a situation where they could have some leakage on their property," Price said. "And because we don't want them to be out of pocket for their generosity, we've formalized a system so when they do offer an electric hookup, we ask our guests to offer compensation of anywhere between $5 and $15 a night."
Offering a Respite from Campground Crowds
Given that most hosts offer electronic hookups, Boondockers Welcome accommodations don't technically qualify as true boondocking, according to the original definition.
"The term originally referred to dispersed camping entirely away from hookups, such as parking on Bureau of Land Management land," Price said. "We may not usually offer boondocking anymore, but that's just because our hosts are incredibly kind people who are opening their property to other RVers."
The original notion of boondocking also morphed into what's called blacktop boondocking — parking in Walmart parking lots. In a pinch, Walmart and other RV-friendly businesses like the Cracker Barrel restaurant can come in extremely handy. Anytime an RVer can save on camping costs, gas card rewards can go that extra mile.
Boondockers Welcome plays that same role, but in a nicer way. Alongside the mobile-friendly Boondockers Welcome website, a new mobile app enables RVers to search for hosts by destination, distance, arrival date, and other filters.
Searches are automatically restricted so sites can't be reserved more than two months in advance. The maximum duration of each stay is five nights, although most hosts limit stays to two to three nights.
The original idea was that boondocking was supposed to be a spur of the moment thing. But as the practice has become more formalized and hosts in particularly popular destinations like Florida have gotten busier and busier, a bit of advance planning pays off.
The peace and quiet of RVing on private property can really make a difference, especially after a string of nights at crowded campgrounds that in many ways aren't that different from parking lots.
"We want to make it super simple and easy — we don't want it to ever be like a campground," Price said.
Friends Helping Friends in the RV Community
RVers get more than peace and quiet from a stay with a Boondockers Welcome host. In fact, staying with a Boondockers Welcome host can also be the beginning of a lasting friendship. Price, herself an RVer and Boondockers Welcome user, has personal experience with that.
"I've stayed at host locations where they've had us over for dinner, and one where they took us on an ATV ride," she said. "Ultimately, it's about the idea of community."
"If you're an RVer, especially a full-timer, you spend a lot of time on the road — you don't actually interact with a lot of people," Price said. "By staying with somebody who's interested in your lifestyle, you can sort of share stories over the campfire. And RVers have such great stories to tell."
Watch on
RVers are always ready to help. When the pandemic hit last year, for example, more than 100 new hosts quickly signed up on Boondockers Welcome just to give travelers impacted by shutdowns places to stay.
And RVers are almost always up for commiserating with each other about how challenging the lifestyle actually is. Planning and scheduling are crucial. And fuel expenses make carrying a gas rewards card almost a necessity.
"Use a rewards card to save and get points," Price said. "When we added up how much we spent on gas on our trip from Florida to Alaska and back, it was astronomical."
Conversations with other RVers taught Price how to reduce her RV weight to gain fuel economy, such as not traveling with greywater, blackwater, and freshwater tanks full and carrying only the bare necessities in her rig.
"You can learn so much about RVing just from talking with other RVers," she said. "Signing up as a Boondockers Welcome host is probably the best thing you can do if you want to learn about the RV lifestyle."
Advertiser Disclosure
CardRates.com is a free online resource that offers valuable content and comparison services to users. To keep this resource 100% free, we receive compensation for referrals for many of the offers listed on the site. Along with key review factors, this compensation may impact how and where products appear across CardRates.com (including, for example, the order in which they appear). CardRates.com does not include the entire universe of available offers. Editorial opinions expressed on the site are strictly our own and are not provided, endorsed, or approved by advertisers.