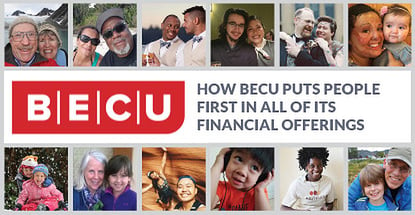 In a Nutshell: BECU didn't become the fourth largest US credit union in asset size by overcharging its members. The not-for-profit institution has spent more than 80 years serving its members with savings, loan, and credit products that feature interest rates consistently lower than the national average. BECU's two Visa-issued credit card offerings include low-rate and rewards options that pack in extra value since neither charges for membership, cash advances, balance transfers, or foreign transactions. Additionally, BECU's Reprice Program monitors all loan and credit accounts, and annually checks to see whether members not at the lowest interest rate are eligible for a rate reduction.  //
Boeing has always been on the cutting edge of aircraft technology. Almost 102 years to the day of the company's first two seaplanes taking their maiden flight, the company unveiled plans for a hypersonic plane that could take passengers anywhere in the world in three hours or less.
That type of innovation only happens with a great leadership team and a talented staff of engineers who assemble the aircrafts and test them for safety and reliability.
That staff has always been dedicated to its craft. In 1935, in the midst of The Great Depression, the Boeing Company required new employees to purchase their own tools before they could start working. Finding money to buy tools was an insurmountable burden for many prospective employees.
William Dodge, a Boeing employee at the time, read an article in Reader's Digest about the spread of credit unions around the world. Inspired, he recruited a group of Boeing employees to discuss starting their own credit union.
More than 80 years later, the Boeing Employees Credit Union — today known as BECU — is the fourth largest credit union in the US by asset size. With more than $18 billion in assets under management, BECU has earned the trust of more than a million members nationwide.
And as the institution has grown, it has waived the requirement for new members to be employees of Boeing, which means more people can enjoy the savings BECU offers.
"BECU is a credit union — that means we are a not-for-profit financial cooperative," said Dan Arita, Product Manager of the Credit Card and Rewards Program, Retail Payment, and Deposit Products at BECU. "Unlike banks, we don't report to shareholders who expect high returns on their investment."
As with other credit unions, there are no shareholders at BECU, and instead the institution's members are its owners. That's why BECU's sole focus has been providing exceptional service and industry-leading products to every account holder.
"Rather than worrying about making money, we spend our time ensuring our members spend less of their dollars," Arita said. "BECU returns its profits to its members in the form of better rates and fewer fees. And when we do charge fees, they tend to be lower as well."
BECU provides tremendous value to its members through savings and loan products, as well as with a pair of Visa-issued credit cards that give cardholders the chance to earn rewards or save on interest charges with a lower APR. The Cash Back Visa® card, for instance, pays an unlimited 1.5% back on all purchases and has a 12-month, 0% introductory APR on new purchases and balance transfers.
Arita said both Visa cards deliver great value and were built around what members wanted and needed in a credit card.
"We tend to see a fairly even split, with some members preferring to carry a balance with a lower rate, and some more interested in earning cash back rewards," he said. "Offering both a low-rate and a high-reward credit card product to our members provides them options so they can select the one that works best for their individual financial circumstances."
Both Credit Card Options Include Affinity Designs
While most rewards credit cards charge higher interest rates or annual fees to offset those benefits, BECU manages to offer some of the most competitive interest rates in the financial space.

"True to our mission of 'People Helping People,' we have eliminated some of the most commonly charged credit card fees, including balance transfer fees, annual fees, cash advance fees, foreign transaction fees, and over limit fees, just to name a few," Arita said. "In addition, through our Reprice Program, we actively look to lower our members' interest rates when their credit scores improve — and we never raise rates when credit scores deteriorate."
BECU cardholders also have the option to customize their credit cards through affinity partnerships with Boeing and the University of Washington.
Get Rewarded with the BECU Cash Back Visa®
BECU introduced its Cash Back Visa® card in November 2017 for members who wanted a way to earn cash back rewards on all of their purchases.
Aside from the unlimited 1.5% cash back it offers, the card also has a competitive variable interest rate that starts at 11.65% with no fees for membership, balance transfers, cash advances, or foreign transactions. Cardholders also benefit from a 0% introductory APR on both new purchases and balance transfers for the first 12 months of account opening.
Visa provides additional benefits that include lost luggage reimbursement, a warranty manager, roadside dispatch services, and $500,000 worldwide automatic travel accident insurance.
Save on Interest with the BECU Visa®
If you're one of the millions of credit card users who carry a balance from month to month, the BECU Visa® card may be your best option. Instead of negating your earned rewards through interest charges, this standard Visa card offers an almost unheard of variable APR that ranges from 8.65% to 19.65% after a 12-month, 0% introductory period.
Like its cashback sibling, the BECU Visa® charges no annual, balance transfer, cash advance, or foreign transaction fees and offers the same Visa-branded travel perks that give the card added value.
Annual Credit Reviews can Lower Your Interest Rate
BECU thinks it isn't enough to offer low interest rates. Instead, the institution's Reprice Program works to make its rates even better for members who show a pattern of responsible credit usage.
"We conduct an annual review of cardholders' credit scores, typically in the fall," Arita said. "If the cardholder is in good standing and not already receiving our lowest rate, they will be considered for an automatic rate decrease. None of this impacts our members' credit score."
Lowering your interest rate increases member savings over the long run and makes it easier to pay down debts faster and at an overall lower cost.
And the Reprice Program isn't just for credit cards. BECU also monitors personal lines of credit and personal loans, as well as auto, boat, and RV loans, to see if the institution can help members increase their overall savings.
BECU Values Members Ahead of Profits
BECU truly operates under its "Putting People First" motto — and its attention to detail shows in its offerings. From its competitive savings products to loan and credit options with low-interest rates that can get even lower over time, the institution caters each service it offers to the individual it serves.
"BECU credit cards are designed with feedback and input from our members," Arita said. "We read and rely on comments, suggestions, requests, and feedback from our members when we build our products. It's just another way we put members first, ahead of profits."
So, while Boeing may be working to get air passengers to their destinations in record times, BECU wants to get you there with more money in your pocket.
Advertiser Disclosure
CardRates.com is a free online resource that offers valuable content and comparison services to users. To keep this resource 100% free, we receive compensation for referrals for many of the offers listed on the site. Along with key review factors, this compensation may impact how and where products appear across CardRates.com (including, for example, the order in which they appear). CardRates.com does not include the entire universe of available offers. Editorial opinions expressed on the site are strictly our own and are not provided, endorsed, or approved by advertisers.