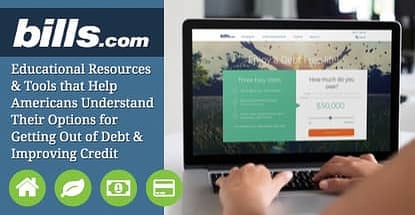 In a Nutshell: Consumer debt remains one of the biggest challenges many Americans face in their struggle for financial freedom. Consider that the average household with credit card debt pays nearly $1,300 per year in interest payments alone. Bills.com is a consumer finance portal that provides tips and advice designed to help consumers understand their options for handling debt, improving their credit score, and even finding the best mortgage. Using tools like Debt Navigator and Money Coach, people with credit card debt can learn how to take control of their finances and figure out a solution that's right for them. //
American household debt has grown in recent years to levels not seen since before the Great Recession. This is due in large part to a cost of living growth rate that has outpaced income growth for the past 14 years.
In fact, according to the Federal Reserve Bank's Survey of Consumer Finances, median household income has increased by 28% since 2003, but the cost of living has grown by 30%. And if we include medical costs at a 57% growth rate and student debt costs at more than 100% over that same period, it's no wonder more consumers are turning to credit cards to make ends meet.
With this increased growth in credit card debt in our country, there's a corresponding increase in the need for consumer finance education and advice. This is exactly the need that Bills.com is addressing. The tools, information, and resources found on the Bills.com website helps consumers figure out which solution is right for them, and offers practical advice through informative articles on a wide range of consumer finance and debt issues.

Daniel Cohen, Managing Editor for Bills.com, puts it this way, "There are options out there for people who find themselves in debt. The first step is to educate yourself on what your options are, and that's our mission here at Bills.com."
Climbing out from under even a modest amount of debt may seem overwhelming. Bills.com provides advice about all the available solutions for resolving debt with special insights on debt settlement as a member the Freedom Financial Network (FFN). In 2016 alone, FFN companies resolved over $1.5 billion of consumer debt on more than 300,000 individual accounts, originated over $245 million in unsecured personal loans, and connected over 700,000 people shopping for mortgages with mortgage lenders.
Use the Debt Navigator Tool to Find Your Ideal Situation
Bills.com's Debt Navigator tool offers customized debt analysis and provides up to five recommended solutions for becoming debt-free. The free tool is easy to understand and offers options you may not have known existed. You'll see a side-by-side comparison of the recommended debt solutions, clearly showing how much money you can save with each.
As Daniel told us, "When it comes to consumer debt, it's about understanding what your choices are and examining your individual situation."
Getting started with the Debt Navigator tool is straightforward. First, identify the level of stress surrounding your debt payment and financial situation. Next, answer some basic questions about your current employment, income, credit score range, and the total amount you can afford to pay each month. Then, you'll identify and prioritize the factors that are most important to you.
Daniel puts it this way, "It's about an individual's priorities, capabilities, and weighing the pros and cons of each solution to resolving their debt."
Once your information is entered into the secure Debt Navigator tool, you'll be presented with customized debt solutions you can choose from. You can view the details of each plan, along with the total savings associated with them. And once you've selected the plan that best fits your needs, now comes the time to put it into action. As with any financial solution, it's this last part that will finally set you on your path to a debt-free life.
Ask Bill and Informative Articles Provide Personalized Insight on Diverse Debt Topics
In addition to the customized debt solutions you get with Debt Navigator, Bills.com also offers a unique set of other tools to help consumers get answers to their debt questions.
The Ask Bill service is a way to start a one-on-one discussion with financial experts, who can address your specific questions on debt-related issues. Simply click to open a conversation, and submit your question in the categories of mortgage, credit, debt, or personal finance. You can also read previously submitted questions, and see what advice the experts had for those situations.
"We try and provide information that is accurate and educational, both in the articles that we write and questions that we answer," Daniel said.
In the Mortgage, Debt, Credit and Personal Finance sections on the homepage, you'll find information and articles on topics ranging from refinancing to credit repair to managing debt and obtaining an affordable mortgage. This is the area of Bills.com where you'll have access to a broad range of resources aimed at informing and educating consumers. Browse through topics like advice on repairing bad credit, or creating a personal budget. You can also download the Bills.com free budget guide.
All of the articles you'll find on Bills.com are presented with one overarching goal in mind — to deliver the most informative and up-to-date insight on a diverse range of debt and finance topics. In the Managing Debt section, there is information on the four types of low-interest consolidation loans, along with how to find a reputable debt consolidation company.
Bills.com Brings Transparency & Education to Personal Finance Issues
At a time when so much of the information we're presented with on the internet demands scrutiny, Bills.com aims to bring transparency to the realm of personal finance and debt issues. The carefully researched and thoughtfully presented topics are designed to inform and educate consumers on a range of personal finance topics. Perhaps it's best summed up by the motto of Bills.com — Helping the World Make Better Financial Decisions.
The team at Bills.com is constantly working to bring consumers the best set of personal finance tools available. An upcoming feature being developed is the FICO Score Simulator. Once implemented, this tool will enable consumers to see how future actions could impact their FICO score. It could also show the effects paying down a credit card balance or increasing the credit limit can have on a score.
The finance experts at Bills.com believe that understanding the factors that go into determining a FICO score can help consumers make better financial decisions.
With the ever-increasing debt load faced by American credit cardholders, there's never been a more pressing need for debt and finance assistance. Bills.com provides consumers with an easy one-stop finance portal that both educates and informs. It also offers a range of free and easy-to-use tools that can get you started on the road to financial health and well-being.
"There's no one-size-fits-all solution," Daniel said. "It's really about somebody's priorities, capabilities, and weighing the pros and cons of each debt solution."
If you're dealing with debt issues, you owe it to yourself to check out the advice and services offered by the experts at Bills.com. Sometimes debt relief really is just a click away.
Advertiser Disclosure
CardRates.com is a free online resource that offers valuable content and comparison services to users. To keep this resource 100% free, we receive compensation for referrals for many of the offers listed on the site. Along with key review factors, this compensation may impact how and where products appear across CardRates.com (including, for example, the order in which they appear). CardRates.com does not include the entire universe of available offers. Editorial opinions expressed on the site are strictly our own and are not provided, endorsed, or approved by advertisers.