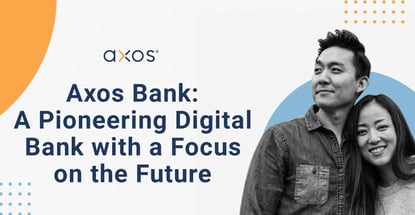 In a Nutshell: As digital transformation drives the financial industry, Axos Bank stands out as a pioneering online bank. Founded in 2000, Axos has grown to more than $15 billion in assets thanks to its personalized approach that leverages digital efficiencies to empower service and savings. From its flexible checking and credit-building products to its nationwide efforts to improve financial literacy, Axos has become a leader in future-focused banking.
Axos Bank started in 2000 as one of the first all-digital banks in the U.S., built to challenge the brick-and -mortar status quo in the financial industry. Its driving principle, Banking Evolved℠, defines its ongoing dedication to product and service innovation.
Leveraging digital efficiencies enables Axos to offer competitive interest rates, low to no fees, and better banking access to a nationwide customer base.
Although technology may be a differentiator, it doesn't compromise Axos' emphasis on fundamentals. The bank uses tech to serve the larger objective of delivering more effective service and helping more customers meet their financial goals.
The Axos app is essential for accomplishing that. John Tolla, Axos' EVP of Governance, Risk, and Compliance, said that, in addition to enabling balance checks, transfers, and bill pay, the app also serves as a contact point between customers and account reps and as a personal finance hub.

"It has various features for setting goals and tracking spending," Tolla said. "Not only can you automatically move money to savings in accordance with savings goals, you can also set maximum spend targets in selected categories."
Axos Bank's encryption, antivirus and malware protection, two-step authentication, biometrics, and live account monitoring ensure critical customer data stays protected no matter where users encounter the bank. The result is a banking experience that remains lean and results-focused more than 20 years after Axos helped pioneer banking over the internet.
"When it comes to efficiency ratios, there's really no comparison between Axos and more traditional brick and mortar banks. Axos uses these savings to lower costs for consumers," Tolla said. "At Axos, you pay less for the same or better level of service."
Checking Products Meet Diverse Customer Priorities
The core value Axos brings to personal financial services lies in its checking portfolio. Digital efficiencies enable Axos to customize an array of checking products to fit a variety of customer cohorts, including teens and seniors.
Low-fee, favorable-rate Axos checking accounts include reimbursement for ATM use. With Axos, customers always enjoy the benefits of banking efficiently from home or wherever they need to be.
Axos' flagship checking account is Essential Checking, which charges no maintenance, overdraft, or insufficient funds fees and carries no minimum balance requirements. And with free Direct Deposit Express, account holders receive paychecks up to two days early.
Essential Checking is the ideal no-frills checking account for mainstream users. It includes direct peer-to-peer payments, debit card management features, and a new-customer referral bonus.
Frequent debit card users earn up to 1.00% APY with Cash Back Checking. And for those carrying higher balances, Rewards Checking pays up to 1.25% in return for using direct deposit and the Axos Personal Finance Manager, and adding a loan payment and investment accounts.
Axos's specialized First Checking account allows teens aged 13-17 to set up joint accounts with guardians and earn up to 0.10% on deposits. First Checking includes the same valuable features as other Axos checking accounts, but it also gives primary account holders the ability to set daily transaction limits for children and dependents.
Golden Checking targets seniors aged 55 and older. Account holders earn up to 0.10% on deposits and enjoy free personal checks. Axos offers checking products that fit the customer's lifestyle and goals wherever they are on their financial journey.
Tools and Resources Build Financial Skills
Axos is also committed to delivering skills and opportunities to customers and communities across the U.S. Free banking tools enable smarter money management. An extensive financial news and information blog looks at trends, and offers bank customers tips and analyses.
Banking tools include calculators that project the results of minor financial improvements over time. The APY Calculator shows how small improvements in rates result in large returns, and the Auto Loan Calculator computes estimated monthly payments and maximum loan amounts. The Auto Refinance Calculator calculates savings from refinancing, and the Mortgage Calculator sets financial parameters for homeownership.
The Personal Loan Calculator compares loan amounts and terms. The Rent or Buy Calculator analyzes the cost differences between renting and purchasing a home. And the Savings Calculator demonstrates the cumulative advantages of higher-interest savings.
Other calculators help users understand the value of saving for retirement or a child's college education. There's even a Saving to Start a Business Calculator that explores how to finance a business journey through personal savings.
The Axos blog addresses topics on personal and small business finance, cybersecurity, investing, and business operations. Articles explore all aspects of finance, even tangential topics such as the importance of stress management for managers and entrepreneurs and how spending motivated by FOMO (fear of missing out) can damage long-term savings plans.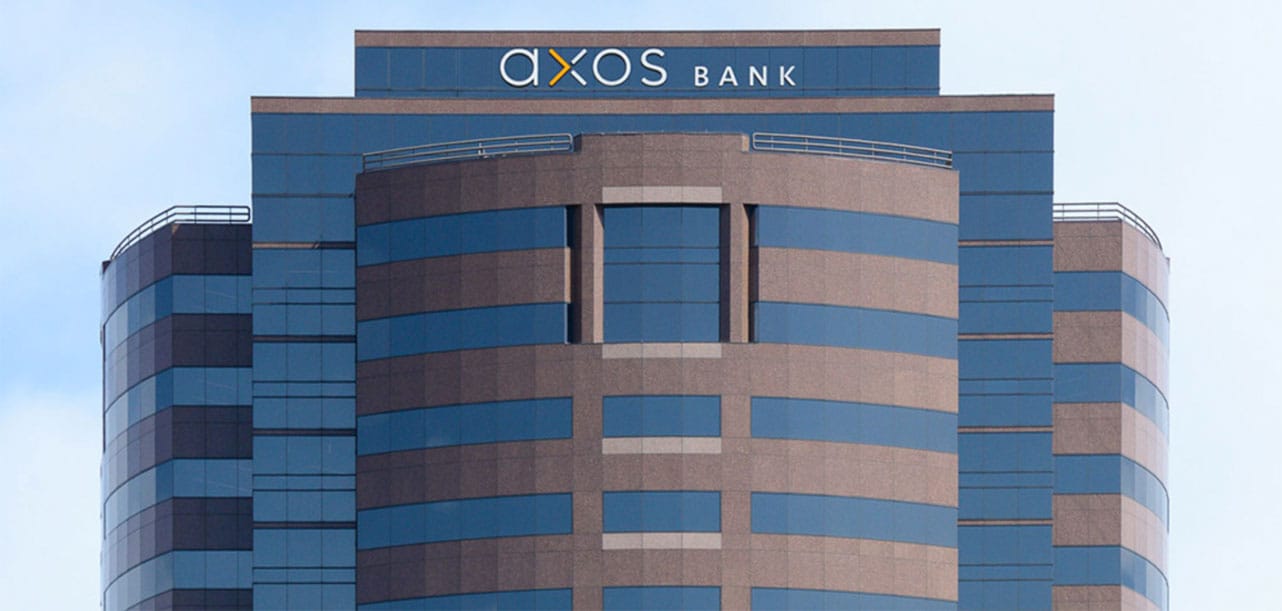 Back at its corporate office in San Diego, the bank turns instruction into action through financial training delivered each year to more than 50 Axos interns. Traci Holley, Senior Vice President Lending Compliance Officer, said the training is essential for future financial professionals.
"It's important for Axos to provide these younger constituents knowledge that impacts their lives and the customers they work with," Holley said.
Axos: Committed to Digital Evolution
Axos incorporates the Federal Deposit Insurance Corporation's Money Smart financial education program into its approach. With Money Evolved℠, Axos maintains a presence on podcast networks, and its YouTube channel contains a plethora of videos with helpful tips.
Through a variety of digital means, Axos projects financial and community values and encourages positive financial behavior for customers and community members.
Axos is also a committed community partner, working with businesses and nonprofits locally and nationally. Employees devote time to community service activities each year, and the bank contributes to nonprofits, including San Diego Rescue Mission, Seeds of Hope, and Fresh Start.
In the meantime, Axos continues to pursue digital innovation. Under its tagline Banking Evolved℠, Axos is committed to providing customers the tools, information, and ability to make smarter choices that empower them to reach their goals.
During the COVID-19 pandemic, for example, Axos enhanced its biometrics for increased security, keeping up with the changing financial habits of its users.
"We really stepped up the sophistication with respect to liveness scans and triggers that force re-verification through biometrics instead of through insecure access codes and emails," Tolla said.
But in many ways, the pandemic signaled the ongoing advantages of Axos' digital-first approach. As more and more traditional financial consumers discovered the ease of banking without branches, the Axos value proposition rose to confirm the notion that bank branches add costs, not value.
Leveraging savings from its leaner model, Axos looks to develop additional product lines and service applications to serve a growing customer base that doesn't need a branch down the street.
"When you don't need your bank to be around the corner, then you can really start value shopping," Tolla said. "For long-time digital consumers and those new to banking online, we're evolving into an institution where you can do all your banking, investing, and trading in one place and for a lower cost than our competitors."
Advertiser Disclosure
CardRates.com is a free online resource that offers valuable content and comparison services to users. To keep this resource 100% free, we receive compensation for referrals for many of the offers listed on the site. Along with key review factors, this compensation may impact how and where products appear across CardRates.com (including, for example, the order in which they appear). CardRates.com does not include the entire universe of available offers. Editorial opinions expressed on the site are strictly our own and are not provided, endorsed, or approved by advertisers.