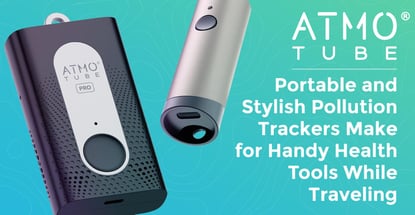 In a Nutshell: Americans enjoy traveling, and it feels great to cash in your credit card rewards to help pay for your next trip. And while we're checking off our to-do list, we often don't think about the pollution levels of the regions we are traveling to. With Atmotube, travelers can easily measure the air quality around them at any given time thanks to the sleek device's internal pollution sensors that detect VOCs (volatile organic compounds) and harmful particulate matter. Atmotube comes in two models. The original Atmotube PLUS is ideal for measuring indoor air quality, while the Atmotube PRO is well-suited to measure both indoor and outdoor air quality. The company also sells masks and filters that protect wearers against particulate matter that Atmotube detects in the air.
Cashing in credit card travel rewards is always a great way to save money on your next trip, especially when it comes to international travel where costs can add up quickly.
As you're planning your trip and checking off your to-do list, you may want to consider the pollution levels of the country or city you are visiting. While most people in the U.S. aren't particularly concerned about pollution levels on a day-to-day basis, air pollution has a very real impact on the health of people in certain parts of the world.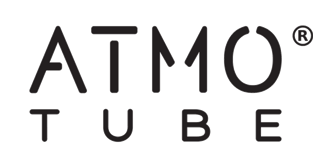 For example, the 50 cities in the world with the dirtiest air are in India, Pakistan, China, and Bangladesh. And seven of the 10 most polluted are in India. Severe air pollution is not only the cause of health problems and even death, but it costs an estimated $225 billion in lost labor and trillions in medical costs, the Executive Director of Greenpeace Southeast Asia told Al Jazeera.
If you are traveling to one of these or another country with elevated pollution levels, Atmotube is a handy personal device that can monitor pollution levels in real time wherever you may be.
The product is the result of San Francisco-based design house, NotAnotherOne. When Co-Founders Vera Kozyr and Igor Mikhnenko came up with the idea, a trip to China to explore production materials confirmed the value of their conceptual product.
Kozyr and Mikhnenko discovered the air inside some of the factories they visited in China was actually better than the air outside, and vice versa. The duo then turned to Indiegogo to seek funding. The project eventually raised $283,797 from 2,341 backers.
We spoke with Daria Chagina, the Chief Marketing Officer for Atmotube and NotAnotherOne, to learn more about this handy device.
Chagina explained that although there have been apps in the past that conveyed pollution data to users, they were comparable to Google Street View — the data was reported back from certain stations at certain times. The apps didn't give a real-time pollution reading of the user's precise location, at that moment.
How Atmotube Helps Identify Sources of Air Pollution
"Our design is embodied by the product name," Chagina said of the Atmotube Plus' sleek and portable shape. "It's a tiny tube that captures changes in the atmosphere. There are sensors hidden inside that measure VOCs, temperature, humidity, and atmospheric pressure."
Although many VOCs are harmless, some present serious dangers to humans and the environment. They are emitted as gases from certain solids and liquids, according to Atmotube.
They may be emitted from "paints and lacquers, paint strippers, cleaning supplies, household products such as varnishes and wax, cleaning and disinfecting products, building materials (plywood and particleboard) and furnishings, office equipment such as copiers and printers, glues and adhesives," according to the website.
The Atmotube is able to detect a wide range of hazardous VOCs including acetone, methanol, benzene, ethanol, xylene, and formaldehyde. It can also detect an array of harmful gases, toxins, and dangerous particulate matter.
Particulate matter, also known as soot, "is made of microscopic solid particles or liquid droplets that are either emitted directly into the air or formed by pollutants that combine in the atmosphere," according to the company.
These measurements are compiled into Atmotube's Air Quality Score (AQS) which lets users instantly understand the overall quality of the air they are breathing. The AQS ranges in points from zero — severely polluted air — to 100 — very clean air.
The color of the LED on the front of the Atmotube reflects the current AQS. Red is severely polluted, orange is very polluted, yellow is polluted, green is moderate, and blue is good, according to the company.
Two Useful Models to Choose From
Chagina explained that there are two different models of Atmotube currently available from the company — Atmotube PLUS and Atmotube PRO.
The original Atmotube, known as the Atmotube Plus, retails for $79 and is ideal for those who need to monitor indoor air quality.
"Atmotube PLUS detects the invisible killers inside your home or office: volatile organic compounds in the products you use at home and at work, and how you store products at home," according to the company. "These VOCs can make indoor air quality 5x times more polluted than outdoors. Also, Atmotube PLUS also works as a personal weather station."
The Atmotube PLUS is small, sleek, and easily attaches to a keychain. The device — intended to fit with a dynamic urban lifestyle — means to be an everyday smart accessory. It boasts a long battery life and handily connects to the Atmotube smartphone app which sends alerts about highly polluted air. The app can also be checked at any time for a current reading.
The Atmotube PRO keeps all the features and functionality of the PLUS model but adds even more. The Atmotube PRO retails for $179.
"Atmotube PRO is our full-featured solution, a portable indoor-outdoor air quality monitor that detects fine particles and volatile organic compounds (VOCs) and reports them in real-time," according to the company.
Exposure to high levels of such pollutants has been found to lower productivity, impact sleep, influence moods, and even affect athletic performance.
"Long term, air pollution can contribute to heart disease, respiratory problems, and even dementia. If you spend a lot of time outdoors working or exercising, this is the Atmotube for you," according to the company.
The Atmotube PRO, while still sleek and easily portable, comes in a slightly larger, rectangular casing. Again, it connects to smartphones and sends immediate alerts when air pollution is at dangerous levels.
Atmotube Anti-Pollution Masks and Filters Helps Reduce Exposure to Pollutants
"We also launched a series of Atmotube masks that actually protects wearers from particulate matters," Chagina said. "So, you can purchase the Atmotube and the mask, and you will be alerted when you need to put it on and again when it is safe to take it off."
Like the Atmotubes themselves, the Atmotube masks were designed with an eye toward functionality and style. More than just a white mask that one would find at a hardware store, the Atmotube mask features black straps and a black and white striped design across the front.
"Atmotube ANTI-POLLUTION MASK protects from up to 95% of particulate matter 2.5 and 10. That includes pollen, dust, smoke, soot, dirt, and traffic emissions," according to the company. "Pollution-resistance and minimal air leakage are guaranteed by a four-layer filter and a specially-designed silicone mask frame."
The four-layer filters are designed to keep users healthy and safe from urban air pollution. Each mask comes with two filters that last up to one week of use, according to the company website.

Chagina said Atmotube recently made available replacement filters that can be purchased for the masks as well.
When someone purchases the Atmotube mask, which retails for $59, they can actually receive a discount for purchasing replacement filters at the same time. The mask and filters can be purchased together for $65.99, rather than the full price of $70.99 if they were purchased separately.
Providing a product like Atmotube is extremely valuable for those who live in, or are traveling to, highly polluted areas, and Chagina said it was important to the company to provide the masks as a way for users to take action to protect themselves.
So, the next time you're applying your credit card rewards toward your next trip, be sure to learn about the pollution levels in the area you're traveling to. And, even if it's not a high-danger region, having an Atmotube to help monitor the air quality around you — no matter where you are — certainly isn't a bad thing.
Advertiser Disclosure
CardRates.com is a free online resource that offers valuable content and comparison services to users. To keep this resource 100% free, we receive compensation for referrals for many of the offers listed on the site. Along with key review factors, this compensation may impact how and where products appear across CardRates.com (including, for example, the order in which they appear). CardRates.com does not include the entire universe of available offers. Editorial opinions expressed on the site are strictly our own and are not provided, endorsed, or approved by advertisers.