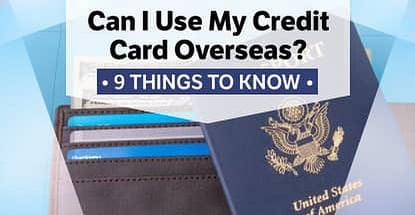 It doesn't matter if you're a first-time traveler or frequent flyer — having the right plastic in your pocket is an important component of having an amazing vacation.
Our experts have hand-selected the best credit cards to rack-up air miles and rewards points redeemable for free flights, hotel stays, and more.
 Before you book, check out 2015's Best Travel Reward Cards. 
But you can't go on autopilot just yet: There are some things you should know in regards to credit cards and your ability to use them on your next overseas adventure.
9. Take Advantage of Card Services
Do any of your credit card providers offer travel assistance? Are there any special promotions currently going on? Maybe one of your card's rewards will build up faster in certain situations?
If you need of a card that offers great travel-oriented features, see our experts' top picks for:
Gas Rebates | Cash Back | Points & Rewards
These are all important questions because failing to use any of these services can result in you spending more money or time than you could have if you knew where to turn to. You don't have to know every single little detail about your card (though the more you know, the better). You just have to know where to find the information you need when you need it.
8. Double-Check Your Cards' Limits and Expiration Dates
Take a second to give your basic card information a once-over. Are your cards' credit limits what you think they are? What about your cards' expiration dates?
By keeping tabs on these simple, yet important, details, you'll avoid going over your limit or charging an expired card. Not only will you avoid the financial implications of such an oversight, but you'll spare yourself embarrassment over committing a blatant social faux pas.
7. Know Which Issuers Are Accepted Where
When it comes to Europe, places that accept Visa are slightly more prevalent than MasterCard. American Express is widely accepted, too, but just like in the United States, it isn't always taken.
Also, decide if you're going to use a single card or more than one. If you use just one, it's easier to keep track of, but you're out of luck if your provider isn't accepted. Having multiple cards circumvents the acceptance issue, but you'll have to be extra vigilant in keeping up with all of your records.
6. Use Your Debit Card When You Can to Avoid Fees
You might be so concerned about credit card ATM fees that you don't look at the problem from a slightly different angle. Surprisingly, one of the best ways to avoid some ATM fees, including cash advance fees, is to just try using your debit card. Most of the time you don't have to pay a network access fee that way. Let your whole wallet cooperate to save money.
5. Pay in Local Currency
When in Rome, pay as the Romans do. Basically, pay in the currency you're dealing with when a merchant offers you the ability to pay in dollars instead of the local currency — no matter if it's the Euro or Pound.
When you can have the cost of a transaction converted into U.S. dollars, it's because of dynamic currency conversion. This "service" lets you pay in dollars, but the exchange rate is usually higher than your card company's exchange rate. With some research and a general idea of currencies, you can avoid this unnecessary fee.
4. Carry More Than Cards Alone
In this regard, your wallet is sort of like investing. If all of your eggs are in one basket, you're in trouble if something bad happens to that basket. However, if you diversify your payment portfolio with cash and other methods, you'll fare much better if something does go wrong, such as your main card is blocked or declined.
3. Notify Your Card Issuer of Your Trip
Before you even start your trip, do yourself and your card companies and banks a favor: Notify them that you're going to be out of the country. If you don't, that first purchase is going to set off all the bells and whistles back home, and you might even get your card blocked.
Vacations stop being fun when you have to verify the legitimacy of every transaction you made in the past few days. If you do end up needing to call your card's provider for whatever reason, make sure you have a local phone number to call. It'll make any process easier.
Check your balances often, too. You might be putting a lot on your card, but you'll want to make sure no one else is. Keeping an eye on things will make sure your trip isn't ruined if an overseas criminal targets you because you're a tourist.
2. Be Aware of Foreign and International Fees
Speaking of fees, let's cover a few of them. First off, there are foreign transaction fees, which your card may or may not have. This fee is usually 1 to 3 percent, and it is accrued every time you make a purchase overseas (or on any purchase that uses a foreign bank to process the transaction). Many of the cards featured above do not have foreign transaction fees.
You might also have to deal with an international ATM fee, typically a $2 to $5 charge applied whenever you withdraw a foreign currency from an ATM while abroad. Sometimes you might even have to deal with both fees from one withdrawal.
1. Make Sure You Have Chips
It's going to be a long flight, so a snack would be great. Jokes aside, though, we're talking about EMV-compliant cards that come equipped with a chip.
While EMV chip cards are still relatively new in the US, Europe adopted them well over a decade ago in some cases. You might be able to talk your way through a non-chip card transaction, but between variables (translations, technological capabilities, etc.) and the hassle of it all, it's just not worth it.
Travel Confidently and Knowledgeably
With these tips, you'll seem like a professional at travelling overseas. You don't have to worry about memorizing a bunch of things, either. These tips are mostly about keeping your wits about you, not knowing super-specific, hard-to-find details. If you can stay on top of things, you'll have no problem enjoying a fantastic vacation that doesn't ruin your finances.
Photo sources: topurlaube.de, chase.com, uk.reuters.com, lifehacker.com, usatoday.com
Advertiser Disclosure
CardRates.com is a free online resource that offers valuable content and comparison services to users. To keep this resource 100% free, we receive compensation for referrals for many of the offers listed on the site. Along with key review factors, this compensation may impact how and where products appear across CardRates.com (including, for example, the order in which they appear). CardRates.com does not include the entire universe of available offers. Editorial opinions expressed on the site are strictly our own and are not provided, endorsed, or approved by advertisers.