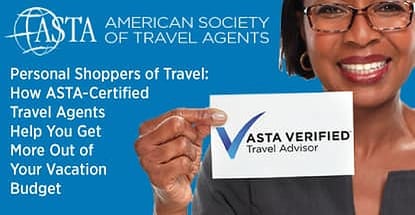 In a Nutshell: While the proliferation of travel websites has made booking vacations online easy, many people are unaware of the advantages of planning travel accommodations through travel agents. Turning to an expert often results in significant savings and better-quality trips, which makes sense when you consider the experience travel agents bring to coordinating memorable vacations. The American Society of Travel Agents (ASTA), the industry's leading advocate, trains and certifies travel agents and other travel professionals in ways that most benefit consumers. ASTA-trained agents help travelers get more bang for their buck so they can more easily and affordably see the world. //
When I was a 20-year-old backpacking through Europe, travel was a bit of a reckless adventure. I remember when I went to visit relatives in a remote village in Northern Italy, the train stopped at a certain point, in the middle of nowhere. That was the last train for the day, and apparently, there weren't any buses. Upon learning this, I looked at the train conductor half-bewildered, half-bemused.
The conductor offered to let me stay with his family that night, and then would arrange for someone to take me up the mountain to my relatives' village the following day. His family looked after me in a characteristically Italian way, feeding me pasta that night and caffè latte and cookies in the morning before sending me off with another stranger.
While it all worked out, in retrospect, it would have been nice to know about the train schedules and the area's lack of buses ahead of time. It also might have been nice to know if there were any hotels in the area — just in case. Having a travel agent — instead of my own sense of adventure — guiding me would likely have resulted in a smoother experience abroad.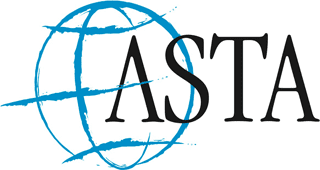 Travel agents play a key role in the travel business. You may think the increase in the number of travel sites would have jeopardized their very existence, but in fact, travel agents are holding their own. In 2016, the US Bureau of Labor Statistics reported that 81,700 travel agent jobs existed in the US alone. The reason for their staying power may come in the associated savings of booking through agents.
One study showed consumers saved an average of $452 by turning to travel agents, while 63% believed working with travel agents improved their experiences.
"The myth of the dying travel agent is just that — a myth," said Erika Richter, Director of Communications for the American Society of Travel Agents (ASTA).
The leading global advocate for the travel industry with members in 140 countries, the ASTA believes firmly in the profession's value in an evolving society. The ASTA trains and certifies travel agents to be the best in the business, and choosing an ASTA-certified agent adds an extra layer of trust to booking travel accommodations.
The ASTA Difference Amid the Boon of Online Travel Sites
Millennials have, apparently, already caught on to the value of prioritizing life experiences over material possessions. According to an ASTA survey, millennials take an average of 1.8 work trips per year, and 3.1 leisure trips, compared with 1.1 work trips for generation Xers (and 0.7 work trips for baby boomers), and 2.3 leisure trips for both boomers and generation Xers.
Millennials also take more cruises, are more focused on travel to experience different cultures, and are willing to pay more for those experiences (like eating out) — than they are for expensive flights. Millennials are also more inclined to use travel agents, and more frequently book package trips. They are 10% more likely to turn to travel agents than are Gen Xers (44% versus 34%), especially for things like recommending activities, organizing tours, and determining a travel budget.
Travelers — and not just millennials — are reportedly more satisfied with their travel agent experience, compared with travelers using agents 10 or more years ago. Among those surveyed, 49% of those using an agent within the past five years reported being very satisfied, compared with 29% expressing the same level of satisfaction 10 years ago. Furthermore, of the more recent group, 78% say travel agents "look out for their clients," compared with just 63% who said that 10 years ago.
Erika believes satisfaction has grown because travel agents feel the onus to be even better at their jobs given the boon of online travel agencies and booking sites, like Orbitz and Expedia.
"The changing industry landscape has forced non-OTAs (online travel agencies) to be true travel advisors and not simply order-takers," she said. "The use of outside service providers for many transactions, such as tax preparation, isn't questioned. Similarly, if one is going to spend hundreds or thousands of dollars, as well as a good chunk of valuable leisure time, it makes great sense to use a professional."
Erika rattled off an extensive list of the advantages of using a travel agent versus an OTA. Many of their services, she notes, are provided for a nominal charge, or for free. Some of these include staying abreast of promotions and analyzing them, clarifying the fine print (namely cancellation penalties and restrictions), making personalized recommendations to shoppers (much like a personal shopper would do), resolving problems, using their clout to get improvements, and enhancing the trip with amenities, like airport transportation or a bottle of champagne upon arrival in your hotel room.
ASTA Integrity: Why Membership Makes an Impact
Promoting integrity in the travel industry, the ASTA Code of Ethics is a 12-point list of responsibilities enforced by ASTA's Consumer Affairs Department. Agents who fail to act in accordance with its values and standards may be subject to disciplinary actions per ASTA's bylaws.
"ASTA's travel agents are already synonymous with trust," Erika said. "All members of ASTA must adhere to our Code of Ethics."
Additionally, to qualify for membership, travel agents must meet a minimal annual sales threshold, and hold the appropriate state licenses or registrations.
"Being an ASTA member means that you are a professional willing to invest in your industry and your future," Erika said. "Just as travel agents are their clients' number-one advocate, ASTA is theirs. Being an ASTA member also means that you have access to world-class government, legal, and regulatory resources so you can protect your livelihood by preventing costly fees and taxes, grow your business, and provide world-class service to your clients."
ASTA hosts several events and courses for travel agents to improve upon their skill set. Those new to the industry can take a "Becoming a Travel Agent" course, and established travel agents can take courses in advanced public speaking, negotiation, sales tactics, business ethics, regulatory compliance, and other related subjects. Through its website, ASTA makes available research and white papers on industry trends and compensation models, and hosts webinars with officials from the US State Department and the Department of Homeland Security on government rules and regulations.
A recently launched ASTA course provides an extra layer of professional training to travel agents. At the end of the nine-course program, travel agents become certified "ASTA Verified Travel Advisors," which lets clients know you're among the cream of the crop in the travel industry. To find such an advisor, consumers can visit Travelsense.org, which is tied to the ASTA membership database, and look for agents with a VTA Checkmark logo next to their names.
Beware Travel Scams: How ASTA Can Help
My own travel adventure took place in the late 1990s, slightly before the vast proliferation of online travel services. I lucked out in having a benign, if unplanned, adventure in a remote part of Italy, but not everyone is so lucky.
A friend of mine who relies heavily on online, economical booking services, recently got taken for a bit of a ride. Exuberant to find tickets to Scotland for just a few hundred dollars through one of these services, he bought a ticket months in advance, and then carefully planned the rest of his trip. It was only when he got to the airport that he was told the trip had been canceled.
The reason was initially unclear, but then he discovered he'd failed to read the fine print, which contained an odd request: He had to call some days before the trip to confirm it. This, after having paid for the tickets and receiving confirmation from the website itself. Apparently, he said, it was related to online ticket agencies buying tickets in bulk and overbooking, which is why they ask all buyers to confirm again.
Was the double layer of confirmation something of a scam? It's hard to say, but that's exactly the type of situation a qualified agent is trained to prevent. ASTA agents and the organization itself provides resources for consumers and travel agents to help them avoid scams.
Advertiser Disclosure
CardRates.com is a free online resource that offers valuable content and comparison services to users. To keep this resource 100% free, we receive compensation for referrals for many of the offers listed on the site. Along with key review factors, this compensation may impact how and where products appear across CardRates.com (including, for example, the order in which they appear). CardRates.com does not include the entire universe of available offers. Editorial opinions expressed on the site are strictly our own and are not provided, endorsed, or approved by advertisers.